The Sky(scraper) is The Limit for PNW Alumna Sydney Valiska
May 13, 2021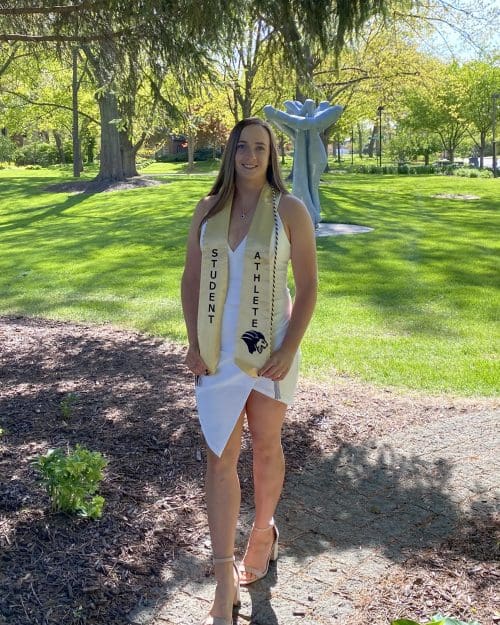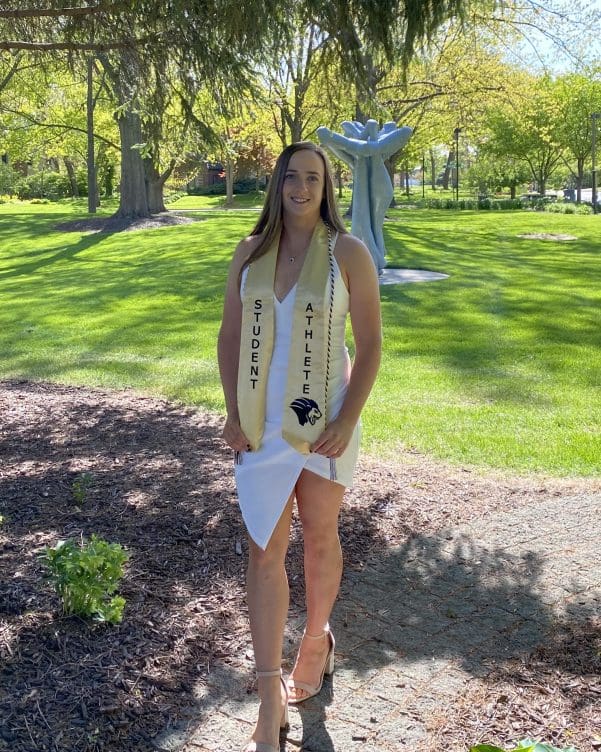 Sydney Valiska of New Lenox, IL was a creative child with a knack for incorporating math and science into problem solving activities. When it came time for college, she decided to follow in the footsteps of her mother and pursue an education in the field of engineering.
"When I was younger, engineering was shown more as a male-dominated industry. In pictures, I always noticed guys in hardhats and guys in suits and ties," she said. "I want to lead by example, like my mom, and show that women are as capable as men to work in the field of engineering." 
This Purdue University Northwest graduate of the spring Class of 2021 chose to major in civil engineering because of the endless possibilities in this field. "I want to take part in the type of work civil engineers do on a variety of incredible projects — bridges, railways, stadiums, waterways, skyscrapers, etc. — that really make up the world around us," she remarked.   
The next step for Valiska is to obtain a professional engineering license that will allow her to create and approve her own engineering designs. "I believe having smaller class sizes at PNW compared to other big engineering universities really has allowed me to gain more hands-on experience — especially in labs," she added, "that I would not have been able to have at other schools."
Getting Involved
As a member of the Honors College, Valiska made academics her top priority, but she knew the importance of getting involved in extracurricular activities. She was a student-athlete on the women's golf team, where she developed a connection that secured her first internship with a transportation design firm. She stated, "Being that I still wanted to play golf at a competitive level after high school, while also obtaining my engineering degree from a well-known degree program, Purdue Northwest seemed to be the perfect fit." 
In terms of involvement, Valiska was also a student worker. She lived in student housing and could be seen greeting people at the front desk as a community assistant. She could also be found tutoring students as a supplemental instructor for math and engineering courses. "I really loved having both of those jobs as a PNW student," she remarked. "Trying to balance all of these different activities has pushed me to improve my organizational and time management skills."
Valiska completed her education at PNW as the president of the Society of Women Engineers. She attended a national conference with this organization where she was introduced to an internship opportunity with Walsh Construction. That experience landed her employment within the company. She is projected to begin working as a project engineer in July.
"I would really encourage new students, transfer students and current students to get involved in at least one activity because it pays off," Valiska concluded. "You get to make friends and have fun while you're working toward your degree and career."