Vaccine Incentive Winner: Nargiza Amirova
November 3, 2021
We're talking to winners from PNW's Vaccine Incentive Program to learn more about what prompted them to get vaccinated!
Today, meet Nargiza Amirova – a third-year graduate student from Uzbekistan completing a Mental Health Counseling degree and the Licensed Mental Health Counselor track in the School of Education and Counseling.
Why did you choose to get vaccinated against COVID-19 when you were eligible?
I was afraid that I wouldn't be able to continue my dreams of working with the community and who I'm counseling. I wanted to continue to attend classes and feel that I'll be safe. If this is what it takes to be able to accomplish my dreams and goals, it's 100% worth it. It's a safe route for my health and my dreams to keep going.
What would you say to your peers to encourage them to get vaccinated?
It's important to put yourself first. I know we're doing vaccinations so that we don't give it (COVID-19) to other people. It's about others being able to protect themselves. To be able to join events, the Halloween dance, pumpkin painting and so many amazing events our dorm has. Being comfortable to join so that you don't have that fear that you may get COVID. Also, you don't have to keep getting tested weekly, which is painful.
What benefit is there to being a vaccinated student body?
If you could imagine the world without bullying, imagine if our entire community was without COVID. We wouldn't have to worry about getting sick or spreading or worrying someone may die because of COVID. We wouldn't have to worry about that.
We as students have so much stress about class and financial stability. It (vaccination) would reduce so much of our stress. If we all received the vaccine, then we'd be able to support one another as a community together.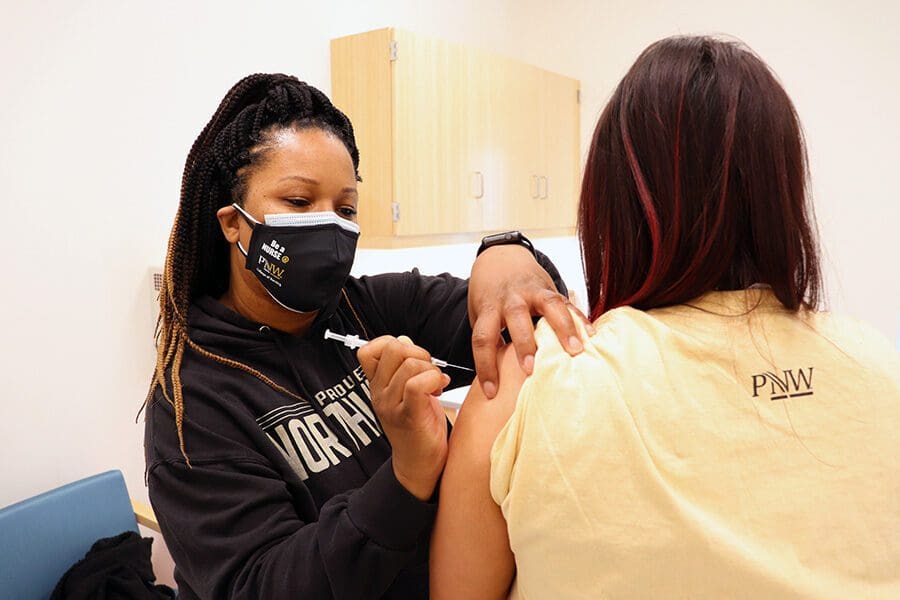 Vaccine Incentive Program
The single best way to protect you and your family from COVID-19 is by getting vaccinated. PNW students who choose to get vaccinated against COVID-19 can enter drawings for prizes including a $2,000 tuition credit!