A hands-on approach to entrepreneurship with Kristin Burton
April 22, 2022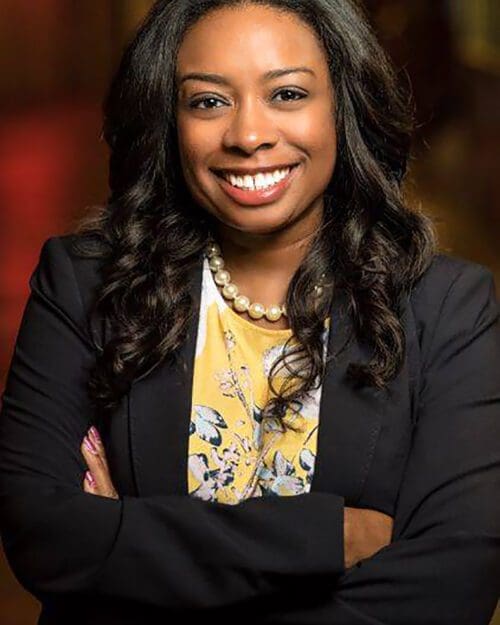 Kristin Burton, assistant professor of Entrepreneurship at Purdue University Northwest (PNW), uses a trio of teaching methods to engage her students and foster an effective learning environment. Using a combination of flipped, individualized and hands-on learning, Burton creates an innovative and educational experience with an emphasis on creative thinking and application.
"Entrepreneurship skills like problem-solving, collaboration, critical thinking and self-efficacy are important for everyone," says Burton. "The program is more than just starting a business. It's about how to think creatively and outside of the box."
Flipping the classroom
Burton uses flipped learning, a strategy where students read and complete assignments outside of the classroom while working on problem-solving exercises in class. This strategy allows her to engage her students by prioritizing and focusing class time on active learning.
"I like to use class time for activities," explains Burton. "We'll watch videos, put together case analyses, debate certain topics and discuss the successes and failures of entrepreneurs. Students are actively learning in the classroom instead of just listening to a lecture." She also uses group exercises to demonstrate the development process and how to think and solve problems with a focus on creativity and innovation.
Learning from experience
Merging the business community with the classroom allows Burton to give her students access to real-world examples as well as hands-on experience. "Being able to meet and work with entrepreneurs from the community provides a deeper level of understanding," she says. "It also provides students with a real-world application for what they're learning in class."
As part of a class project, Burton's students helped a local entrepreneur who was in the process of starting a business. "Helping this entrepreneur move her business forward was one of our classroom activities," explains Burton. "The actual experience was invaluable and the students were engaged and loved the fact they helped this new business owner."
Burton also uses The PNW Big Sell competition as part of her lesson plan. The annual competition, which is open to the public, gives budding entrepreneurs the opportunity to pitch their ideas to a panel of judges for a chance to win a monetary prize. She has students review the submissions of the entrepreneurs as well as attend the actual competition.
"So not only are the students reading and learning about entrepreneurs, they're interacting with them," says Burton. "While the students don't pick the winners, they are meeting, watching and working with entrepreneurs from the community and learning from the experience."
Individualized learning
By helping students incorporate their passions, interests and preferences into their projects, Burton helps create a memorable and personal learning experience. She will often develop an individualized learning plan for students looking to start their own business, develop an idea, take a business to the next level, or take over a family-owned business. The individualized plan is attached to class lessons, objectives and goals with Burton providing guidance and mentorship.
Once we uncover skills that promote entrepreneurial resilience in our region, we'll take that information back to the community organizations that support local entrepreneurs and businesses. Entrepreneurs are the backbone of the community. It's important to make sure they survive.




"I want students to be engaged in their learning," explains Burton. "Making an individualized plan for a student creates a relevant and engaging learning experience. Having them incorporate their own ideas or business concepts as a base for their project provides them with the skills needed to help move their particular idea or business forward."
Scholarship of Engagement Fellow
Burton's teaching and research interests include business incubation, venture creation, strategic growth through innovation and entrepreneurial resilience. It was her proposed research on entrepreneurial resilience in Northwest Indiana that led to her being named a Scholarship of Engagement Fellow for the 2021-2022 academic year.
Burton works with several community partners such as StartUP Gary, the Society of Innovators, the Hammond Economic Development Corporation and the Small Business Development Center to create programs and help alleviate barriers so entrepreneurs can continue to build communities that flourish. Burton's most recent research project will survey local entrepreneurs, who were successful during the pandemic, to identify what skills were utilized that allowed them to survive and thrive.
She is set to interview more than 100 Northwest Indiana entrepreneurs about their experiences over the last two years. Once the research is complete, Burton will use the information to help support area businesses.