Career Road Map Journey #3: Who I Will Be!
By Journey #3, you should have greater career awareness to have made concrete conclusions regarding your academic program and your career choice.
You Will…
Become confident in your academic and career choices.
Start to solidify your personal brand.
Electronic Portfolio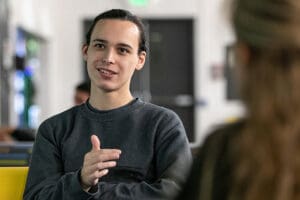 Create an electronic portfolio or website. You can also update your LinkedIn and Handshake accounts. Once this is created you can keep adding documents such as:
Samples of writing — final papers/exams/projects/research
Presentations — either videos or PowerPoints
Past performance evaluations
Unofficial transcripts (list of courses you've taken)
Photos (just a few) showing you interacting at work sites, volunteering, service learning projects or travel study experiences
Writing and maintaining a blog or social media webpage with your interests can help you develop and enhance your writing skills. It can also create a follower-ship that can be a networking tool during your exploration process.
Your Elevator Speech Toolkit
An elevator speech is as essential as a business card. You need to be able to say who you are, what you do, what you are interested in doing and how you can be a resource to your listeners.
"Tell Me About Yourself"
Someday, you may be in a situation where this four-question prompt, and your subsequent response, could have more of an impact on your career than the hundreds of words on your resume.
The key is to be confident, enthusiastic and to provide enough background information on your strengths and accomplishments to entice them to ask for more.
KNOW YOUR AUDIENCE
Before writing any part of your elevator speech, research your audience. You will be much more likely to succeed if your elevator speech is clearly targeted at the individuals you are speaking to.
KNOW YOURSELF
Before you can convince anyone of your proposition you need to know exactly what it is. You need to define precisely what you are offering, what problems you can solve and what benefits you bring to a prospective contact or employer.
Answer the following questions:
What are your key strengths?
What adjectives come to mind to describe you?
What is it you are trying to sell or let others know about you?
Why are you interested in the company or industry the person represents?
OUTLINE YOUR TALK
Start an outline of your material using bullet points. You don't need to add any detail at this stage; simply write a few notes to help remind you of what you really want to say.
You can use the following questions to start your outline:
Who am I?
What do I offer?
What are the main contributions I can make?
What should the listener do as a result of hearing this?
FINALIZE YOUR SPEECH
Now that you have your outline of your material, you can finalize the speech. The key to doing this is to expand on the notes you made by writing out each section in full.
To help you do this, follow these guidelines:
Take each note you made and write a sentence about it.
Take each of the sentences and connect them together with additional phrases to make them flow.
Go through what you have written and change any long words or jargon into everyday language.
Go back through the re-written material and cut out unnecessary words.
Finalize your speech by making sure it is no more than 90 words long.
DON'T FORGET TO CONSIDER THE FOLLOWING
Your posture
Your tone of voice (don't be too loud or not loud enough and be polite!)
Eye contact
Handshake (firm, but not too firm)
Clothing (professional is best)
Facial expressions (you face tells a story too)
"Um's" and "uh's"
Attend a professional conference that relates to your field of interest
Assume leadership roles in campus organizations
Network with professionals in your desired field of interest
Attend workshops and seminars held by campus departments for professional development
Research graduate or professional school opportunities
Attend job fairs to network with employers and search for internships / full time / part time employment
Comprise a list of references you can use for a job search or for recommendation letters for graduate programs. Be sure to obtain their permission to be used as a resource
Register and participate in on campus recruitment and interviews for jobs and internships
Begin your internship and/or job search (hint: Handshake, is a free service to students and alumni of PNW)
Build your online LinkedIn profile
EXPLORE CAREER ROAD MAP JOURNEY #4