Chancellor Medallion Recipient: Meet 2023 PNW graduate Bozana Cucuz
May 24, 2023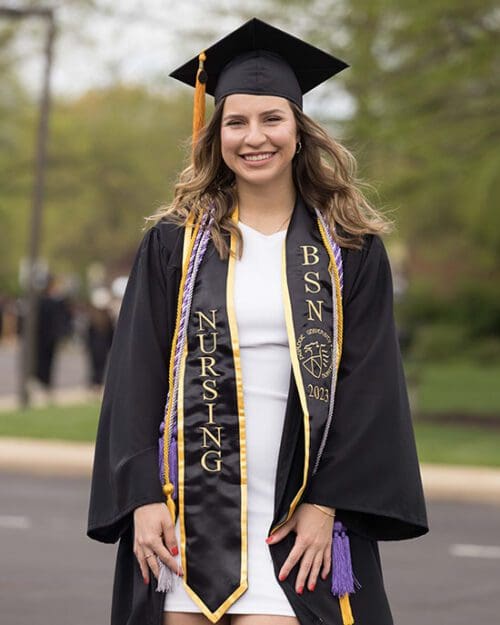 Bozana Cucuz, '23, always wanted to work in the health care field, and nursing seemed the most direct route. That led her to earn a bachelor of science degree in Nursing from Purdue University Northwest's (PNW) College of Nursing.
A first-generation college student, Cucuz was the recipient of a Chancellor Medallion, an honor awarded to baccalaureate candidates with the highest grade point average in each academic college.
The Schererville native spent the last year working as a nurse fellow at Community Surgery Center in Munster where she was able to assist in endoscopic procedures. The hands-on learning experience not only gave her insight into the day-to-day responsibilities of nurses, but helped with her nursing classes.
For her senior capstone project titled "Pediatric Mental Health Screening Tools", Cucuz and three fellow nursing students worked with Beth Vottero, associate professor and nurse educator program coordinator at PNW. They developed a matrix of tools based on the project's criteria and searched for evidence that supported the tools. Two different sets of tools were tested by nurses at Community Hospital in Munster to determine which tool worked best. The hospital plans to adopt the tool in the near future.
Cucuz is a member of the Sigma Theta Tau International Honor Society of Nursing (Sigma), which is open to nursing students who demonstrate excellence in scholarship. She also participated in intramural volleyball during her first year at PNW.
After graduation, she will begin work in the neuroscience intensive care unit at Community Hospital in Munster. In the future, she would like to work as a travel nurse before continuing her education in the nursing field.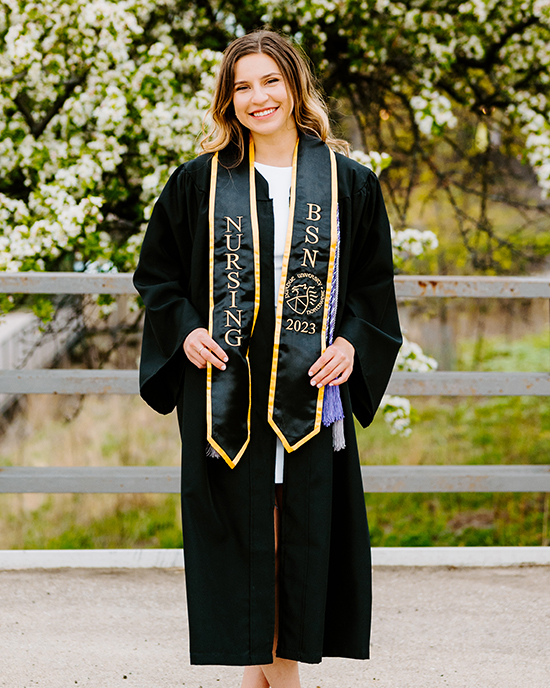 Why did you choose to attend PNW?
"I heard from a lot of people that the PNW College of Nursing was excellent — and it was. I really loved the program. It was also close to home and very affordable."
What did you like most about the Nursing program at PNW?
"I liked the small class sizes. I got to know just about everyone in my nursing cohort and I was able to get to know my professors. I was also able to work hands-on with the instructors and other students – it was like a close-knit community. The instructors provided us with really great resources to help us succeed and get us ready for our real careers. I'm really thankful for the friendships that I made through the nursing program."
What does being named a Chancellor Medallion recipient meant to you?
"It meant all my hard work paid off, all those extra hours I spent studying were worth it. I was very excited when I found out. I'm very proud of how far I've come – it means a lot."
How do you think your involvement in Sigma Theta Tau helped define your success at PNW?
"There are a lot of resources available like job opportunities and continuing education. It will definitely be a good resource for me moving forward with my education. I know it will help me accomplish my goals."
Did you have any challenges while attending PNW?
"I was in the nursing program during the pandemic and classes were on Zoom. It's a lot harder for me to learn online than it is in-person so I had to push myself to stay motivated. I put extra time into my school work and studied with friends – we helped keep each other motivated."
What words of advice would you share with prospective students looking to attend PNW?
"Always push yourself to do your best. I've learned that everything happens for a reason, so if things don't go your way just keep your head up."
Was there anyone at PNW who inspired or encouraged you along the way?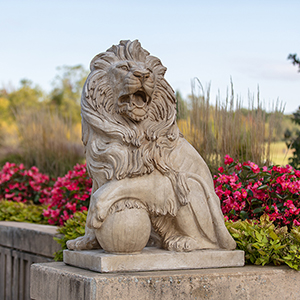 Polly Zimmermann
Limited term lecturer in the College of Nursing
"She was my clinical instructor and she was absolutely amazingly helpful. She always pushed me to do my best and look for learning opportunities. She really helped me succeed by going above and beyond even after the class was finished. She kept me motivated to learn new material. She was a great help!"
---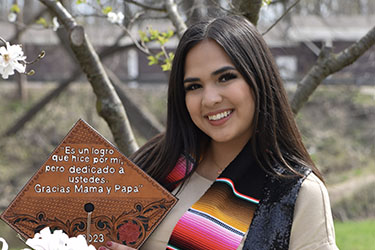 Meet the Spring 2023 Graduates
Discover what inspires our remarkable Spring 2023 graduates—and how they are Powering Onward to their futures.