Training
Workforce Development Training
More than 40 companies in Northwest Indiana and South Chicago have benefited from training provided at the Commercialization and Manufacturing Excellence Center.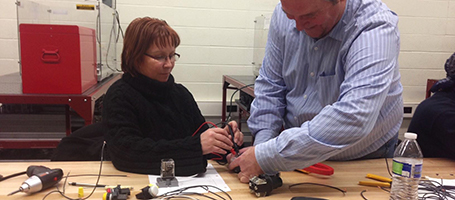 Workforce Development Training offers benefits in the following ways:
Training is offered a la carte, so you can choose what training is best for your company and employees
Builds a pipeline of skilled workers within organization
Decreases recruitment costs
Increases productivity
Provides opportunity to cost-effectively develop core manufacturing skills in your workforce
Offers potential to improve safety and quality
All Training is customizable, meaning you chose the length, time of day, and topics that meet the needs of your team and organization.
Some offerings include:
Lean
Overview of Lean Manufacturing
Lean 101-Intro Training class for Small Business Owners
Lean
Work Cell Design
5S Training
Mechanical
Computer Aided Design (CAD)
Blueprint Reading
Mechanical Drives
Power Transmission & Shafts
Mechanical Drives
Safety
Chain Drives, Sprockets, Torque
Hydraulics & Pneumatics
Belt Drives
Gear Drives
Machine Elements
Electrical
DC Electricity
AC Electricity
AC/DC Power Systems
AC/DC Rotating Machinery
Electrical Control System Wiring
Conduit
Electrical Safety
Programmable Logic Controllers (PLC)
PLC Architecture
PLC Applications
Basic Process Control
Process Control Systems
Space Is Available
CMEC has 2,100 square feet of co-working space set aside for students, faculty and founders to work alone or collaboratively on projects. CMEC also has 1,200 square feet of space equipped with 1-phase (120VAC) and 3-phase (208VAC) of electricity for pilot manufacturing.
Also available is advanced manufacturing training equipment including robots, Programmable Logic Controllers (PLCs), electrical and mechanical machinery.