Lunch and Lead: Resiliency and Mental Flexibility
September 8, 2021 @ 12:00 pm

-

1:00 pm

Free
Explore the upcoming Lunch and Lead – a virtual "food for thought" series.
Resiliency and Mental Flexibility with Darnell Ross
How resilient are you? Are you able to roll with the punches life tends to throw at us? Resiliency is an important skill that allows us to be flexible when life knocks us down. While many people are naturally resilient, have no fear if you are not one of them. It is possible to strengthen your ability to not only survive the tough times but use them to strengthen your leadership.
About Darnell Ross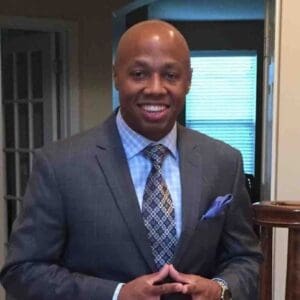 Darnell Ross is the President and Chief Operating Officer at Leahy/IFP and serves on its Board of Directors.
An entrepreneur at heart, Darnell has been a great leader for the innovative and groundbreaking organization at Leahy/IFP. As President and COO, Darnell is responsible for overseeing operations by assuring that the day-to-day tactical activities of his management team are in line to meet the long-term strategies outlined by Board of Directors.
Supporting, coaching, and guiding each manager is critical to helping the team develop and implement the tools needed to meet desired goals. As a leader, Darnell does not manage the day-to-day activities in each department but rather shares his expertise and focus on ensuring that each member of his management team leading those areas have the tools, the resources and the bandwidth they need to manage their departments effectively and efficiently.
The Lunch and Lead Series is presented by the Leadership Institute and Society of Innovators at Purdue Northwest.
To request a disability-related accommodation, please contact the Office of Institutional Equity at oie@pnw.edu or (219) 989-2163 five days prior to the event.