Leadership in Healthcare: Meet 2022 PNW graduate Britney Daniels
December 7, 2022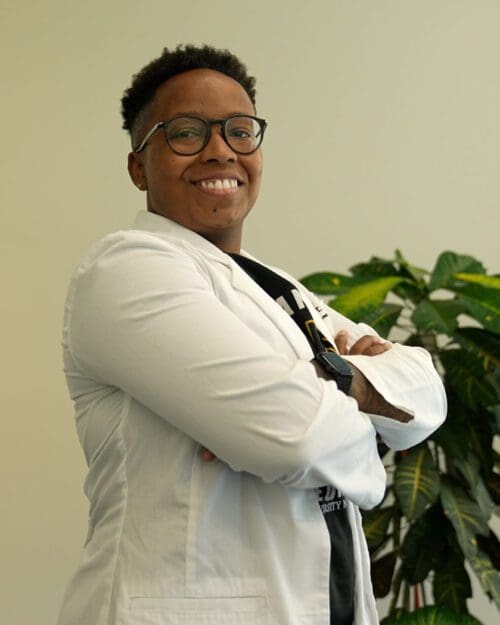 From firefighter, EMT, emergency room technician and medical assistant to registered nurse, Britney Daniels, '22, will be adding to her professional resume this December when she earns a MSN – Nurse Executive degree from the College of Nursing at Purdue University Northwest (PNW). The Chicago native spent Tuesdays at PNW as a graduate assistant working with undergraduate nursing students in the simulation and skills labs. She is also a member of the recently-formed Pride Committee for Diversity and Inclusion.
Daniels, who will be the first person in her family to earn a graduate degree, received her RN-BSN degree in Spring 2020 from PNW and currently works as a medical assistant for Planned Parenthood and as a travel nurse.
Her first book, Journal of a Black Queer Nurse, is published by Common Notions and will be released May 9, 2023. The book began as a personal journal of her experiences, thoughts and reflections on her time as a travel nurse. Daniels will embark on a promotional book tour in Spring 2023.
After graduation, Daniels will be starting her doctorate program in nursing at PNW. In addition to continuing her education, she is hoping to find a leadership position in the nursing field. Eventually, Daniels would like to develop her own community outreach organization with mobile medical vans providing primary health, education and resource services to underprivileged and underserved communities.
Why did you choose to earn a MSN-Nurse Executive degree?
"For me being a black and a queer woman, I feel like I have to work harder than others for opportunities. I knew that in order to increase my opportunities and to be successful, I needed to advance my education.
Being a nurse I am able to help and change one person, mind, life, opinion and perspective at a time. With a master's degree, and eventually a doctorate, I can make large scale and big picture changes that will impact entire communities."
Why did you choose to attend PNW?
"When I began researching nursing programs on the internet, PNW always came up as the top result. When I called PNW's nursing school to get more information, the advisor I spoke with was incredibly helpful. She helped me find ways to make the program affordable. The fact the program was all online and affordable – I said let's go!"
What did you like most about PNW's MSN Nursing Program?
"Honestly, everything about the program runs like a well-oiled machine. That's really important for me because I'm very disciplined. I also work two jobs, in addition to working as a graduate assistant, and I need things to be as scheduled. The due dates for assignments were reasonable no matter which class I was taking. The structure made it familiar regardless of the content.
I made a mistake for my nurse executive practicum and chose a doctor instead of a nurse preceptor. Instead of making me wait an entire semester to fix the mistake, the school worked with me to switch my preceptor so I could stay on track. It meant the world to me."
What words of advice would you share with prospective students?
"The best advice I can give is to never underestimate yourself. Often we have the tendency to doubt ourselves, we get to a point where we think we can't do anything – be successful, achieve or accomplish things. Remind yourself of how incredible, smart and capable you are. Do not underestimate yourself because you are everything you think you're not."
Was there anyone at PNW who inspired or encouraged you along the way?

"Dr. Eastland is incredibly kind, humble and approachable. She helped me with my plans for the future, made sure I stayed involved and that my voice was being uplifted. She changed my entire experience."

Lisa Hopp, Dean, College of Nursing
"Both Dr. Eastland and Dean Hopp have really changed the way I view myself. While I didn't have any self-confidence issues, they definitely made me see myself in a different perspective."