Meet PNW Graduate Taylor Kroon, B.S. Computer Science, Minors in Economics and Statistics
May 27, 2021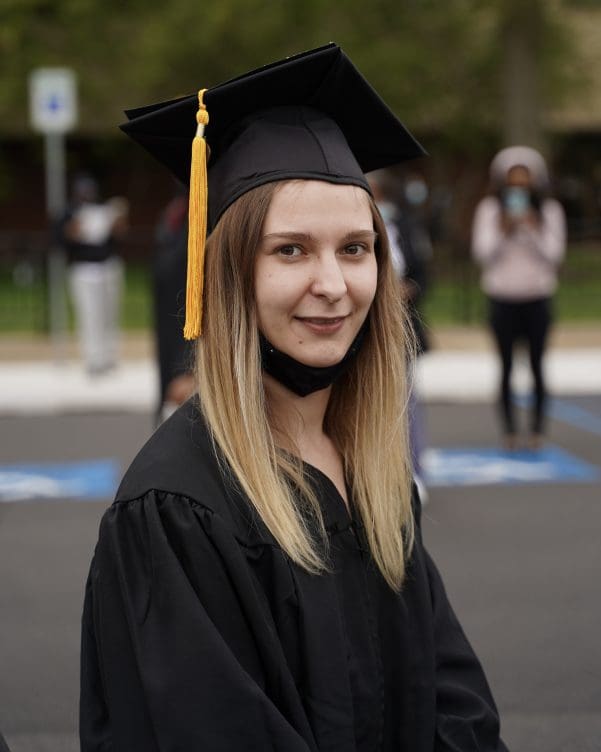 Taylor Kroon, '21, entered Purdue University Northwest not quite sure what she wanted to study. As part of PNW's exploratory program, she was able to learn more about the majors offered at the university. 
"Initially, I ended up taking a wide variety of classes," says the Schererville native. "When I took the Introduction to Java class, a first level computer programming course, I felt it was a natural fit for me." With an interest in software program design, a major in computer science struck a nice balance between Kroon's empirical, analytical and creative sides. She also recognized the wide variety of career paths a degree in computer science held. 
Putting Learning into Practice
Seizing the opportunity to put into practice what she was learning in class, Kroon worked as a research assistant in the Economics department for two years. "I've had the opportunity to work on projects that were focused on Northwest Indiana, including a study that modeled educational outcomes in the area," she added.
Kroon, who is also minoring in economics and statistics, participated in another study – a group project by the Economics Club. The club, where Kroon served as president, entered PNW's 2021 Days of Discovery where they took third place in the undergraduate competition for their research entitled, A Comprehensive Analysis of Current and Proposed Budget Models at Purdue University Northwest. The economics research study, however, was not the only entry Kroon presented at the research symposium. As a member and the treasurer of the Computer Science Club, she was part of a group that programmed a Java game engine and presented the game demonstration at the event.
"The biggest advantage for me in getting involved on campus was being able to raise my confidence level," states Kroon. "It helped with my overall confidence in communication, in programming and just my overall knowledge in everything I've learned academically." 
Gaining Real-World Experience
Kroon was able to acquire some real world experience through a PNW internship training course. The course included brief lectures on proper software design, development and other industry trends, as well as working on a project tailored specifically for a company. "It was very hands-on," states Kroon. "It helped me realize I do have the skill and knowledge and that I'm in the right place."  
Kroon believes the decision to attend PNW gave her more opportunities to learn, grow and network than she would have received at a larger university. "The smaller campus community gave me lots of opportunities to connect with students and faculty," states Kroon. "I definitely felt at home in the Purdue Northwest community."
In addition, she appreciates the well-rounded experience she received within the computer science program. "The program gives you a nice complete overview of a very broad field," states Kroon. "It helped prepare me for my future career and truly gave me the information I need to work in the industry." Kroon is hoping to pursue a master's degree in computer science and continue her role as a research assistant at PNW.
Looking back at her four years, Kroon offers a bit of advice. "Meet your peers, meet your teachers and look for opportunities to supplement your classes," she says. "It's important to have a well-rounded resume but it's also important for networking." 
Who Inspired You?
Amlan Mitra, Professor of Business Economics
"He definitely has encouraged me the most overall. He's given me the opportunity to do research and is always encouraging me to try my best and do more."