PNW College of Nursing professor receives Spirit Award
September 30, 2022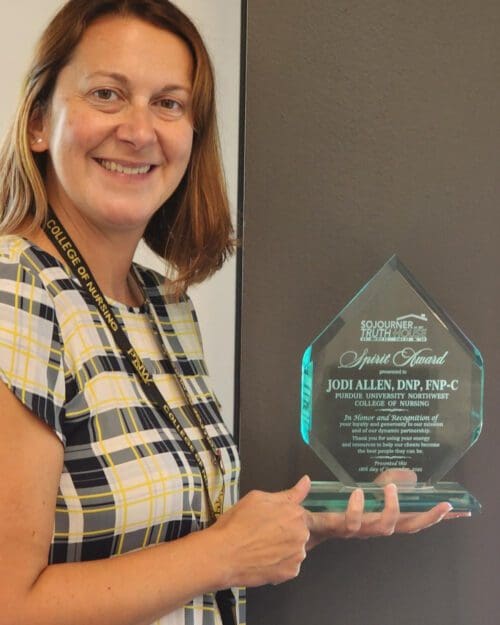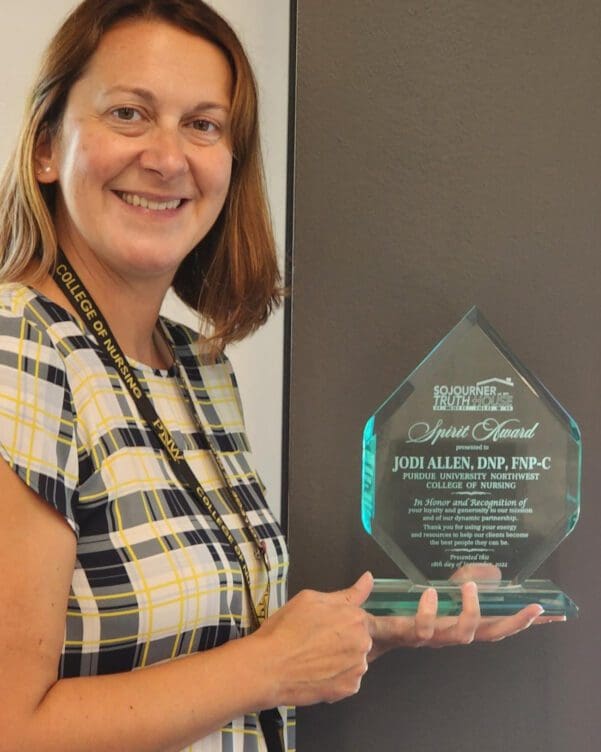 Jodi Allen, Family Nurse Practitioner (FNP) program coordinator and assistant professor in the College of Nursing at Purdue University Northwest (PNW), was awarded the Spirit Award by Sojourner Truth House (STH) during its 25th Anniversary Celebration. The award is given out every five years with the winner being selected by STH staff based on outstanding dedication, initiative, motivation, positive attitude and customer service. Allen is the second recipient of the award.
"Being recognized for your work is always humbling and so appreciated," says Allen. "However, the reward for me is to see the health of clients improve, watch as they learn to advocate for their health and see the hope they have that things are going to get better."
"Dr. Jodi truly exemplifies our mission," says Angela Paul, executive director of Sojourner Truth House. "She is always advocating and navigating for our clients to receive services to better their health. She has been an asset to our organization."
Sojourner Truth House is a day shelter that assists economically disadvantaged women and their children who are homeless by providing basic necessities for daily survival, life skills training, resource referrals and ongoing support.
Allen first became involved with the organization as a nursing student at PNW. She continued the tradition of taking undergraduate nursing and family nurse practitioner students to STH when she began teaching full-time in 2015. The students and Allen conduct health screenings and provide general health education for the organization's clients. Allen also spends her personal time volunteering at STH, where she provides transitional health care to the homeless women, including connecting them with primary care and social services. Allen has served on the STH board of directors since October 2019.
"I absolutely love caring for the clients at STH," says Allen. "The organization's mission and vision is all about hope, help and empowerment and it is important to me from a healthcare perspective and as a human being."