PNW Debuts Multicultural and Student-Family Lounge Spaces
November 22, 2021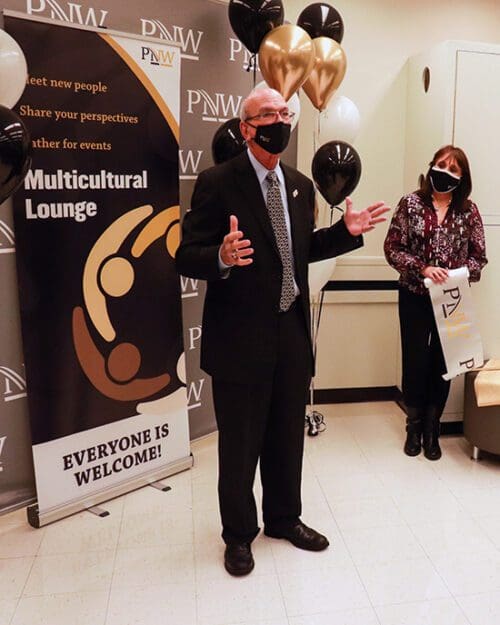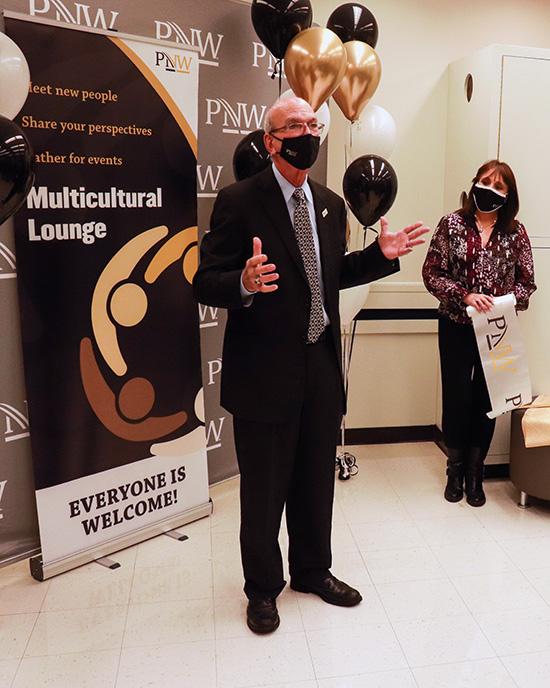 Purdue University Northwest (PNW) hosted two open houses recently to welcome students to new multicultural and student-family lounge spaces at the Hammond and Westville campuses.
Multicultural Lounge
A new programming and recreational space is available for students and student groups in Room 180 of the Classroom Office Building at the Hammond campus.
In 2020, PNW senior leadership made a commitment, with input from the Student Government Association, to transform the former classroom space into an inclusive lounge meant for meeting and sharing ideas from students of all backgrounds.
Student groups have free rein to use the space as they will and may schedule with the Office of Student Life to book meetings and event times.
"Our hope is that students will see it as a space for events and programming related to the idea of multiculturalism," Colin Fewer, Associate Vice Chancellor for Student Affairs and Dean of Students, says. "We're letting students decide how to use it. To see them dream up an idea and see it come to reality is really exciting."
The multicultural lounge at this time has an open space with both conference tables and lounge seating available, but will have future computer workstations and setups for rotating decorations.
Student-Family Lounges
Student-family lounge spaces in Room 139 of the Classroom Office Building at the Hammond campus and Room 139 in the Library-Student Faculty Building at the Westville campus premiered in late October.
The rooms are open to all students and are specially outfitted to accommodate families. The rooms give PNW students who are parents a workspace while also allowing for their children to play games or complete their own homework.
The spaces have computers for on-campus connectivity and are outfitted with many toys and play spaces for children. The rooms can accommodate kids of all ages, including cribs for infants. Students can look to these spaces as helpful resources to balance their educational mission and their roles as caregivers.
Students with questions about the spaces or resources may reach out to the Office of the Dean of Students at dos@pnw.edu.