PNW hosts its first International Collegiate Programming Contest
March 13, 2023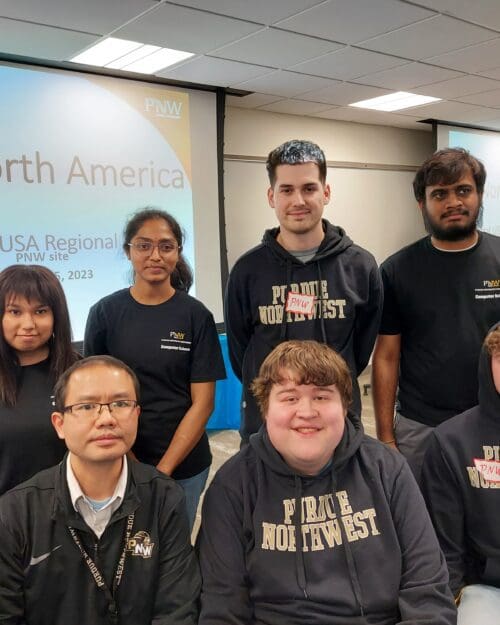 Purdue University Northwest (PNW) recently hosted and competed in its first International Collegiate Programming Contest (ICPC) Mid-Central USA Regional Contest for 2023. The top teams from each region go on to compete at the national level, and, if successful, the international level.
Thirty-six contestants and four coaches from PNW, the University of Chicago, Northwestern University, and Illinois Institute of Technology attended the programming contest. The ICPC is an academically credentialed competition that seeks to raise performance and aspirations of skilled problem solvers in the computing sciences by instilling habits of excellence in the next generation of problem solvers.
"In the ICPC regional competitions students can enhance their problem-solving skills and deeply understand more advanced algorithms," said Wei Dai, assistant professor of Computer Science and PNW's ICPC coach and site director. "At the same time, it provides an opportunity for our students to network with people from other research universities."
"The contest was a challenging, yet exciting event and I'm very glad we did it!" said Diego Ramirez, PNW ICPC team captain and fourth-year Computer Science major. "It was a privilege to work with peers from my university, and it exposed me to very smart, passionate programmers from other institutions. Despite the difficulty of the contest, I found it very rewarding and hope to compete again in the fall."
PNW's ICPC event was supported by the colleges of Business and Engineering and Sciences and the office of Information Services.
Operating under the auspices of the ICPC Foundation and headquartered at Baylor University, the ICPC Community is a global volunteer community of faculty, students, and professionals operating on six continents at 3,000 universities that annually conduct the contest.