Purdue Northwest Celebrates the Fall Class of 2020
December 3, 2020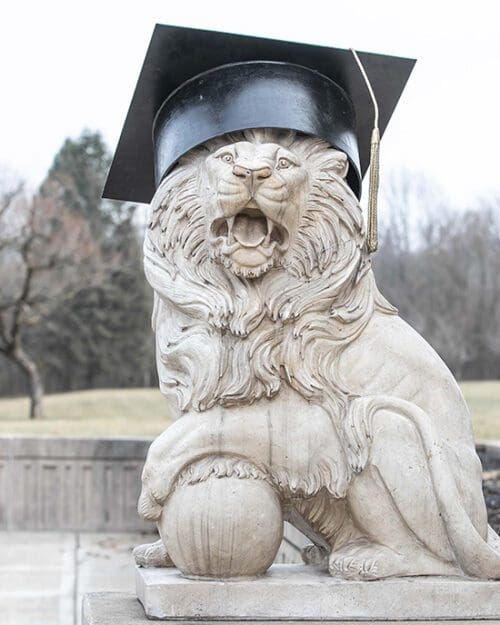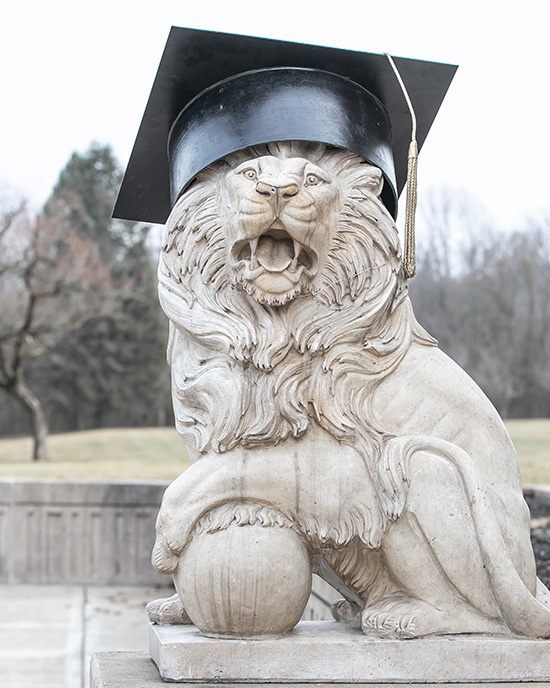 More than 1,000 Purdue University Northwest students have successfully completed the requirements of their undergraduate and graduate degrees as the fall 2020 semester draws to a close.
PNW celebrates with its graduates their determination in persisting to earn their degrees.
"You're in a very unique situation in that you've had to adapt and change significantly during the final period of time that you have been here at PNW," Chancellor Thomas L. Keon said in a video address to the graduates. "You have … a big advantage over many, because you've had to adapt, you've had to change, and I'm sure many of you have come up with some very strong, innovative ways to make the end of your college career successful. Take that ability to change and adapt and use it as you go forward with whatever you do."
Keon and PNW Student Government Association President Oriana White will present their messages to the graduates virtually via the website.
See Commencement Videos and Meet Fall 2020 Graduates
"You have made connections here at PNW with your mentors, with your instructors and your professors, and you've also created an amazing network," White said. "This network is going to launch you into your careers, it's going to help you move forward in anything that you choose."
White earned undergraduate degrees from PNW in Communications and Human Resources, and is currently a graduate student at the university working toward a master's degree in business administration. In addition to her work with Student Government, White works as a graduate assistant in the PNW Office of New Student Orientation and serves as social media coordinator of the Public Relations Club.
During her undergraduate years, White received PNW's Outstanding Undergraduate Student Service Award, was a member of Lambda Pi Eta, the communications honor society, began her service with Student Government, served as president of the Public Relations Club and as a campus ambassador, and worked on campus.
Chancellor's Medallion Honorees
Nine graduating seniors have earned the Chancellor's Medallion by achieving the highest grade point average from each college. Recipients of this distinguished honor are as follows:
College of Business
Abdullah Alabdali (Valparaiso, Ind.)
College of Engineering and Sciences
College of Humanities, Education and Social Sciences
Brandon Gargano (Crown Point, Ind.)
Amy Nieves (Chesterton, Ind.)
Joel Tokarczyk (Lake Village, Ind.)
College of Nursing
Lauren Wright (South Bend, Ind.)
College of Technology
James Cansler (Olympia Fields, Ill.)
Anthony Laas (Lake Station, Ind.)
Matthew Valant (Hebron, Ind.)
Celebrating Our Graduates
PNW graduates marked their accomplishments at our Westville Graduate Celebration Events last weekend. Browse the slideshow to see if you spot someone you know!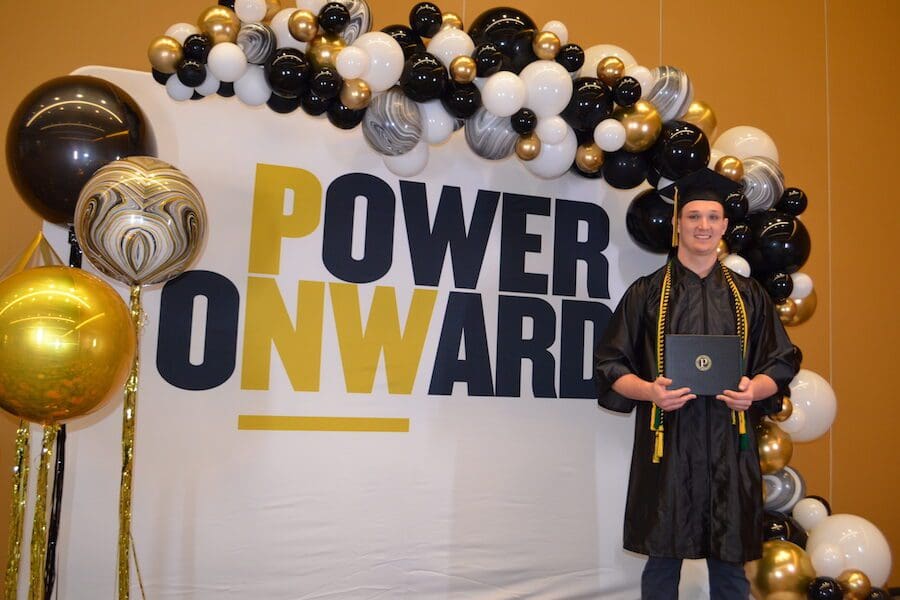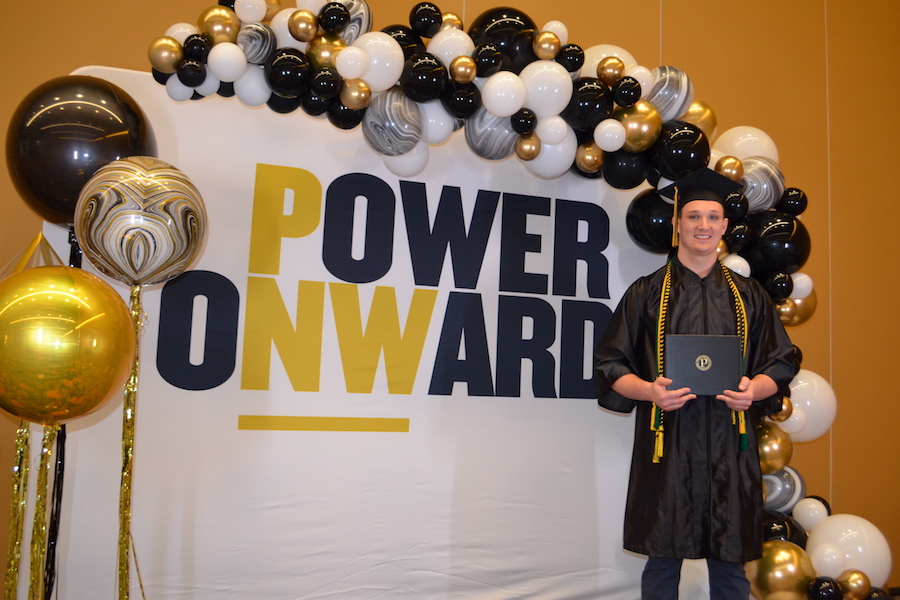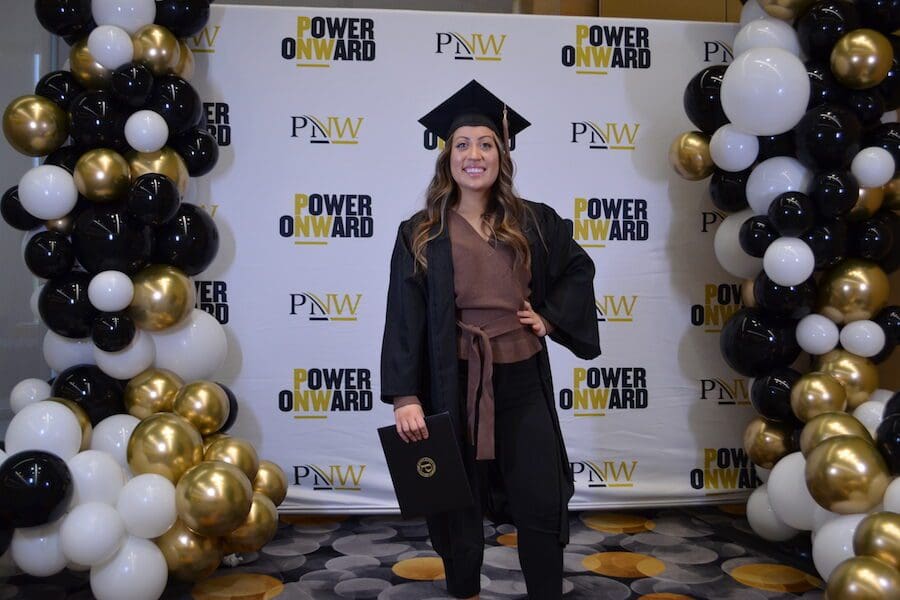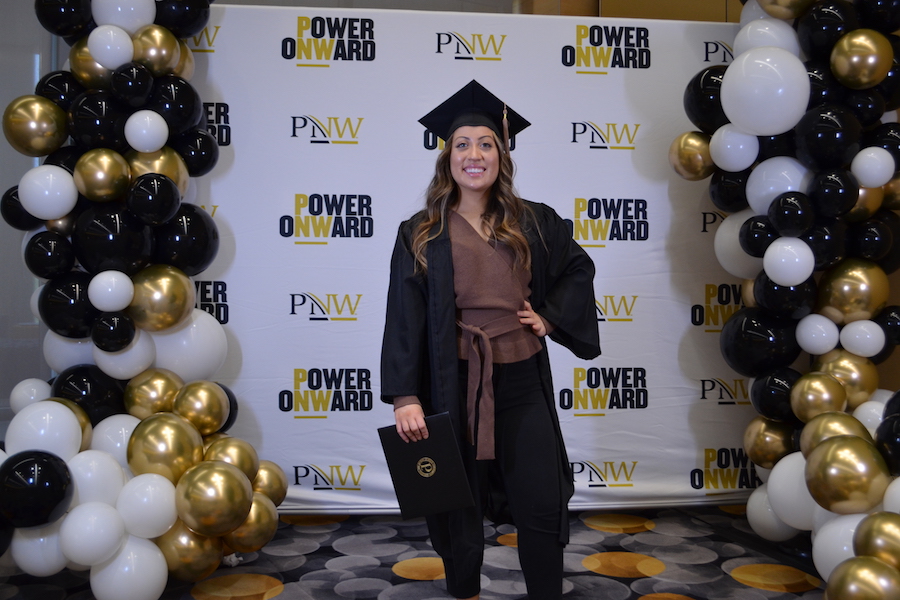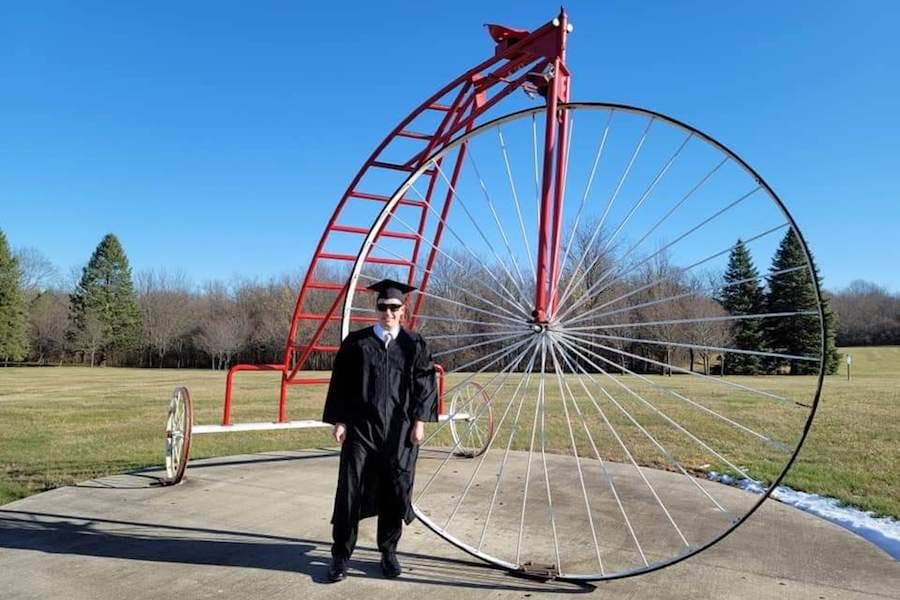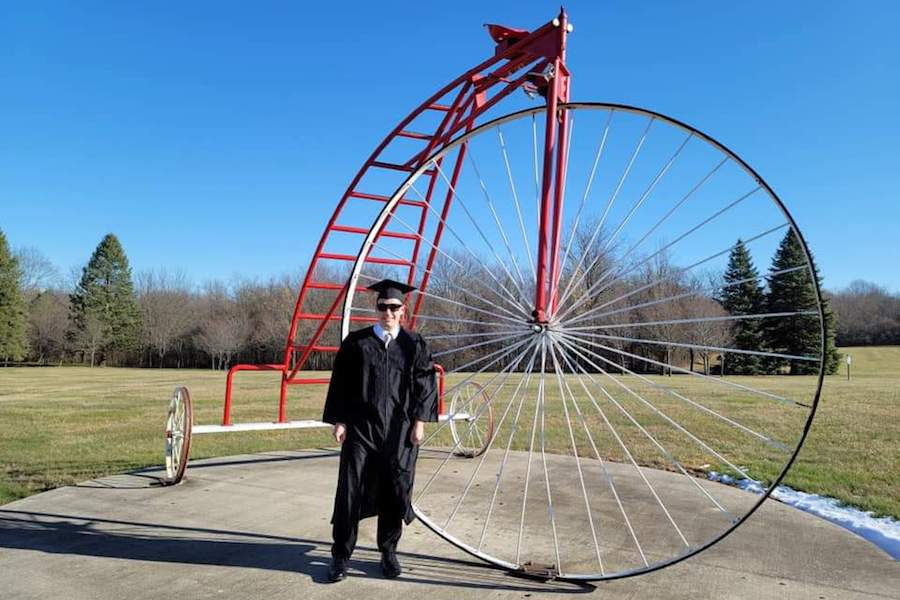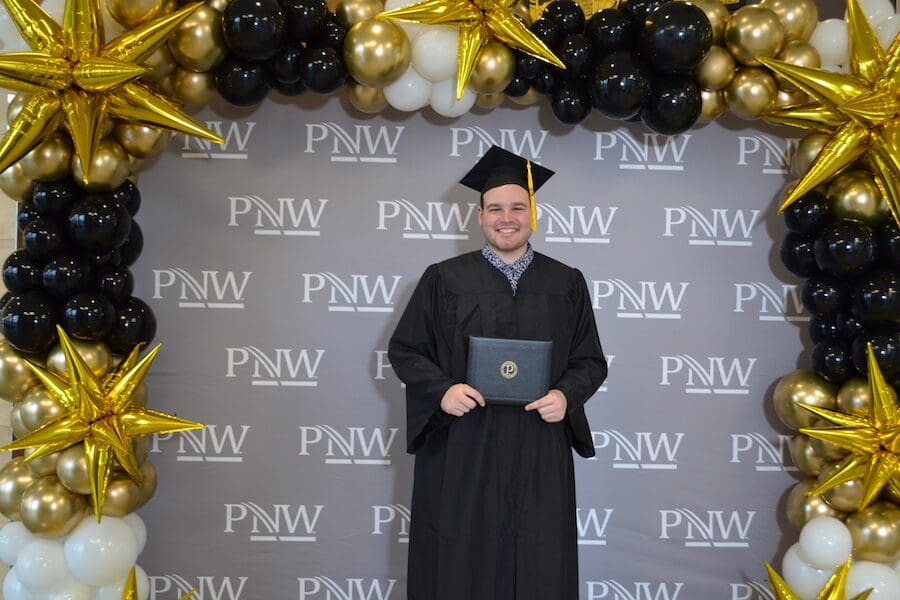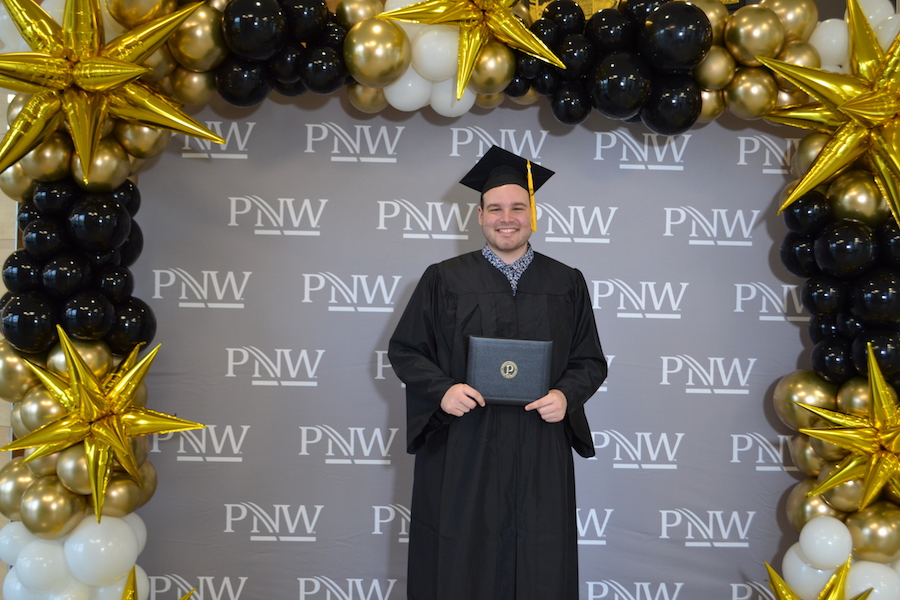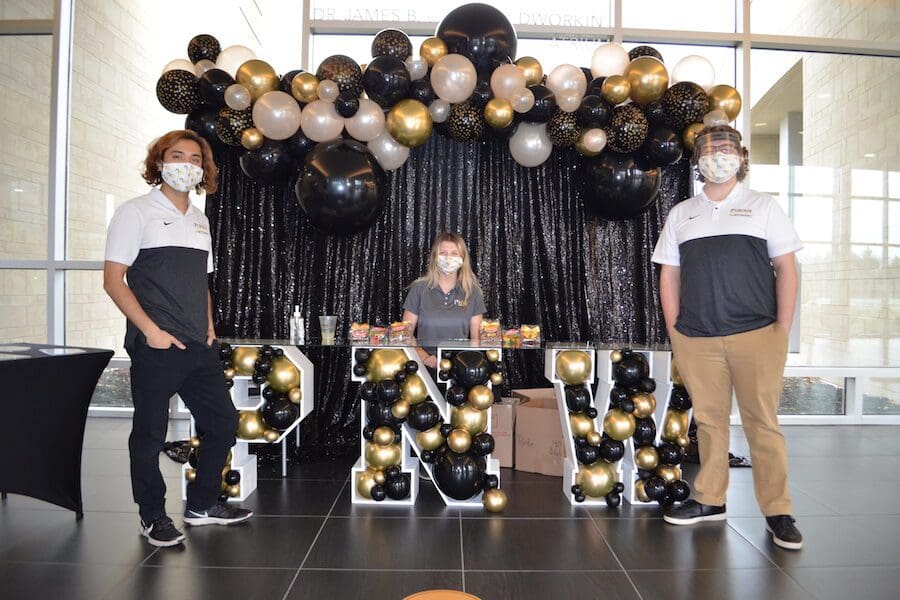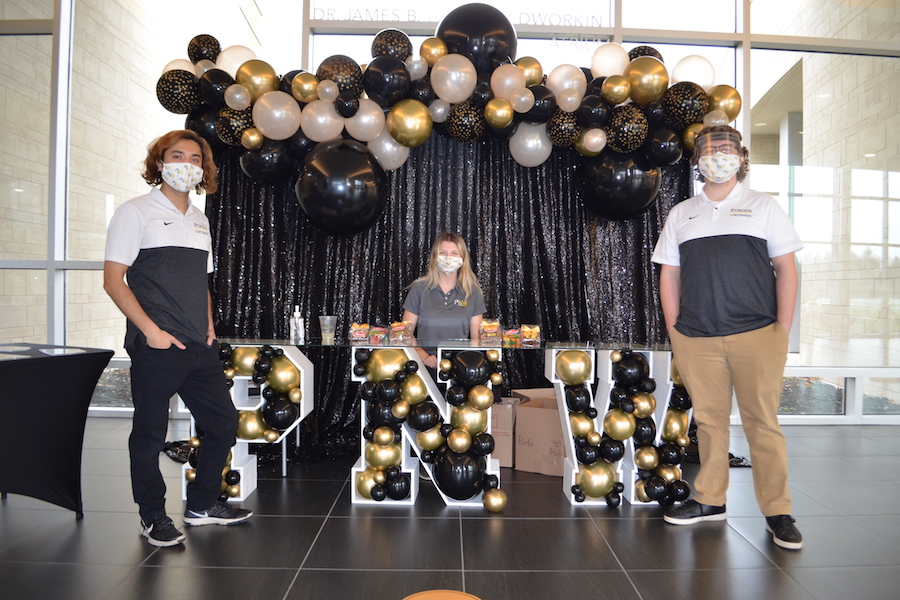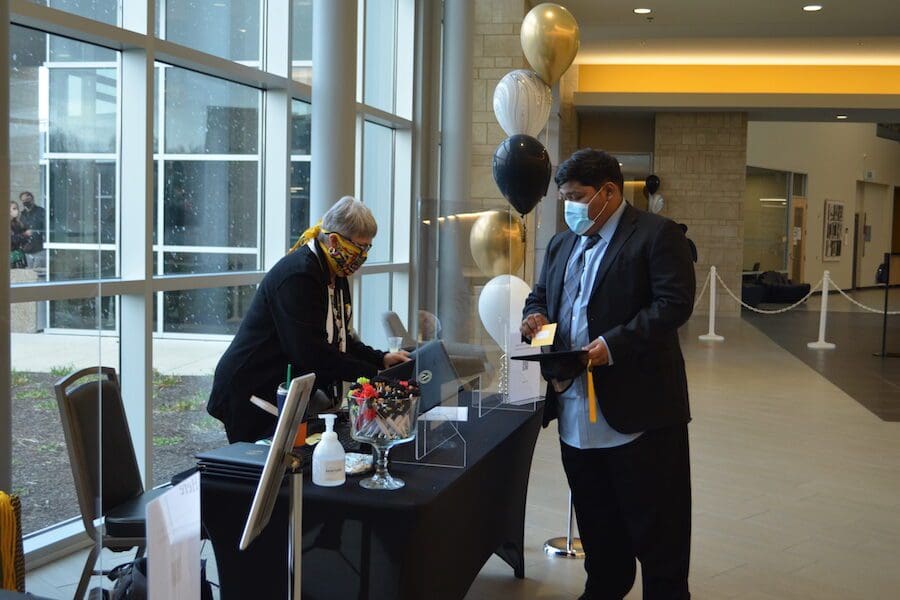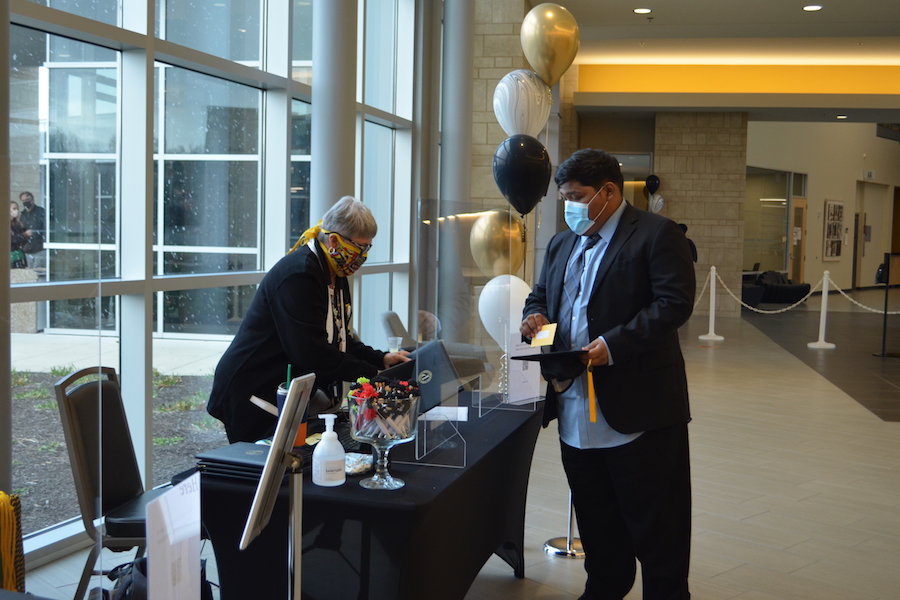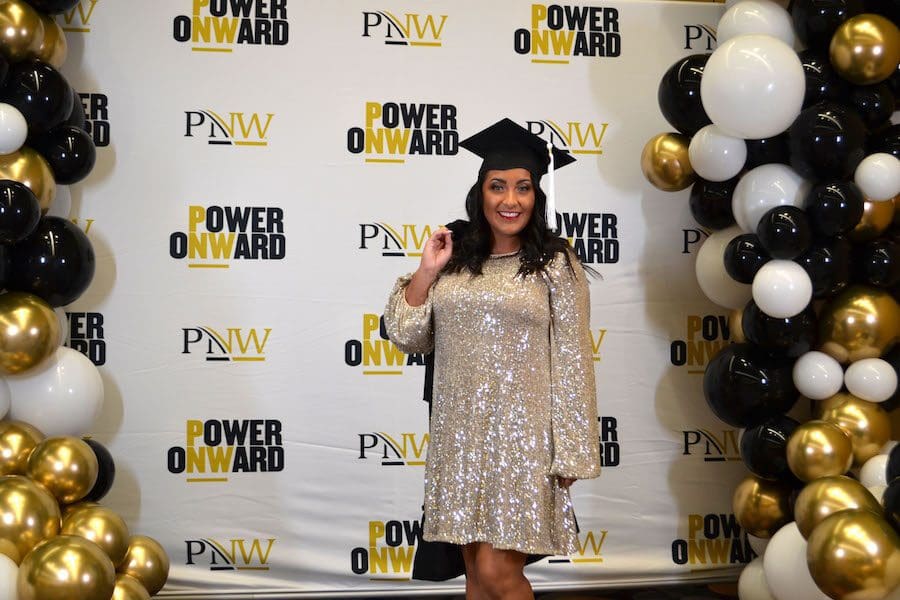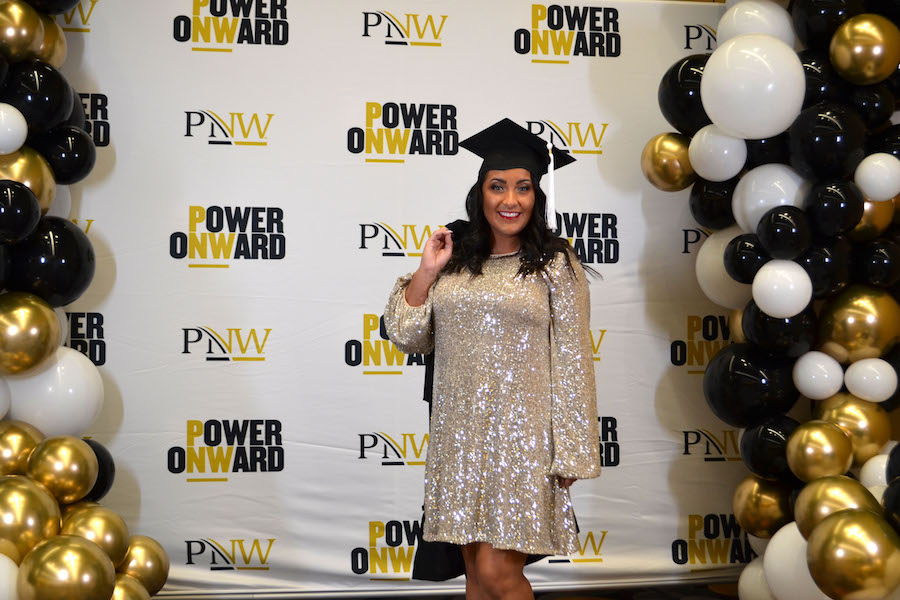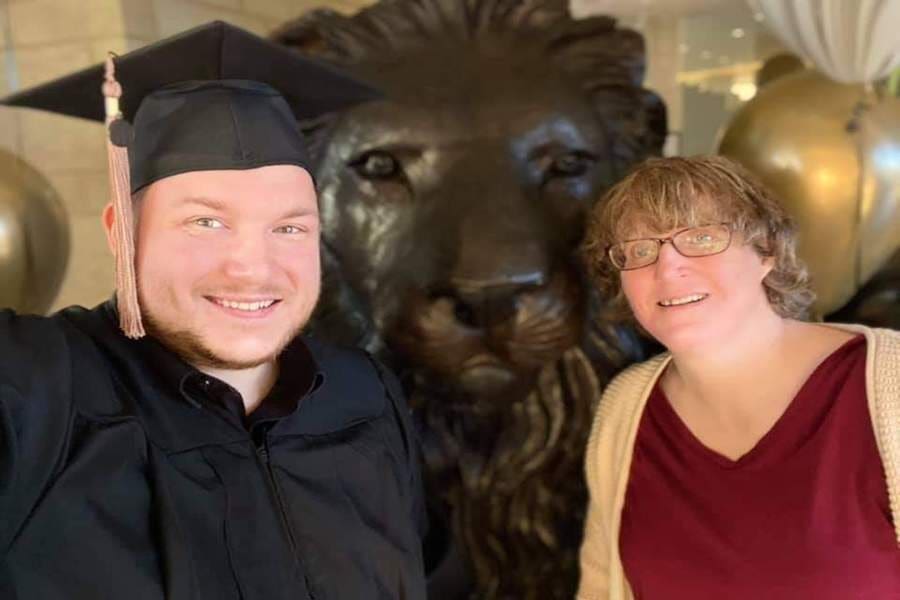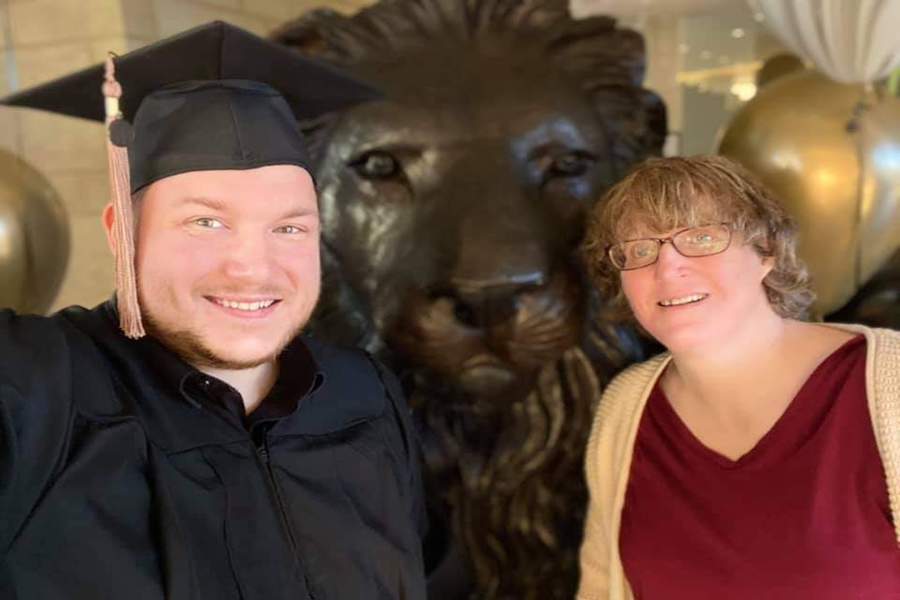 By the Numbers
PNW's 2020 fall graduating class consists of 1,009 candidates, including the conferring of one doctoral degree, 198 master's degrees and 810 baccalaureate degrees. According to PNW's Office of the Registrar, the candidates earning bachelor's degrees represent the College of Business with 151; 88 in the College of Engineering & Sciences; 162 from the College of Humanities, Education & Social Sciences; 339 from the College of Nursing; and 70 in the College of Technology.
The fall graduating class represents students who have completed their degree requirements at the end of the summer or fall semesters.
| Full Name | Degree | College | City | State |
| --- | --- | --- | --- | --- |
| Constance A. Adams | DNP | Graduate School Doctorate of Nursing Practice | Crown Point | IN |
| Sam Dobberstein | MA | Graduate School | Schererville | IN |
| Kirsten Niederer | MA | Graduate School | La Porte | IN |
| Nicole Dziadosz | MACC | Graduate School | Hebron | IN |
| Sherry Knura | MACC | Graduate School | Crown Point | IN |
| Garrett Mohr | MACC | Graduate School | Saint John | IN |
| Chad Stooksbury | MACC | Graduate School | Crown Point | IN |
| Ange Tong | MACC | Graduate School | Ningbo, Zhejiang Pro | China |
| Yiqing Yang | MACC | Graduate School | Beijing | China |
| Guy Birchel | MBA | Graduate School | Hobart | IN |
| Dominick Emerson | MBA | Graduate School | Lafayette | IN |
| Andrea Carolina Galvez Ortiz | MBA | Graduate School | Hammond | IN |
| Sabrina Garcia | MBA | Graduate School | Whiting | IN |
| Nader Liddawi | MBA | Graduate School | Saint John | IN |
| Kyle Scherer | MBA | Graduate School | Schererville | IN |
| Shiqi Zhou | MBA | Graduate School | Hammond | IN |
| Herman Breckenridge | MS | Graduate School | Memphis | TN |
| Tri Dinh | MS | Graduate School | Dyer | IN |
| Noah Feldman | MS | Graduate School | Munster | IN |
| Michael Mrdak | MS | Graduate School | Saint John | IN |
| Jinoh Park | MS | Graduate School | Highland | IN |
| Vanessa Wagler | MS | Graduate School | Chandler | IN |
| Jephunneh Bonsafo-Bawuah | MSE | Graduate School | Highland | IN |
| Mitra Khanibaseri | MSE | Graduate School | Westville | IN |
| Yu Ning | MSECE | Graduate School | Hammond | IN |
| Iman Yazdansepas | MSECE | Graduate School | Westville | IN |
| Shona Bolden | MSED | Graduate School | Crown Point | IN |
| Demetrius L. Cain | MSED | Graduate School | Merrillville | IN |
| Cloe Carda | MSED | Graduate School | Valparaiso | IN |
| Caitlyn Ginaven | MSED | Graduate School | Demotte | IN |
| Michael Hazy | MSED | Graduate School | Portage | IN |
| Amy Herbert | MSED | Graduate School | Franklin | IN |
| Chanakya Varma Surapaneni | MSME | Graduate School | Hammond | IN |
| Xiang Zhou | MSME | Graduate School | Hammond | IN |
| Shelly Adkins | MSN | Graduate School | Michigan City | IN |
| Taylor Adrian | MSN | Graduate School | Michigan City | IN |
| Brittany Bateman | MSN | Graduate School | Crown Point | IN |
| Rachel Borkowski | MSN | Graduate School | Crown Point | IN |
| Tiffany Bowser | MSN | Graduate School | Knox | IN |
| Caylie Cappelli | MSN | Graduate School | Fort Wayne | IN |
| David Chilicki | MSN | Graduate School | Libertyville | IL |
| Daniel Cole | MSN | Graduate School | La Porte | IN |
| Keona Davis | MSN | Graduate School | Merrillville | IN |
| Benjamin Ema | MSN | Graduate School | Dyer | IN |
| Agnes Errihani | MSN | Graduate School | Saint John | IN |
| Monica Gomez | MSN | Graduate School | Valparaiso | IN |
| Jenifer Hart | MSN | Graduate School | Phoenix | AZ |
| Chelsea Hornbaker | MSN | Graduate School | Dunkirk | IN |
| Deanne Lach | MSN | Graduate School | Valparaiso | IN |
| Angela Lebeter | MSN | Graduate School | Munster | IN |
| Weronika Lugo | MSN | Graduate School | Munster | IN |
| Erin Matheny | MSN | Graduate School | Valparaiso | IN |
| Cheryl May | MSN | Graduate School | Hobart | IN |
| Victoria McMahon | MSN | Graduate School | Highland | IN |
| Jeremy Michaelis | MSN | Graduate School | Valparaiso | IN |
| Jean Miller | MSN | Graduate School | Crown Point | IN |
| Shatyta Maxine Moore | MSN | Graduate School | Hobart | IN |
| Kimberly Nason | MSN | Graduate School | Hobart | IN |
| Melissa Nesmith-Vester | MSN | Graduate School | Crown Point | IN |
| Kate O'Farrell | MSN | Graduate School | Crown Point | IN |
| Meghan Papineau | MSN | Graduate School | Crown Point | IN |
| Heather M. Piehl | MSN | Graduate School | Valparaiso | IN |
| Carole Ann Rance | MSN | Graduate School | Crown Point | IN |
| Julia Ross | MSN | Graduate School | Lowell | IN |
| Cassondra Rukes | MSN | Graduate School | Highland | IN |
| Sally Russell | MSN | Graduate School | Mount Vernon | IN |
| Elle Seagrave | MSN | Graduate School | San Diego | CA |
| Lauren Segal | MSN | Graduate School | Encinitas | CA |
| Ghazala Shahid | MSN | Graduate School | Schererville | IN |
| Brooklynn Smock | MSN | Graduate School | Portage | IN |
| Amy Stetson | MSN | Graduate School | Bozeman | MT |
| Katherine Watson | MSN | Graduate School | Valparaiso | IN |
| Marie Wauna | MSN | Graduate School | Markham | IL |
| Janel Zilinski | MSN | Graduate School | Knox | IN |
| Erika Arnold | CGRAD | Graduate School | Fort Wayne | IN |
| Abdullah Alabdali | BSA | College of Business | Valparaiso | IN |
| Meshal Ahmed A. Alyahya | BSA | College of Business | Hammond | IN |
| Quintin Block | BSA | College of Business | San Pierre | IN |
| Brendon Fitzgerald | BSA | College of Business | Lake in the Hills | IL |
| Maricarmen Meraz | BSA | College of Business | Griffith | IN |
| Jacob Opat | BSA | College of Business | Munster | IN |
| April Pleasont | BSA | College of Business | Michigan City | IN |
| Kylah Adkins | BSB | College of Business | Crown Point | IN |
| Delaney Barcelli | BSB | College of Business | Munster | IN |
| Nicole Boulazeris | BSB | College of Business | Schererville | IN |
| Furqan Chaudhry | BSB | College of Business | Crown Point | IN |
| Meredith Deleon | BSB | College of Business | Valparaiso | IN |
| Ryan Fife | BSB | College of Business | Crown Point | IN |
| Madison Kilander | BSB | College of Business | Chesterton | IN |
| Gregory Logothetis | BSB | College of Business | Crown Point | IN |
| Kassandra Lore | BSB | College of Business | Schererville | IN |
| Maricarmen Meraz | BSB | College of Business | Griffith | IN |
| Yechan Park | BSB | College of Business | Chesterton | IN |
| Sarnai Tsogtsaikhan | BSB | College of Business | Lansing | IL |
| Aaron Twist | BSB | College of Business | West Frankfort | IL |
| Jason Ward | BSB | College of Business | Valparaiso | IN |
| Angela Adler | BA | CHESS | Zionsville | IN |
| Leigh Dewar | BA | CHESS | Schererville | IN |
| Rachel Meinecke | BA | CHESS | Portage | IN |
| Brittany Milzarek | BA | CHESS | Chesterton | IN |
| Hannah Raschke | BA | CHESS | Valparaiso | IN |
| Jessica Schubert | BA | CHESS | Hobart | IN |
| Samantha Skomac | BA | CHESS | Hobart | IN |
| Ashlynn Taylor | BA | CHESS | Gary | IN |
| Quiana T. Thomas | BA | CHESS | Gary | IN |
| Gabrielle Chappell | BLS | CHESS | Michigan City | IN |
| Michael Crawford | BLS | CHESS | Sauk Village | IL |
| Michael Crawford | BLS | CHESS | Sauk Village | IL |
| Rebecca Rosenbaum | BLS | CHESS | Hobart | IN |
| Jamie Slutzkin | BLS | CHESS | Michigan City | IN |
| Jesse Smith | BLS | CHESS | Griffith | IN |
| Cache Taylor | BLS | CHESS | Crown Point | IN |
| Michael Tierney | BLS | CHESS | Hammond | IN |
| Lauren Walls | BLS | CHESS | Highland | IN |
| Dolores Wright | BLS | CHESS | Portage | IN |
| Michael Greer | BS | CHESS | Lowell | IN |
| Kamri Nixon | BS | CHESS | Highland | IN |
| Meagan Pierce | BS | CHESS | Chesterton | IN |
| Nemi Achebo | BSN | College of Nursing | Aurora | IL |
| Megan Akinsanya | BSN | College of Nursing | Palatine | IL |
| Elizanda Alcala | BSN | College of Nursing | Aurora | IL |
| Katherine Alex | BSN | College of Nursing | Elmhurst | IL |
| Christina Alvino | BSN | College of Nursing | Lake in the Hills | IL |
| Kathryn Aydlett | BSN | College of Nursing | North Charleston | SC |
| Tanya Bahena | BSN | College of Nursing | Mount Prospect | IL |
| Megan Baker | BSN | College of Nursing | Monee | IL |
| Raiza Jurgenne Ballena | BSN | College of Nursing | Chicago | IL |
| Leah Banawa | BSN | College of Nursing | Palatine | IL |
| Uyanga Batbold | BSN | College of Nursing | Chicago | IL |
| Jessica Beck | BSN | College of Nursing | Dekalb | IL |
| Jarrah Bocian | BSN | College of Nursing | Lima | OH |
| Janina Bogan | BSN | College of Nursing | Plainfield | IL |
| Jonathan Bondoc | BSN | College of Nursing | Plainfield | IL |
| Mikhail Borja | BSN | College of Nursing | West Chicago | IL |
| Alexa Bowers | BSN | College of Nursing | Sacramento | CA |
| Antwonette Burton | BSN | College of Nursing | Skokie | IL |
| Lana Calvo | BSN | College of Nursing | Deerfield | IL |
| Abigail Canaday Howard | BSN | College of Nursing | Downers Grove | IL |
| Maria Cano | BSN | College of Nursing | Munster | IN |
| Gloria Carlson | BSN | College of Nursing | Valparaiso | IN |
| Albert Cha | BSN | College of Nursing | Chicago | IL |
| Catherine Coleman | BSN | College of Nursing | Wheaton | IL |
| Keyla Cole-Parham | BSN | College of Nursing | Blacklick | OH |
| Oana Cosma | BSN | College of Nursing | North Aurora | IL |
| Meagan Crockett | BSN | College of Nursing | Peoria | AZ |
| Lee Daniel | BSN | College of Nursing | Sidney | OH |
| Mark Deleon | BSN | College of Nursing | West Dundee | IL |
| Mohssine Elhmami | BSN | College of Nursing | Columbus | OH |
| Vivien Enriquez | BSN | College of Nursing | Pflugerville | TX |
| Casee Ernstberger | BSN | College of Nursing | New Albany | IN |
| James Evitts | BSN | College of Nursing | Carpentersville | IL |
| Beatriz Figueroa-Diaz | BSN | College of Nursing | Chicago | IL |
| Angela Flynn | BSN | College of Nursing | Schaumburg | IL |
| Brooke Fry | BSN | College of Nursing | Auburn | IN |
| Dominic Furco | BSN | College of Nursing | Sugar Grove | IL |
| Catherine Gaberek | BSN | College of Nursing | Lemont | IL |
| Rebecca Gacek | BSN | College of Nursing | Oak Lawn | IL |
| Laura Gaffney | BSN | College of Nursing | Portage | IN |
| Jordan Garcia | BSN | College of Nursing | Addison | IL |
| Leah Garcia | BSN | College of Nursing | Westville | IN |
| Izabella Gevondyan | BSN | College of Nursing | Riverside | IL |
| Cheryl Gillespie | BSN | College of Nursing | Marion | OH |
| Kyrstin Green | BSN | College of Nursing | New Haven | IN |
| Loree Griffin | BSN | College of Nursing | Elgin | IL |
| Said Hafid | BSN | College of Nursing | Columbus | OH |
| Heather Hamilton | BSN | College of Nursing | Aurora | IL |
| Wendi Harrell | BSN | College of Nursing | Plymouth | IN |
| Laconyia Hecks | BSN | College of Nursing | Casa Grande | AZ |
| Lisa Hegemann | BSN | College of Nursing | Burlington | WI |
| Nicole Heinz | BSN | College of Nursing | Elmhurst | IL |
| Breanna Henry | BSN | College of Nursing | Waterman | IL |
| Brianne Hernandez | BSN | College of Nursing | Terre Haute | IN |
| Andrew Herzog | BSN | College of Nursing | Rolling Meadows | IL |
| Amy Hirsch | BSN | College of Nursing | Hilliard | OH |
| Marnie Hixon | BSN | College of Nursing | Aurora | IL |
| Janet Hodyl | BSN | College of Nursing | South Elgin | IL |
| Taylor Hoffmann | BSN | College of Nursing | Elmhurst | IL |
| Christina Hollinger | BSN | College of Nursing | Durand | WI |
| Ashley Hudson | BSN | College of Nursing | New Lebanon | OH |
| Kele Noel Ivey | BSN | College of Nursing | Griffith | IN |
| Jency Johnson | BSN | College of Nursing | Lake Zurich | IL |
| Kayla Killean | BSN | College of Nursing | Chicago | IL |
| Jung Kim | BSN | College of Nursing | Des Plaines | IL |
| Ashley Klieber | BSN | College of Nursing | Spring Valley | IL |
| Taylor Knapp | BSN | College of Nursing | Mansfield | OH |
| Brittney Knight | BSN | College of Nursing | Terre Haute | IN |
| Margarita Koenig | BSN | College of Nursing | Hammond | IN |
| Carrie Kooy | BSN | College of Nursing | Wheatfield | IN |
| Heather Kopf | BSN | College of Nursing | Demotte | IN |
| Jiao Li | BSN | College of Nursing | Vernon Hills | IL |
| Shan Li | BSN | College of Nursing | Valparaiso | IN |
| Tina Malyj | BSN | College of Nursing | Northbrook | IL |
| Danielle Martin | BSN | College of Nursing | Delaware | OH |
| Kathryn McIntyre | BSN | College of Nursing | Lyons | IL |
| Melinda Merriman | BSN | College of Nursing | Chicago Ridge | IL |
| Cindy Meyers | BSN | College of Nursing | Elkhart | IN |
| Sheila Moran | BSN | College of Nursing | Orland Park | IL |
| Kristeen Morganegg | BSN | College of Nursing | Anthem | AZ |
| Julie Morris | BSN | College of Nursing | Reynolds Station | KY |
| Rita Morris | BSN | College of Nursing | Henrico | VA |
| Lisa Newton | BSN | College of Nursing | Munster | IN |
| Aldo Nolasco | BSN | College of Nursing | Carol Stream | IL |
| Oyetunji Okunola | BSN | College of Nursing | Chicago | IL |
| Jessica Olesen | BSN | College of Nursing | Cary | IL |
| Theresa Olusola | BSN | College of Nursing | Dyer | IN |
| Jamie Pierce | BSN | College of Nursing | Pickerington | OH |
| Heather Porter | BSN | College of Nursing | South Bloomfield | OH |
| Brittany Remington | BSN | College of Nursing | DeKalb | IL |
| Iana Roby | BSN | College of Nursing | Chicago | IL |
| Brian Ross | BSN | College of Nursing | Plainfield | IL |
| Felicita Ruiz | BSN | College of Nursing | Valparaiso | IN |
| Melissa Salgado | BSN | College of Nursing | Vernon Hills | IL |
| Daniela Santillan | BSN | College of Nursing | Hanover Park | IL |
| Morgan Scott | BSN | College of Nursing | Maroa | IL |
| Suzanne Scott | BSN | College of Nursing | Normal | IL |
| Dawn Siefer | BSN | College of Nursing | Kalida | OH |
| Cole Smith | BSN | College of Nursing | Findlay | OH |
| Amanda Soria | BSN | College of Nursing | Plainfield | IL |
| Kathryn Sussen | BSN | College of Nursing | Saint Joseph | IL |
| Autumn Thompson | BSN | College of Nursing | Tipp City | OH |
| Angelique Todd | BSN | College of Nursing | Griffith | IN |
| Karissa Urback | BSN | College of Nursing | Crest Hill | IL |
| Andrea Urueta-Hernandez | BSN | College of Nursing | Kansas City | KS |
| Jennifer Van Beynen | BSN | College of Nursing | Chicago | IL |
| Shelbi Vanderpool | BSN | College of Nursing | Dalzell | IL |
| Morgan Vatland | BSN | College of Nursing | Marseilles | IL |
| Ariana Venziano | BSN | College of Nursing | Lockport | IL |
| Brent Vilchez | BSN | College of Nursing | East Dundee | IL |
| Katie Vuckovich | BSN | College of Nursing | Joliet | IL |
| Koryn Werderits | BSN | College of Nursing | Lemont | IL |
| Taylor Woods | BSN | College of Nursing | Tinley Park | IL |
| Stanislau Yavorski | BSN | College of Nursing | Chicago | IL |
| Stephanie Yu | BSN | College of Nursing | Canon City | CO |
| Xochitl Zambrano | BSN | College of Nursing | Homewood | IL |
| Sarah Zinzer | BSN | College of Nursing | Oswego | IL |
| Martin Estrada | BSCE | College of Engineering & Sciences | Gary | IN |
| Kyle Flessner | BS | College of Engineering & Sciences | Thomasboro | IL |
| Ethan Hunt | BS | College of Engineering & Sciences | Schererville | IN |
| Lora Page | BS | College of Engineering & Sciences | Michigan City | IN |
| Breanna Sanchez | BS | College of Engineering & Sciences | Griffith | IN |
| Colton Trajkovski | BS | College of Engineering & Sciences | La Porte | IN |
| Julia Mrdak | BSME | College of Engineering & Sciences | Saint John | IN |
| Hassan Abdullah Alajmi | BS | College of Technology | Hammond | IN |
| Ever Melendez | BS | College of Technology | Chicago | IL |
| Full Name | Degree | College | City | State |
| --- | --- | --- | --- | --- |
| Mark Jozaitis | MACC | Graduate School | La Porte | IN |
| Bing-Kai Kao | MACC | Graduate School | New Taipei City | Taiwan |
| Xiaozhen Shan | MACC | Graduate School | Hammond | IN |
| Yihao Wang | MACC | Graduate School | Lafayette | IN |
| Steven Koontz | MA | Graduate School | Crown Point | IN |
| Hannah Scheffer | MA | Graduate School | Crown Point | IN |
| Jennifer Smith | MA | Graduate School | Hammond | IN |
| Kelly Tiffany | MA | Graduate School | Highland | IN |
| Ayham Al-Banna | MBA | Graduate School | Orland Park | IL |
| Erdenesuvd Bukhbayar | MBA | Graduate School | Glenview | IL |
| Sreekumar Chandra | MBA | Graduate School | Naperville | IL |
| Nelly Chango | MBA | Graduate School | Hammond | IN |
| Douglas Clark | MBA | Graduate School | Portage | IN |
| Yusi Cui | MBA | Graduate School | Griffith | IN |
| Kristen Falzone-Scott | MBA | Graduate School | Schererville | IN |
| Ryan Glinski | MBA | Graduate School | Chesterton | IN |
| Bianca Gonzalez | MBA | Graduate School | Crown Point | IN |
| Samantha Hammer | MBA | Graduate School | Cedar Lake | IN |
| John Hamstra | MBA | Graduate School | Highland | IN |
| Na'ree Hankins | MBA | Graduate School | Bolingbrook | IL |
| Himanshu Jain | MBA | Graduate School | Naperville | IL |
| Bojan Jasnic | MBA | Graduate School | Lowell | IN |
| Jessica Kappas | MBA | Graduate School | Valparaiso | IN |
| Tauseef Khan | MBA | Graduate School | Crown Point | IN |
| Austin Kordik | MBA | Graduate School | West Chicago | IL |
| Robin Krause | MBA | Graduate School | Valparaiso | IN |
| Linda Landowski | MBA | Graduate School | Munster | IN |
| Douglas Leonard | MBA | Graduate School | Montgomery | IL |
| Magdalena Madrigal | MBA | Graduate School | Highland | IN |
| Mario Martinez | MBA | Graduate School | East Chicago | IN |
| Walter McDonald | MBA | Graduate School | Hobart | IN |
| Gina McDonnell | MBA | Graduate School | Saint John | IN |
| Michael Reyna | MBA | Graduate School | Munster | IN |
| Christopher Ryden | MBA | Graduate School | Aurora | IL |
| Yasser Salameh | MBA | Graduate School | Burbank | IL |
| Muhammad Shahzad | MBA | Graduate School | New Lenox | IL |
| Marcus Summers | MBA | Graduate School | Hammond | IN |
| Aoya Sun | MBA | Graduate School | Hammond | IN |
| Marcella Sutanto | MBA | Graduate School | Dyer | IN |
| Jessica Villarruel | MBA | Graduate School | East Chicago | IN |
| David Zapet-Castillo | MBA | Graduate School | Shorewood | IL |
| Phyllis Agyapong | MS | Graduate School | Merrillville | IN |
| Anja Alempijevic | MS | Graduate School | Valparaiso | IN |
| Ali Alsultan | MS | Graduate School | Munster | IN |
| Ahmed Alturiki | MS | Graduate School | Hammond | IN |
| David Alvarez | MS | Graduate School | Munster | IN |
| Skandip Anand | MS | Graduate School | Hammond | IN |
| Umar Bilal | MS | Graduate School | Bolingbrook | IL |
| Jontae Bryant | MS | Graduate School | Alsip | IL |
| Derek Carlson | MS | Graduate School | Lake Village | IN |
| Chih-Hsuan Chang | MS | Graduate School | Hammond | IN |
| Yen Hao Chiao | MS | Graduate School | Hammond | IN |
| Tori DiBona | MS | Graduate School | Chicago | IL |
| Srikanth Reddy Gangidi | MS | Graduate School | Hammond | IN |
| Tianyang Guan | MS | Graduate School | Highland | IN |
| Kevin Haan | MS | Graduate School | Griffith | IN |
| Lara Hoss | MS | Graduate School | Salina | KS |
| Audrey Lafia-Bruce | MS | Graduate School | Manassas | VA |
| Jennifer Lambert | MS | Graduate School | Valparaiso | IN |
| Jacob Lindsey | MS | Graduate School | La Porte | IN |
| Jinlun Liu | MS | Graduate School | Hammond | IN |
| Nagia Fathima Lnu | MS | Graduate School | Waltham | MA |
| Jessica McGuire | MS | Graduate School | Michigan City | IN |
| Iqbal Michael | MS | Graduate School | Hobart | IN |
| Ratna Sree Mukkamala | MS | Graduate School | Hammond | IN |
| Andrew Phifer | MS | Graduate School | Munster | IN |
| Nathan Poling | MS | Graduate School | Union Mills | IN |
| Micah Rambadt | MS | Graduate School | Roanoke | VA |
| Mary Shannon | MS | Graduate School | College Station | TX |
| Daire Short | MS | Graduate School | Kokomo | IN |
| Sumendra Singh | MS | Graduate School | Highland | IN |
| Stephanie Stefano | MS | Graduate School | Schererville | IN |
| Smit Madhukar Vaity | MS | Graduate School | Hammond | IN |
| Sydney Vander Tuin | MS | Graduate School | Demotte | IN |
| Mohammadsalim Vhora | MS | Graduate School | Harvey | IL |
| Dolores Wagner | MS | Graduate School | Munster | IN |
| Adrian Weldon | MS | Graduate School | Merrillville | IN |
| Matthew Wesley | MS | Graduate School | Griffith | IN |
| Kui Yang | MS | Graduate School | Hammond | IN |
| Xiaotong Yu | MS | Graduate School | Highland | IN |
| Amy Dudzik | MSED | Graduate School | Schererville | IN |
| Michael Grimberg | MSED | Graduate School | Valparaiso | IN |
| Louis Gyure | MSED | Graduate School | Hammond | IN |
| Aniket Kulkarni | MSED | Graduate School | Hammond | IN |
| Mary LaJeunesse | MSED | Graduate School | Valparaiso | IN |
| Emily Martinez | MSED | Graduate School | Westville | IN |
| Amanda McGoldrick | MSED | Graduate School | Merrillville | IN |
| Lydia McNeiley | MSED | Graduate School | Hammond | IN |
| Katelyn Mickey Lopez | MSED | Graduate School | Michigan City | IN |
| Matthew Muncy | MSED | Graduate School | Lafayette | IN |
| Andrew Raelateju | MSED | Graduate School | Valparaiso | IN |
| Samantha Robison | MSED | Graduate School | Indianapolis | IN |
| Darlene Rosario-Reese | MSED | Graduate School | East Chicago | IN |
| Lori Utesch | MSED | Graduate School | Valparaiso | IN |
| Chelsea Welp | MSED | Graduate School | Haubstadt | IN |
| Ivy Wilcher | MSED | Graduate School | Merrillville | IN |
| Belinda Witherow | MSED | Graduate School | South Bend | IN |
| Ellen Zitzer | MSED | Graduate School | Lombard | IL |
| Victoria Arequipa | MSECE | Graduate School | Hammond | IN |
| Alexander Begala | MSECE | Graduate School | Crown Point | IN |
| Gabriel Castro Aguayo | MSECE | Graduate School | Hammond | IN |
| Yifan Cheng | MSECE | Graduate School | Griffith | IN |
| Gaopeng He | MSECE | Graduate School | Hammond | IN |
| Shahrukh Alam Khan | MSECE | Graduate School | Hammond | IN |
| Uzair Khan | MSECE | Graduate School | Highland | IN |
| Youxin Luo | MSECE | Graduate School | Hammond | IN |
| Abel Reyes Angulo | MSECE | Graduate School | Hammond | IN |
| Miguel Romero Meneses | MSECE | Graduate School | Hammond | IN |
| Xiangxin She | MSECE | Graduate School | Hammond | IN |
| Aoya Sun | MSECE | Graduate School | Hammond | IN |
| Andreas Vlahos | MSECE | Graduate School | Hobart | IN |
| Xinrun Zhang | MSECE | Graduate School | Hammond | IN |
| Yuxin Zhang | MSECE | Graduate School | Shanxi Province | China |
| Haixu Zhao | MSECE | Graduate School | Hammond | IN |
| Daniel Valverde Castillo | MSE | Graduate School | Hammond | IN |
| Obinna Aronu | MSME | Graduate School | Hammond | IN |
| Ziyan Li | MSME | Graduate School | Hammond | IN |
| Mingrui Liu | MSME | Graduate School | Hammond | IN |
| Francisco Martinez | MSME | Graduate School | Hammond | IN |
| John Resa | MSME | Graduate School | Whiting | IN |
| Athira Nair Surendran | MSME | Graduate School | Hammond | IN |
| Sixian Wang | MSME | Graduate School | Valparaiso | IN |
| Ashley Bruner | MSN | Graduate School | Fort Wayne | IN |
| Kaitlyn Haenni | MSN | Graduate School | Kalamazoo | MI |
| Pamela Schoon-O'Leary | MSN | Graduate School | Crown Point | IN |
| Patrice Zagotta | MSN | Graduate School | Lansing | IL |
| Skandip Anand | CGRAD | Graduate School | Hammond | IN |
| Michael Grimberg | CGRAD | Graduate School | Valparaiso | IN |
| Iqbal Michael | CGRAD | Graduate School | Hobart | IN |
| Ratna Sree Mukkamala | CGRAD | Graduate School | Hammond | IN |
| Matthew Wesley | CGRAD | Graduate School | Griffith | IN |
| Carolyn Andrews | BS | College of Business | Crown Point | IN |
| Amanda Beutner | BS | College of Business | La Porte | IN |
| Kristen Bright | BS | College of Business | Merrillville | IN |
| Amy DeFries | BS | College of Business | Cedar Lake | IN |
| Haley Delph | BS | College of Business | Valparaiso | IN |
| Taylor Ecsy | BS | College of Business | Highland | IN |
| Ronald Evans | BS | College of Business | Hammond | IN |
| Mohammed Issa | BS | College of Business | Highland | IN |
| Ethan Lautenschlager | BS | College of Business | Cedar Lake | IN |
| Durante Lee | BS | College of Business | Indianapolis | IN |
| Ryan Lulich | BS | College of Business | Dyer | IN |
| Nija Mcgee | BS | College of Business | Hammond | IN |
| Heather O'Kelly | BS | College of Business | Valparaiso | IN |
| Lisa Pisowicz | BS | College of Business | Crown Point | IN |
| Drew Rockwell | BS | College of Business | Valparaiso | IN |
| Meghan Sellers | BS | College of Business | Grant Park | IL |
| Lauren Shaw | BS | College of Business | La Porte | IN |
| Nathan Washington | BS | College of Business | Fishers | IN |
| Belal Abdeljaber | BSA | College of Business | Dyer | IN |
| Elizabeth Al-Akel | BSA | College of Business | Highland | IN |
| Samuel Arjona Ruiz | BSA | College of Business | East Chicago | IN |
| Roberto Bernal Navarro | BSA | College of Business | Whiting | IN |
| Paige Bohling | BSA | College of Business | Munster | IN |
| Rebekah Bowen | BSA | College of Business | Highland | IN |
| Jazmine Chairez | BSA | College of Business | Whiting | IN |
| Jerel Cole | BSA | College of Business | Gary | IN |
| Timothy Cybulski | BSA | College of Business | Hammond | IN |
| Ethan Ellison | BSA | College of Business | Hammond | IN |
| Brittany Fielder | BSA | College of Business | East Chicago | IN |
| Andrea Gonzalez | BSA | College of Business | East Chicago | IN |
| Maranda Jackson | BSA | College of Business | Griffith | IN |
| Tairu Jozaitis | BSA | College of Business | La Porte | IN |
| Shyann Kettler | BSA | College of Business | La Porte | IN |
| Rachel Kibler | BSA | College of Business | Dyer | IN |
| Tyler Klukken | BSA | College of Business | Crown Point | IN |
| Terra Kreis | BSA | College of Business | Crown Point | IN |
| Paige Martin | BSA | College of Business | La Porte | IN |
| Celia Mhoon | BSA | College of Business | Merrillville | IN |
| Jessica Norlock | BSA | College of Business | Crown Point | IN |
| Ryan Olanrewaju | BSA | College of Business | Hammond | IN |
| Cassie Oman | BSA | College of Business | Merrillville | IN |
| Donald Parlock | BSA | College of Business | Lake Station | IN |
| Krupa Patel | BSA | College of Business | Dyer | IN |
| Nicole Perez | BSA | College of Business | Lake Station | IN |
| Alexander Provenzano | BSA | College of Business | Hebron | IN |
| Adam Pruett | BSA | College of Business | Schererville | IN |
| Myra Serrano | BSA | College of Business | Hammond | IN |
| Alexis Tracy | BSA | College of Business | Wanatah | IN |
| Abdullah Alabdali | BSB | College of Business | Valparaiso | IN |
| Aaron Ashcraft | BSB | College of Business | Cedar Lake | IN |
| Nicholas Bastin | BSB | College of Business | Valparaiso | IN |
| Zoe Batistatos | BSB | College of Business | Hobart | IN |
| Mark Blaski | BSB | College of Business | Saint John | IN |
| Radmila Bobic | BSB | College of Business | Schererville | IN |
| Tyler Bryak | BSB | College of Business | Highland | IN |
| Kassandra Burgett | BSB | College of Business | Saint John | IN |
| Olivia Castaneda | BSB | College of Business | Schererville | IN |
| Rylee Catlin | BSB | College of Business | Valparaiso | IN |
| Leslie Chavez | BSB | College of Business | Highland | IN |
| Mariela Cortes | BSB | College of Business | Whiting | IN |
| Kelly Covaciu | BSB | College of Business | Crown Point | IN |
| Ki'Juan Crawford | BSB | College of Business | Gary | IN |
| Alexander Dujmovich | BSB | College of Business | Valparaiso | IN |
| Marlayna Eaton | BSB | College of Business | Highland | IN |
| Ethan Ellison | BSB | College of Business | Hammond | IN |
| Morgan Ericksen | BSB | College of Business | Dyer | IN |
| Natalie Fadell | BSB | College of Business | Valparaiso | IN |
| Jordan Fasnacht | BSB | College of Business | Crown Point | IN |
| Brook Feddeler | BSB | College of Business | Lowell | IN |
| Delmer Fleming | BSB | College of Business | Lowell | IN |
| Jordan Gallardo | BSB | College of Business | Valparaiso | IN |
| Staci Gamblin | BSB | College of Business | Hammond | IN |
| Charles Gerstner | BSB | College of Business | Highland | IN |
| Benjamin Graves | BSB | College of Business | Dyer | IN |
| Jonathan Grygus | BSB | College of Business | Palos Hills | IL |
| Gabrielle Harbrecht | BSB | College of Business | Hebron | IN |
| Jazzmin Haygood | BSB | College of Business | Michigan City | IN |
| Salai Hei | BSB | College of Business | Indianapolis | IN |
| Jacob Hirjak | BSB | College of Business | Lowell | IN |
| Bailey Holkan | BSB | College of Business | Trail Creek | IN |
| Brett Hoover | BSB | College of Business | Hanna | IN |
| Phillip Howard | BSB | College of Business | Valparaiso | IN |
| Maranda Jackson | BSB | College of Business | Griffith | IN |
| Tanya Jimenez | BSB | College of Business | Whiting | IN |
| Rachel Jordan | BSB | College of Business | Portage | IN |
| Andjela Jovanovic | BSB | College of Business | Schererville | IN |
| Tairu Jozaitis | BSB | College of Business | La Porte | IN |
| Jack Juhasz | BSB | College of Business | Portage | IN |
| Shyann Kettler | BSB | College of Business | La Porte | IN |
| Tyler Klukken | BSB | College of Business | Crown Point | IN |
| Allison Kolanowski | BSB | College of Business | Saint John | IN |
| Ethan LaBelle | BSB | College of Business | Crown Point | IN |
| Mason Manis | BSB | College of Business | Crown Point | IN |
| Olivia Maranto | BSB | College of Business | Chesterton | IN |
| Nicolas Martinez | BSB | College of Business | Hammond | IN |
| Samuel Matchain | BSB | College of Business | Schererville | IN |
| Larry Morris | BSB | College of Business | Gary | IN |
| Cameron Neely | BSB | College of Business | Chesterton | IN |
| Amanda Neff | BSB | College of Business | Schererville | IN |
| Eudora Negri | BSB | College of Business | Crown Point | IN |
| Alexyss Norby | BSB | College of Business | Knox | IN |
| Samuel Ochs | BSB | College of Business | Chesterton | IN |
| Michael Odulate | BSB | College of Business | Hammond | IN |
| Krupa Patel | BSB | College of Business | Dyer | IN |
| Timothy Paul | BSB | College of Business | Chesterton | IN |
| Nicole Perez | BSB | College of Business | Lake Station | IN |
| McKenna Pinske | BSB | College of Business | Beecher | IL |
| Adam Pruett | BSB | College of Business | Schererville | IN |
| Anthony Quintero | BSB | College of Business | Griffith | IN |
| Demarcus Robinson | BSB | College of Business | Crown Point | IN |
| Carlos Salas | BSB | College of Business | Schererville | IN |
| Jonathan Sanchez | BSB | College of Business | Crown Point | IN |
| George Schreiber | BSB | College of Business | Frankfort | IL |
| Jenean Smith | BSB | College of Business | Kokomo | IN |
| Paige Smith | BSB | College of Business | Michigan City | IN |
| Aspen Strong | BSB | College of Business | La Porte | IN |
| Jing Tang | BSB | College of Business | Hammond | IN |
| Emily Tharp | BSB | College of Business | Chesterton | IN |
| Maya Tobin | BSB | College of Business | Schererville | IN |
| Alexis Tracy | BSB | College of Business | Wanatah | IN |
| Branden Valdez | BSB | College of Business | Chesterton | IN |
| Brooke Veltman | BSB | College of Business | Crown Point | IN |
| Lisette Venegas | BSB | College of Business | Highland | IN |
| Eva Vercel | BSB | College of Business | Schererville | IN |
| Pawan Vohra | BSB | College of Business | Chantilly | VA |
| Jonathan Waspi | BSB | College of Business | Cedar Lake | IN |
| Kenneth Wolfrum | BSB | College of Business | Dyer | IN |
| Katelyn Wolszczak | BSB | College of Business | La Porte | IN |
| Michael Woods | BSB | College of Business | Elk Grove Village | IL |
| Taylor Ecsy | CERT | College of Business | Highland | IN |
| Ryan Lulich | CERT | College of Business | Dyer | IN |
| Heather O'Kelly | CERT | College of Business | Valparaiso | IN |
| Nathan Washington | CERT | College of Business | Fishers | IN |
| Delfino Torres-Alvares | AS | College of Business | Valparaiso | IN |
| Karim Ali | BS | College of Engineering & Sciences | Munster | IN |
| Lauren Bailey | BS | College of Engineering & Sciences | Wanatah | IN |
| Dorde Blagojevic | BS | College of Engineering & Sciences | Munster | IN |
| Eric Blankenship | BS | College of Engineering & Sciences | Schererville | IN |
| Patrick Bulger | BS | College of Engineering & Sciences | Chicago | IL |
| Eric Burns | BS | College of Engineering & Sciences | Lake Station | IN |
| Jennifer Castaneda | BS | College of Engineering & Sciences | Hammond | IN |
| Szymon Cias | BS | College of Engineering & Sciences | Dyer | IN |
| Luke Conway | BS | College of Engineering & Sciences | Hickory Hills | IL |
| Anthony Delgado | BS | College of Engineering & Sciences | Crown Point | IN |
| Rana English | BS | College of Engineering & Sciences | Wheeling | IL |
| Donovan Ewing | BS | College of Engineering & Sciences | Dyer | IN |
| Jessica Furlan | BS | College of Engineering & Sciences | Crown Point | IN |
| Umang Godhani | BS | College of Engineering & Sciences | Crown Point | IN |
| Jawhara Haddad | BS | College of Engineering & Sciences | Hammond | IN |
| Sabrina Haddad | BS | College of Engineering & Sciences | Schererville | IN |
| Megan Heslin | BS | College of Engineering & Sciences | Chesterton | IN |
| Chloe Howard | BS | College of Engineering & Sciences | Merrillville | IN |
| Kevin Huicochea | BS | College of Engineering & Sciences | Saint John | IN |
| Kristin Isenberg | BS | College of Engineering & Sciences | Kouts | IN |
| Nathaniel Knipe | BS | College of Engineering & Sciences | Highland | IN |
| Emily Ann Littig | BS | College of Engineering & Sciences | Hammond | IN |
| Jesus Loe | BS | College of Engineering & Sciences | East Chicago | IN |
| Husam Maiah | BS | College of Engineering & Sciences | Hammond | IN |
| Gustavo Maldonado | BS | College of Engineering & Sciences | Gary | IN |
| Damian Marroquin | BS | College of Engineering & Sciences | Chicago | IL |
| Matthew Matthias | BS | College of Engineering & Sciences | Lowell | IN |
| Megan McGehee | BS | College of Engineering & Sciences | Hammond | IN |
| Shayla Medows | BS | College of Engineering & Sciences | Bolingbrook | IL |
| Dana Miller | BS | College of Engineering & Sciences | La Porte | IN |
| Nicholas Nelson | BS | College of Engineering & Sciences | Hammond | IN |
| Luis Perez | BS | College of Engineering & Sciences | East Chicago | IN |
| Haylei Peterson | BS | College of Engineering & Sciences | Cedar Lake | IN |
| Jessica Quezada | BS | College of Engineering & Sciences | Chicago | IL |
| Yoseleini Ramirez | BS | College of Engineering & Sciences | Lake Station | IN |
| Joel Schwartz | BS | College of Engineering & Sciences | Merrillville | IN |
| Michael Simatovich | BS | College of Engineering & Sciences | Hobart | IN |
| Brendan Sullivan | BS | College of Engineering & Sciences | Crete | IL |
| Reginia Torres | BS | College of Engineering & Sciences | Hobart | IN |
| Lorena Tucker | BS | College of Engineering & Sciences | Chicago | IL |
| Lisa Wicks | BS | College of Engineering & Sciences | Portage | IN |
| Scot Wilder | BS | College of Engineering & Sciences | Warsaw | IN |
| Autumn Zendzian | BS | College of Engineering & Sciences | Dyer | IN |
| Hunter Zukley | BS | College of Engineering & Sciences | Munster | IN |
| Anthony Byrd | BSCE | College of Engineering & Sciences | South Holland | IL |
| Milos Lukic | BSCE | College of Engineering & Sciences | Crown Point | IN |
| Sean Proctor | BSCE | College of Engineering & Sciences | Hammond | IN |
| Maxmilian Radziejeski | BSCE | College of Engineering & Sciences | Dyer | IN |
| Runqin Tang | BSCE | College of Engineering & Sciences | Highland | IN |
| Ryan Torrenga | BSCE | College of Engineering & Sciences | Highland | IN |
| Adam Binder | BSCH | College of Engineering & Sciences | Crown Point | IN |
| Ethan Ewoldt | BSCMPE | College of Engineering & Sciences | Momence | IL |
| Austin Richardson | BSCMPE | College of Engineering & Sciences | Joliet | IL |
| Baylee Carpenter | BSEE | College of Engineering & Sciences | New Carlisle | IN |
| Szymon Cias | BSEE | College of Engineering & Sciences | Dyer | IN |
| Andrew Miloshoff | BSEE | College of Engineering & Sciences | Crown Point | IN |
| Nicholas Perez | BSEE | College of Engineering & Sciences | Schererville | IN |
| Brendan Rathbone-Desch | BSEE | College of Engineering & Sciences | Chicago | IL |
| Jose Trejo | BSEE | College of Engineering & Sciences | Chicago | IL |
| Maria Yepez | BSEE | College of Engineering & Sciences | Hammond | IN |
| Ahmed Aleid | BSME | College of Engineering & Sciences | Merrillville | IN |
| Abdullah Alrahb | BSME | College of Engineering & Sciences | Merrillville | IN |
| Ali Al-Salem | BSME | College of Engineering & Sciences | Chicago | IL |
| Abdullah Ahmed Altalib | BSME | College of Engineering & Sciences | Merrillville | IN |
| Abdalrahman Assiri | BSME | College of Engineering & Sciences | Michigan City | IN |
| Adam Binder | BSME | College of Engineering & Sciences | Crown Point | IN |
| Sam Cervantes | BSME | College of Engineering & Sciences | Crown Point | IN |
| Paul Chojenski | BSME | College of Engineering & Sciences | Crown Point | IN |
| William Dearinger | BSME | College of Engineering & Sciences | Flora | IN |
| Nathaniel Doan | BSME | College of Engineering & Sciences | Bloomingdale | IN |
| Navvar El Khazh | BSME | College of Engineering & Sciences | Highland | IN |
| Luis Enriquez | BSME | College of Engineering & Sciences | Saint John | IN |
| Mali Freeman | BSME | College of Engineering & Sciences | Crown Point | IN |
| Patrick Gazzillo | BSME | College of Engineering & Sciences | Crown Point | IN |
| Tristen Hesser | BSME | College of Engineering & Sciences | Dyer | IN |
| Christine Leach | BSME | College of Engineering & Sciences | Plainfield | IL |
| Steven Matura | BSME | College of Engineering & Sciences | Whiting | IN |
| Shehroz Naeem | BSME | College of Engineering & Sciences | Hammond | IN |
| Shanan Patrick | | College of Engineering & Sciences | Demotte | IN |
| Bharat Ranawat | BSME | College of Engineering & Sciences | Hammond | IN |
| Katie Schoeling | BSME | College of Engineering & Sciences | New Lenox | IL |
| Saswot Thapa | BSME | College of Engineering & Sciences | Branford | CT |
| Roberto Torres | BSME | College of Engineering & Sciences | Garland | TX |
| Konstantinos Triantafyllou | BSME | College of Engineering & Sciences | Schererville | IN |
| Faten Abdelrazzaq | BA | CHESS | Schererville | IN |
| Jaylin Adan-Salcedo | BA | CHESS | East Chicago | IN |
| Tanesia Andrews | BA | CHESS | Chicago Heights | IL |
| Brianna Armato | BA | CHESS | Kalamazoo | MI |
| Tiffani Arnold | BA | CHESS | Portage | IN |
| Joshua Balcerak | BA | CHESS | Griffith | IN |
| Kendall Beckman | BA | CHESS | Crown Point | IN |
| Colin Brandon | BA | CHESS | Dyer | IN |
| Tyler Bridges | BA | CHESS | Lowell | IN |
| Erin Brogdon | BA | CHESS | Hammond | IN |
| Dashae Brown | BA | CHESS | Hammond | IN |
| Elysse Brown | BA | CHESS | Crown Point | IN |
| Kevin Calderone | BA | CHESS | Dyer | IN |
| Kevin Casey | BA | CHESS | Evergreen Park | IL |
| Alicia Cervantes | BA | CHESS | Hammond | IN |
| Marissa Clark-Debutch | BA | CHESS | Schererville | IN |
| Madeline Clement | BA | CHESS | Hammond | IN |
| Jacob Comanse | BA | CHESS | Munster | IN |
| Hunter Conaghan | BA | CHESS | Griffith | IN |
| Charmaine Connell | BA | CHESS | Munster | IN |
| Nicole Cornett | BA | CHESS | Crown Point | IN |
| Jordan Delaurentis | BA | CHESS | Crown Point | IN |
| Benjamin Depta | BA | CHESS | Crown Point | IN |
| Erin Dronet | BA | CHESS | Cedar Lake | IN |
| Thomas Duncan | BA | CHESS | Griffith | IN |
| Paul Dunn | BA | CHESS | Winamac | IN |
| Anthony Dye | BA | CHESS | Griffith | IN |
| Joseph Ellison | BA | CHESS | Valparaiso | IN |
| Megan Fage | BA | CHESS | Munster | IN |
| Allyssa Farkas | BA | CHESS | Dyer | IN |
| Mailen Flores-Gil | BA | CHESS | La Porte | IN |
| Alexandra Ford | BA | CHESS | Hammond | IN |
| Justin Fox | BA | CHESS | Dyer | IN |
| Tyler Games | BA | CHESS | Chesterton | IN |
| Brandon Gargano | BA | CHESS | Crown Point | IN |
| Zachary Golab | BA | CHESS | Portage | IN |
| Kaylin Holmes | BA | CHESS | Demotte | IN |
| Kristi Hotter | BA | CHESS | Valparaiso | IN |
| Marko Ivetic | BA | CHESS | Crown Point | IN |
| Amanda Jacobs | BA | CHESS | Crown Point | IN |
| Elaine Januchowski | BA | CHESS | Dyer | IN |
| Marion Johnson | BA | CHESS | East Chicago | IN |
| Joel Juarez | BA | CHESS | Highland | IN |
| Brianna Kamleiter | BA | CHESS | Crown Point | IN |
| Luke Karas | BA | CHESS | Hammond | IN |
| Henry Keller | BA | CHESS | Westville | IN |
| Tyler Kenjic | BA | CHESS | Hobart | IN |
| Katherine Kerber | BA | CHESS | Highland | IN |
| Michael Krga | BA | CHESS | Saint John | IN |
| Michaela Krysinski | BA | CHESS | Dyer | IN |
| Linda Lagunas | BA | CHESS | Whiting | IN |
| Nicholas Lemberis | BA | CHESS | La Porte | IN |
| Cody Leonhardt | BA | CHESS | Schererville | IN |
| Kirsten Leouses | BA | CHESS | Chesterton | IN |
| Jala Lewis | BA | CHESS | Hammond | IN |
| Luis Licea | BA | CHESS | Munster | IN |
| Camryn Linders | BA | CHESS | Griffith | IN |
| Tatyana Locchetta | BA | CHESS | Cedar Lake | IN |
| Sarah Lowe | BA | CHESS | Valparaiso | IN |
| Kristen Luna | BA | CHESS | East Chicago | IN |
| Christopher Manning | BA | CHESS | Merrillville | IN |
| Sienna Meloy | BA | CHESS | Hanna | IN |
| Sabina Memic | BA | CHESS | Crown Point | IN |
| Jailene Meraz | BA | CHESS | Hammond | IN |
| Jessica Meraz | BA | CHESS | Hammond | IN |
| Jori Meyers | BA | CHESS | Crown Point | IN |
| Stephanie Michalik | BA | CHESS | Crown Point | IN |
| Grace Miedema | BA | CHESS | Highland | IN |
| Tiffany Miller | BA | CHESS | Valparaiso | IN |
| Julien Miranda | BA | CHESS | Hammond | IN |
| Daniel Mitchell | BA | | Griffith | IN |
| Daniel Mitchell | Certificate | CHESS | Griffith | IN |
| DeAndrea Mitchell | BA | CHESS | Merrillville | IN |
| DeAndrea Moore | BA | CHESS | Merrillville | IN |
| Christopher Mundell | BA | CHESS | Dyer | IN |
| Jacqueline Munoz | BA | CHESS | Highland | IN |
| Alejandra Navarro | BA | CHESS | Hammond | IN |
| Kelsey Neiswinger | BA | CHESS | Chesterton | IN |
| Ian Nelson | BA | CHESS | Michigan City | IN |
| Jaelyn Nowatzke | BA | CHESS | Michigan City | IN |
| Brian Oduor | BA | CHESS | South Bend | IN |
| Elizabeth Oprisko | BA | CHESS | Munster | IN |
| Justus Perkins | BA | CHESS | Hammond | IN |
| Erik Prokop | BA | CHESS | Crown Point | IN |
| Anna Pyke | BA | CHESS | La Porte | IN |
| Magdalena Ramos | BA | CHESS | Hammond | IN |
| Shae-Lynn Rhonehouse | BA | CHESS | Fremont | IN |
| Mark Richards | BA | CHESS | Union Mills | IN |
| Valentine Rios | BA | CHESS | Hammond | IN |
| Charles Rosiar | BA | CHESS | Valparaiso | IN |
| Carlos Sanchez | BA | CHESS | Hammond | IN |
| Hannah Sawyer | BA | CHESS | Merrillville | IN |
| Tyler Schmid | BA | CHESS | Cedar Lake | IN |
| Christina Signorelli | BA | CHESS | Hammond | IN |
| Cherron Simes | BA | CHESS | Highland | IN |
| Domenic Sirugo | BA | CHESS | La Porte | IN |
| Alyssa Skiff | BA | CHESS | Dyer | IN |
| Zoe Spain | BA | CHESS | Hobart | IN |
| Breanna Summerhill | BA | CHESS | Hobart | IN |
| James Tapper | BA | CHESS | Hammond | IN |
| Dustin Thibideau | BA | CHESS | Cedar Lake | IN |
| Joel Tokarczyk | BA | CHESS | Lake Village | IN |
| Andrea Torres | BA | CHESS | La Porte | IN |
| Caitlyn Toth | BA | CHESS | Chesterton | IN |
| Nataly Valerio | BA | CHESS | Whiting | IN |
| Mariah Vargas | BA | CHESS | Munster | IN |
| Kayla Vaughn | BA | CHESS | South Holland | IL |
| Alexa Vega | BA | CHESS | West Chicago | IL |
| David Ventura | BA | CHESS | Saint John | IN |
| Emily Weber-Brokke | BA | CHESS | Schererville | IN |
| Ellie Welsch | BA | CHESS | Chesterton | IN |
| Luke Adams | BLS | CHESS | Munster | IN |
| Sedelia Beecher | BLS | CHESS | Hammond | IN |
| Roberta Butler | BLS | CHESS | Valparaiso | IN |
| Crystal Carrillo | BLS | CHESS | Los Angeles | CA |
| Jenna Guidotti | BLS | CHESS | Dyer | IN |
| Rachel Hill | BLS | CHESS | La Porte | IN |
| Lisa LaBere | BLS | CHESS | Michigan City | IN |
| Amanda Lemon | BLS | CHESS | La Porte | IN |
| Michael Metlov | BLS | CHESS | Crown Point | IN |
| Sherri Moore | BLS | CHESS | Highland | IN |
| Anna Owens | BLS | CHESS | La Porte | IN |
| Stephanie Pinkerton | BLS | CHESS | Griffith | IN |
| Alyssa Ronk | BLS | CHESS | Valparaiso | IN |
| Carmen Ruiz | BLS | CHESS | Hobart | IN |
| Elizabeth Schaaf | BLS | CHESS | Crown Point | IN |
| Danita Swain | BLS | CHESS | Richton Park | IL |
| Noah Traut | BLS | CHESS | Valparaiso | IN |
| Leah Van Keppel | BLS | CHESS | Valparaiso | IN |
| Catherine Weaver | BLS | CHESS | Hebron | IN |
| Cassandra Williamson | BLS | CHESS | Hammond | IN |
| Amari Boyd | BS | CHESS | Hammond | IN |
| Brittany Gallardo | BS | CHESS | Hammond | IN |
| Estefania Gallarzo | BS | CHESS | Hammond | IN |
| Teresa Magana | BS | CHESS | La Porte | IN |
| Winoska Medina | BS | CHESS | East Chicago | IN |
| Bryan Melvin | BS | CHESS | Valparaiso | IN |
| Amy Nieves | BS | CHESS | Chesterton | IN |
| Maria Rodriguez | BS | CHESS | Hammond | IN |
| Alicia Settles | BS | CHESS | Hobart | IN |
| Melissa Talboy | BS | CHESS | Portage | IN |
| Sarah Troxell | BS | CHESS | Michigan City | IN |
| Tiffani Arnold | CERT | CHESS | Portage | IN |
| Benjamin Depta | CERT | CHESS | Crown Point | IN |
| Justin Fox | CERT | CHESS | Dyer | IN |
| Elaine Januchowski | CERT | CHESS | Dyer | IN |
| Donna Randles | CERT | CHESS | Hammond | IN |
| Samantha Abrica | BSN | College of Nursing | Milwaukee | WI |
| Aurora Aguilar | BSN | College of Nursing | Posen | IL |
| Brooke Allen | BSN | College of Nursing | Mansfield | IL |
| Francesca Altobelli | BSN | College of Nursing | Roselle | IL |
| Kim Anderson | BSN | College of Nursing | Chicago | IL |
| Crystal Arevalo | BSN | College of Nursing | Chesterton | IN |
| Jessica Balagtas | BSN | College of Nursing | Downers Grove | IL |
| Michelle Bell | BSN | College of Nursing | Lake in the Hills | IL |
| Miranda Bevilacqua | BSN | College of Nursing | Oswego | IL |
| Katie Bluett | BSN | College of Nursing | Dyer | IN |
| Samantha Bocanegra | BSN | College of Nursing | Crown Point | IN |
| Susan Bontempo | BSN | College of Nursing | Hebron | IN |
| Shanan Brambert | BSN | College of Nursing | Hammond | IN |
| Kylie Brown | BSN | College of Nursing | Charlestown | IN |
| Sara Brumbaugh | BSN | College of Nursing | Winchester | IN |
| Lindsey Burns | BSN | College of Nursing | Tinley Park | IL |
| Ashley Bush | BSN | College of Nursing | Indianapolis | IN |
| Giulia Calabrese | BSN | College of Nursing | Bensenville | IL |
| Tiffany Callahan | BSN | College of Nursing | Michigan City | IN |
| Sydney Capouch | BSN | College of Nursing | Wheatfield | IN |
| Amy Capp | BSN | College of Nursing | Aurora | IL |
| Aneta Capraru | BSN | College of Nursing | Chicago | IL |
| Paige Carroll | BSN | College of Nursing | Evanston | IL |
| LaKeshia Carter | BSN | College of Nursing | South Holland | IL |
| Victoria Casallo | BSN | College of Nursing | Berwyn | IL |
| Rocio Centeno | BSN | College of Nursing | Oceanside | CA |
| Betty Chen | BSN | College of Nursing | Chicago | IL |
| Dawn Childress | BSN | College of Nursing | Forest Park | IL |
| Carly Cibak | BSN | College of Nursing | Valparaiso | IN |
| Marissa Clark-Debutch | BSN | College of Nursing | Schererville | IN |
| Jessica Close | BSN | College of Nursing | Fort Wayne | IN |
| Akeia Coleman | BSN | College of Nursing | Calumet City | IL |
| Nichole Comella | BSN | College of Nursing | Greencastle | IN |
| Lorraine Cook | BSN | College of Nursing | Chicago | IL |
| Benita Correa-Martinez | BSN | College of Nursing | Brookfield | IL |
| Cynthia Cortez | BSN | College of Nursing | Skokie | IL |
| Brooke Craig | BSN | College of Nursing | East Peoria | IL |
| Lacy Cramer | BSN | College of Nursing | Grayslake | IL |
| Jessica Creekmore | BSN | College of Nursing | Fort Wayne | IN |
| Rhonda Crump | BSN | College of Nursing | Chicago | IL |
| Helena Curran | BSN | College of Nursing | Crystal Lake | IL |
| Karen Dam | BSN | College of Nursing | Skokie | IL |
| Jonathan Danielzadeh | BSN | College of Nursing | Elk Grove Village | IL |
| Amanda Davis | BSN | College of Nursing | Ottawa | IL |
| Selece Davis | BSN | College of Nursing | Glenwood | IL |
| Giovanna Delozier | BSN | College of Nursing | Mount Prospect | IL |
| Alisha Di Ruzza | BSN | College of Nursing | Indianapolis | IN |
| Emerie DiGiovanni | BSN | College of Nursing | Pewaukee | WI |
| Teodor Dimitrov | BSN | College of Nursing | Chicago | IL |
| Jessica Dominguez | BSN | College of Nursing | Waukegan | IL |
| Narina Dovlatyan | BSN | College of Nursing | Des Plaines | IL |
| Jade Doyle | BSN | College of Nursing | Greenwood | IN |
| Emily Duffy | BSN | College of Nursing | Plainfield | IL |
| Courtney Eaton | BSN | College of Nursing | Naperville | IL |
| Jessica Emery | BSN | College of Nursing | Valparaiso | IN |
| Katherine Emmert | BSN | College of Nursing | Bloomington | IN |
| Shane Exner | BSN | College of Nursing | Crown Point | IN |
| Jennifer Feldman | BSN | College of Nursing | Libertyville | IL |
| Tina Marie Felter | BSN | College of Nursing | Hebron | IN |
| Ana Fernandez Anaya | BSN | College of Nursing | Mundelein | IL |
| Greg Fisher | BSN | College of Nursing | Cedar Lake | IN |
| Jasmin Flaminia | BSN | College of Nursing | Chicago | IL |
| Ashley Flores | BSN | College of Nursing | Romeoville | IL |
| Charles Foner | BSN | College of Nursing | Bartlett | IL |
| Lakisha Fowler | BSN | College of Nursing | Zion | IL |
| Clarissa Garcia | BSN | College of Nursing | Hammond | IN |
| Lexie Garrett | BSN | College of Nursing | Lansing | IL |
| Stephanie Gomez | BSN | College of Nursing | Des Plaines | IL |
| Angela Gonzalez | BSN | College of Nursing | South Holland | IL |
| Elizabeth Gonzalez | BSN | College of Nursing | Elmwood Park | IL |
| Rosa Gonzalez-Robledo | BSN | College of Nursing | Hillside | IL |
| Shedrack Nwabueze Green | BSN | College of Nursing | Valparaiso | IN |
| Jennifer Grish | BSN | College of Nursing | Crown Point | IN |
| Sarah Guerrero | BSN | College of Nursing | Streamwood | IL |
| Nicole Gulich | BSN | College of Nursing | Merrillville | IN |
| Claire Gulsvig | BSN | College of Nursing | Des Plaines | IL |
| Agnes Hajduk | BSN | College of Nursing | Niles | IL |
| Nathan Halicki | BSN | College of Nursing | Glen Ellyn | IL |
| Octavia Handabut | BSN | College of Nursing | Chicago | IL |
| Stephanie Hartley | BSN | College of Nursing | Chicago | IL |
| Kristin Heesemann | BSN | College of Nursing | Des Plaines | IL |
| Kristen Helfrich | BSN | College of Nursing | Merrillville | IN |
| Mary Helmuth | BSN | College of Nursing | Whiting | IN |
| Daniel Henry | BSN | College of Nursing | Arlington Heights | IL |
| Claudia Hodge | BSN | College of Nursing | Wauconda | IL |
| Kristen Holbek | BSN | College of Nursing | Antioch | IL |
| Holly Homrich | BSN | College of Nursing | Highland | IN |
| Hannah Hough | BSN | College of Nursing | Auburn | IN |
| Shannon Hough | BSN | College of Nursing | Cedar Lake | IN |
| Philip Imasogie | BSN | College of Nursing | Chicago | IL |
| Rachel Jakins | BSN | College of Nursing | Charleston | SC |
| Sydney Jasinski | BSN | College of Nursing | Munster | IN |
| Lanette Jerousek | BSN | College of Nursing | Midlothian | IL |
| Justin Jin | BSN | College of Nursing | Lake Barrington | IL |
| Alexandra Jurczak | BSN | College of Nursing | Mount Prospect | IL |
| Laura Kalman | BSN | College of Nursing | Valparaiso | IN |
| Katarzyna Kaminski | BSN | College of Nursing | Schaumburg | IL |
| Chelsea Kent | BSN | College of Nursing | Martinsville | IN |
| Diana Keorkunian | BSN | College of Nursing | Minooka | IL |
| Jane Khranilov | BSN | College of Nursing | San Clemente | CA |
| Ernestas Kiseliovas | BSN | College of Nursing | Arlington Heights | IL |
| Craig Kleikamp | BSN | College of Nursing | Escanaba | MI |
| Madeline Langlotz | BSN | College of Nursing | Schaumburg | IL |
| Nicole Laubscher | BSN | College of Nursing | Evansville | IN |
| Kaitlin Lazaroff | BSN | College of Nursing | Tinley Park | IL |
| Jelena Lazic | BSN | College of Nursing | Yorkville | IL |
| Joanna Lehigh | BSN | College of Nursing | Urbana | IL |
| Tzolkin Lehman | BSN | College of Nursing | West Dundee | IL |
| Ivanna Lepak | BSN | College of Nursing | Westchester | IL |
| Lesly Lettieri | BSN | College of Nursing | Huntley | IL |
| Lawautha Lewis | BSN | College of Nursing | Calumet City | IL |
| Adam Lillie | BSN | College of Nursing | Manhattan | IL |
| Rosie Lord | BSN | College of Nursing | Sarasota | FL |
| Anca Loucks | BSN | College of Nursing | La Porte | IN |
| Sarah Lowe | BSN | College of Nursing | Somerset | WI |
| Nicole Malinowski | BSN | College of Nursing | Highland | IN |
| Brittany Maloney | BSN | College of Nursing | Chicago | IL |
| Rocio Mandli | BSN | College of Nursing | Kronenwetter | WI |
| Angela Manes | BSN | College of Nursing | Fort Wayne | IN |
| Megan Martin | BSN | College of Nursing | Valparaiso | IN |
| Andreina Martinez | BSN | College of Nursing | Elgin | IL |
| Halyna Matiyash | BSN | College of Nursing | Skokie | IL |
| Maureen McGlynn | BSN | College of Nursing | Oak Lawn | IL |
| Robert Mcinnis | BSN | College of Nursing | Lowell | IN |
| Eva Medina | BSN | College of Nursing | Chicago | IL |
| Joana Mendez | BSN | College of Nursing | Naperville | IL |
| Taylor Merriwether | BSN | College of Nursing | Chicago | IL |
| Jory Metzger | BSN | College of Nursing | Lima | OH |
| Jennifer Milchak | BSN | College of Nursing | Valparaiso | IN |
| Anna Milentis | BSN | College of Nursing | Fort Wayne | IN |
| Alyssa Miller | BSN | College of Nursing | Cedar Lake | IN |
| Samuel Miller | BSN | College of Nursing | Griffith | IN |
| Arnulfo Mogato | BSN | College of Nursing | Schererville | IN |
| Nicole Montgomery | BSN | College of Nursing | Bartlett | IL |
| Derek Moore | BSN | College of Nursing | Delphos | OH |
| Jorge Morales | BSN | College of Nursing | Schererville | IN |
| Keith Moreno | BSN | College of Nursing | Hebron | IN |
| Kimberly Morgan | BSN | College of Nursing | Pleasant Prairie | WI |
| Breanna Murwin | BSN | College of Nursing | Edgerton | WI |
| Tiffany Mutz | BSN | College of Nursing | Evanston | IL |
| David Nootens | BSN | College of Nursing | Munster | IN |
| Amanda Osterlund | BSN | College of Nursing | Arlington Heights | IL |
| Jessica Padilla | BSN | College of Nursing | South Bend | IN |
| Vanessa Pain | BSN | College of Nursing | Kingston | IL |
| Kelsey Parker | BSN | College of Nursing | Crown Point | IN |
| Neel Patel | BSN | College of Nursing | Munster | IN |
| Tajal Patel | BSN | College of Nursing | Naperville | IL |
| Laura Paulson | BSN | College of Nursing | Schaumburg | IL |
| Abigail Pena Rubio | BSN | College of Nursing | West Dundee | IL |
| Jenna Penny | BSN | College of Nursing | Genoa | IL |
| Eileen Perez | BSN | College of Nursing | Aurora | IL |
| Paula Perez | BSN | College of Nursing | Buffalo Grove | IL |
| Caroline Petres | BSN | College of Nursing | Chicago | IL |
| Krystal Phelps | BSN | College of Nursing | Valparaiso | IN |
| Elizabeth Philip | BSN | College of Nursing | Buffalo Grove | IL |
| Andrew Pilot | BSN | College of Nursing | Homer Glen | IL |
| Adriana Pina | BSN | College of Nursing | Chicago | IL |
| Monica Polakow | BSN | College of Nursing | Vernon Hills | IL |
| Tyler Pomeroy | BSN | College of Nursing | Schererville | IN |
| Garry Pryor | BSN | College of Nursing | Summerville | SC |
| Nicole Quaranta | BSN | College of Nursing | McHenry | IL |
| Lily Quezada | BSN | College of Nursing | Washington | IL |
| Marjorie Quilapio | BSN | College of Nursing | Wood Dale | IL |
| Annette Quinn | BSN | College of Nursing | Oglesby | IL |
| Kelsey Rakers | BSN | College of Nursing | Valparaiso | IN |
| Christina L Ramos | BSN | College of Nursing | Cedar Lake | IN |
| Maria Rangel | BSN | College of Nursing | Lowell | IN |
| Kelly Richter | BSN | College of Nursing | Elk Grove Village | IL |
| Myra Ries | BSN | College of Nursing | Avilla | IN |
| Kyleigh Ritchie | BSN | College of Nursing | Fort Wayne | IN |
| Jazmine Rivera | BSN | College of Nursing | Lockport | IL |
| Amanda Rodriguez | BSN | College of Nursing | Chesterton | IN |
| Gabriela Rodriguez | BSN | College of Nursing | Homewood | IL |
| Karina Rubio | BSN | College of Nursing | Lake In The Hills | IL |
| Megan Rudovich | BSN | College of Nursing | Valparaiso | IN |
| Mary Ryan | BSN | College of Nursing | Marengo | IL |
| Christopher Sadowski | BSN | College of Nursing | Westmont | IL |
| Ana Salas Villegas | BSN | College of Nursing | Addison | IL |
| Julia Salela | BSN | College of Nursing | Geneva | IL |
| Xochitl Sandoval | BSN | College of Nursing | Hobart | IN |
| Aubrey Schuls-Trongeau | BSN | College of Nursing | Neenah | WI |
| Alicia Sears | BSN | College of Nursing | Calumet City | IL |
| Qevsere Selmanaj-Gardner | BSN | College of Nursing | Orland Park | IL |
| Bryce Shields | BSN | College of Nursing | New Haven | IN |
| Vanessa Marie Silvano | BSN | College of Nursing | Skokie | IL |
| Kate Smirnov | BSN | College of Nursing | Chicago | IL |
| Tina Snyder | BSN | College of Nursing | Marseilles | IL |
| Georgia Sperry | BSN | College of Nursing | Delphos | OH |
| Claudia Spigolon | BSN | College of Nursing | Crown Point | IN |
| Kathy Springer | BSN | College of Nursing | Itasca | IL |
| Bethony Stadler | BSN | College of Nursing | Aurora | IL |
| Erica Steckler | BSN | College of Nursing | Newburgh | IN |
| Samantha Steinke | BSN | College of Nursing | Streamwood | IL |
| Kaili Stellema | BSN | College of Nursing | La Porte | IN |
| Tiana Stover | BSN | College of Nursing | Des Plaines | IL |
| Stephanie Strizak | BSN | College of Nursing | Mokena | IL |
| Eric Stromberg | BSN | College of Nursing | Crown Point | IN |
| April Strothman | BSN | College of Nursing | Ottawa | IL |
| Francis Taylor | BSN | College of Nursing | Merrillville | IN |
| Erin Thorington | BSN | College of Nursing | Hinsdale | IL |
| Cynthia Thorsen | BSN | College of Nursing | Champaign | IL |
| Breanna Tilley | BSN | College of Nursing | Lowell | IN |
| Patrycja Tomasik | BSN | College of Nursing | Wheeling | IL |
| Jennifer Torres | BSN | College of Nursing | Chesterton | IN |
| Carol Ann Tunk | BSN | College of Nursing | Romeoville | IL |
| Kayla Updike | BSN | College of Nursing | Fort Wayne | IN |
| Yvette Uribe-Diaz | BSN | College of Nursing | Cicero | IL |
| Gia Valfre | BSN | College of Nursing | Cedar Lake | IN |
| Rachel Van Gundy | BSN | College of Nursing | Dyer | IN |
| Kamran Vastani | BSN | College of Nursing | Deerfield | IL |
| Carlos Vieyra | BSN | College of Nursing | Fort Wayne | IN |
| Joseph Virus | BSN | College of Nursing | Hammond | IN |
| Shannon Walker | BSN | College of Nursing | Lowell | IN |
| Bettina Washington | BSN | College of Nursing | Harvest | AL |
| Rondell Washington | BSN | College of Nursing | Chicago | IL |
| Douglas Weber | BSN | College of Nursing | La Porte | IN |
| Carol Weedon | BSN | College of Nursing | Bourbonnais | IL |
| Nathan Weiss | BSN | College of Nursing | Sheridan | IL |
| Alexander Welsch | BSN | College of Nursing | Sugar Grove | IL |
| Michael Wendel | BSN | College of Nursing | Indianapolis | IN |
| Carla Westby | BSN | College of Nursing | Chicago | IL |
| Natasha Wozniak | BSN | College of Nursing | La Porte | IN |
| Lauren Wright | BSN | College of Nursing | South Bend | IN |
| Amanda Yale-Beecher | BSN | College of Nursing | Chicago | IL |
| Alexis Zahand | BSN | College of Nursing | Cape Coral | FL |
| Rene Zamora | BSN | College of Nursing | Hammond | IN |
| John Zdanowicz | BSN | College of Nursing | Libertyville | IL |
| Ashley Zeckmeister | BSN | College of Nursing | Green Bay | WI |
| Rajaei Mohammed Al Ali | BS | College of Technology | Griffith | IN |
| Bassam Albukhaytan | BS | College of Technology | Hammond | IN |
| Brandon Alder | BS | College of Technology | Schererville | IN |
| Ismael Ibrahim Almashama | BS | College of Technology | Hammond | IN |
| Sami Mohammad Alotaibi | BS | College of Technology | Munster | IN |
| Trikhm Madi Alsubaie | BS | College of Technology | Hammond | IN |
| Abdullah Abduljabbar A. Alsumayin | BS | College of Technology | Hammond | IN |
| Jeremy Amft | BS | College of Technology | Saint John | IN |
| Sarah Bach | BS | College of Technology | Portage | IN |
| Johnathan Banks | BS | College of Technology | Flossmoor | IL |
| Thomas Barkauski | BS | College of Technology | New Lenox | IL |
| Nathan Barragan | BS | College of Technology | Highland | IN |
| Ethan Bartlett | BS | College of Technology | Highland | IN |
| Tinnekke Bebout | BS | College of Technology | Highland | IN |
| Christian Bland | BS | College of Technology | Chicago | IL |
| Ali Mufid M. Bokhamsin | BS | College of Technology | Hammond | IN |
| Jeremy Booker | BS | College of Technology | Valparaiso | IN |
| Kaitlyn Boyd | BS | College of Technology | Kouts | IN |
| William Burke | BS | College of Technology | Michigan City | IN |
| Neal Buss | BS | College of Technology | Schererville | IN |
| James Cansler | BS | College of Technology | Olympia Fields | IL |
| Jesse Cervantes | BS | College of Technology | Highland | IN |
| Wenliang Chen | BS | College of Technology | Hammond | IN |
| Kyle Cole | BS | College of Technology | Highland | IN |
| Nina Cotton | BS | College of Technology | Hammond | IN |
| Henry Crafer | BS | College of Technology | Chicago | IL |
| Madalynn Crowder | BS | College of Technology | Hobart | IN |
| Noah Duvnjak | BS | College of Technology | Griffith | IN |
| Leonardo Eulloqui | BS | College of Technology | East Chicago | IN |
| Erik Fisk | BS | College of Technology | Hobart | IN |
| Alexander Ganz | BS | College of Technology | Michigan City | IN |
| Heriberto Gomez | BS | College of Technology | Chicago Heights | IL |
| Darren Gruber | BS | College of Technology | Westville | IN |
| Suzana Herrera | BS | College of Technology | Hammond | IN |
| James Higgason | BS | College of Technology | Valparaiso | IN |
| John Hilton | BS | College of Technology | Merrillville | IN |
| Devin Horner | BS | College of Technology | Valparaiso | IN |
| Kane Huynh | BS | College of Technology | Merrillville | IN |
| Steven Jarecki | BS | College of Technology | Crown Point | IN |
| Andrew Jobe | BS | College of Technology | Valparaiso | IN |
| Robin Kendrick | BS | College of Technology | Gary | IN |
| Abdullah Khamis | BS | College of Technology | Hammond | IN |
| Alex Kleine | BS | College of Technology | Cedar Lake | IN |
| Joel Kropiewnicki | BS | College of Technology | Lansing | IL |
| Anthony Laas | BS | College of Technology | Lake Station | IN |
| Nathan Line | BS | College of Technology | Valparaiso | IN |
| Stephanie Luken | BS | College of Technology | Hobart | IN |
| Rashanda McQueen | BS | College of Technology | Saint John | IN |
| Jewel Meer | BS | College of Technology | Michigan City | IN |
| Fernando Mendoza | BS | College of Technology | Crown Point | IN |
| Raymond Morain | BS | College of Technology | Saint John | IN |
| Benjamin Moredich | BS | College of Technology | Dyer | IN |
| Jesse Munoz | BS | College of Technology | Hammond | IN |
| Parker Newman | BS | College of Technology | Valparaiso | IN |
| Johnathon Pliego | BS | College of Technology | Hammond | IN |
| Trevor Poortinga | BS | College of Technology | Crown Point | IN |
| Elijah Repke | BS | College of Technology | Chillicothe | IL |
| Noah Rodriguez | BS | College of Technology | Crown Point | IN |
| Nathan Shinn | BS | College of Technology | Michigan City | IN |
| Stephen Sipe | BS | College of Technology | Wheatfield | IN |
| Daniel Socko | BS | College of Technology | Lincolnshire | IL |
| Benjamin Solano | BS | College of Technology | Michigan City | IN |
| Nicholas Spitz | BS | College of Technology | Crown Point | IN |
| Jessie Splechter | BS | College of Technology | La Porte | IN |
| Cynthia Tanner | BS | College of Technology | Saint John | IN |
| Brandon Thongsawath | BS | College of Technology | Hammond | IN |
| Matthew Valant | BS | College of Technology | Hebron | IN |
| Jeanine Williams | BS | College of Technology | East Chicago | IN |
| Kevin Witherspoon | BS | College of Technology | Portage | IN |