Purdue Northwest CIVS researchers awarded at AISTech conference
August 25, 2022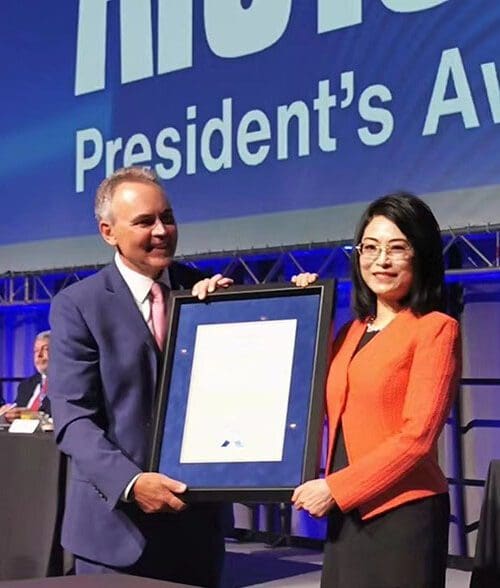 Purdue University Northwest (PNW) faculty, staff, students, and collaborators with PNW's Center for Innovation through Visualization and Simulation (CIVS) visited Pittsburgh, Pennsylvania during the summer to attend the Association for Iron & Steel Technology 2022 conference and exposition (AISTech 2022). They presented eight technical papers, demonstrated CIVS projects, and won three prestigious awards at the industry's premier technology event.
Chenn Zhou, NIPSCO Distinguished Professor of Engineering Simulation and director of CIVS, was recognized as the AIST Distinguished Member and Fellow, one of only two this year chosen from more than 18,500 members to receive the esteemed award.
"I am deeply honored and humbled," said Zhou. "I very much appreciate the people who nominated and endorsed me for this great honor, along with the AIST board and staff, all of my collaborators and sponsors, as well as colleagues and students at Purdue Northwest."
CIVS graduate research assistant John Rosser won first place in the AIST graduate student poster contest. His poster, "Reducing Blast Furnace CO2 Emissions with H2," focused on the injection of hydrogen gas into blast furnaces with the aim of reducing the process's significant carbon footprint.
CIVS researchers and collaborators Nicholas Walla, Zhankun Luo, Chenn Zhou, Bin Chen (Purdue Fort Wayne), and Yury Krotov (Steel Dynamics, Inc.) received third place for the 2022 Hunt-Kelly Outstanding Paper Award for their paper, "Smart Ladle: AI-Based Tool for Optimizing Casting Temperature."
"These awards once again demonstrate how CIVS plays a leading role in not only generating original new knowledge and understanding of critical processes in the steel industry, but also facilitating the transfer of advances in research to industrial practice," said Dietmar Rempfer, interim dean of the College of Engineering and Sciences at PNW. "The meaningful engagements that these projects provide for our students serve to fulfill an important part of the mission of Purdue Northwest as the premier metropolitan university of Northwest Indiana."