Purdue Northwest professor's collaboration with industry (AbbVie) awarded National Science Foundation's Partnership for Innovation Grant
August 24, 2022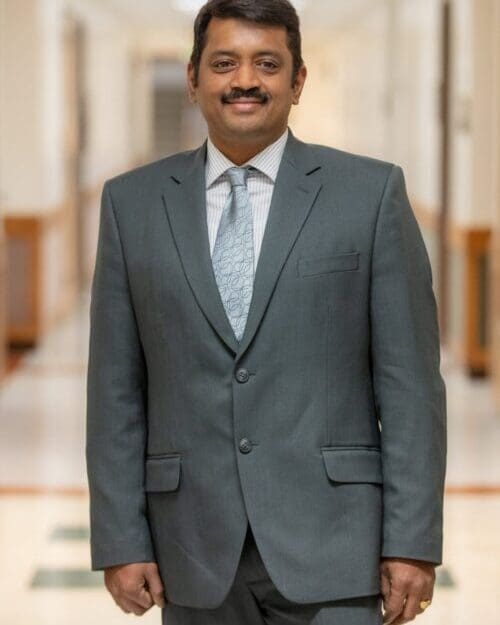 Magesh Chandramouli, professor of Computer Graphics Technology in the Purdue University Northwest (PNW) College of Technology, and Nandkishor Nere, research fellow from AbbVie, were awarded the National Science Foundation (NSF) Partnership for Innovation (PFI) Grant. This technology translation supports commercial potential demonstration projects for academic research outputs in NSF-funded science and engineering disciplines. Chandramouli and Nere, in support of their research, were awarded a grant of $247,000.
"I have been fortunate to be involved as the principal investigator and collaborator in projects involving the use of virtual reality and augmented reality (VR/AR) for education and training," says Chandramouli. "Using the knowledge and experience from earlier VR projects, this work will build an innovative framework to offer Specialized Process Equipment (SPE) training in pharmaceuticals manufacturing."
Under a partnership between Purdue Northwest and AbbVie, a global biopharmaceutical company, Chandramouli hopes to develop a VR/AR training framework to address the lack of trained workforce in API (Active Pharmaceutical Ingredient) manufacturing, a critical factor to ensure uninterrupted drug manufacturing and supply.
"I will be serving as the principal investigator (PI) on this project and Dr. Nandkishor Nere from AbbVie will serve as the Co-PI," said Chandramouli. "Mr. Chris Beck, CEO of Innovative 3D manufacturing, will serve as the commercialization expert and Dr. Lana Rucks (Rucks Group) will serve as the external evaluator for the project."
Due to the lack of advanced manufacturing operator training practices, numerous Pharma Manufacturing positions may go unfilled despite the projected growth in the Pharma workforce by 33%. If not addressed, this skills gap might impact drug supply chains.
COVID-19 has unmistakably demonstrated the need to revamp API manufacturing to meet large scale demand. "VR/AR operator training applications such as this program have the potential to result in significant cost savings while enabling prompt delivery of life-saving drugs," said Chandramouli. "This needs to be achieved through proof-of-concept, prototyping, technology development and/or scale-up work."
PNW is playing a pivotal role in promoting innovation in the Northwest Indiana community and is actively involved in many collaborative efforts with industry to economically and socially strengthen the region.
"Effective training of API manufacturing operators is key to having seamless production of high-quality medicines in optimal time and the proposed research strives to address this vital need," said Nere.
"This specific project is a much-needed application that not only can train a skilled workforce in the Pharma industry, but can also significantly save money, time, and resources thus enabling speedy and sufficient medicine delivery to patients," Chandramouli observes. "This work endeavors to address the skills gap in API manufacturing, with the ultimate goal of promoting socio-economic gains."
Chandramouli attributes the success of this grant approval, and prior projects, to the team that diligently works alongside him in the College of Technology and the PNW  Research and Sponsored Programs Office. In all projects, including this, Chandramouli says he strives to integrate research with his teaching, involving students at every possible level, and by providing real-time project experience that can enrich their college experience.
"The College of Technology promotes collaborative efforts for active engagement with industry," said Chandramouli. "Any federal funding is a team effort, which is the culmination of concerted efforts that started way back in a much smaller manner. I am thankful for the continued support to these kinds of active industry engagement efforts by the College of Technology, which especially played an important role in this grant funding."