Student-Produced Television Show Wins Awards
June 16, 2021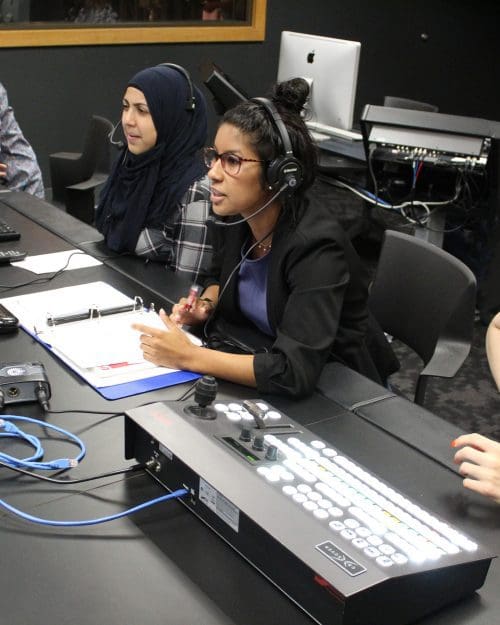 Purdue University Northwest's public affairs television show received three awards in two recent competitions.
The Roundtable Perspective, a student-produced program that airs on Fridays at 8:30 p.m. and Sundays at 10 a.m. on Lakeshore PBS, won a bronze Telly Award in the television and political commentary category. The competition included entries from all 50 states and five continents.
The winning episode featured an interview with filmmaker Elizabeth Wuerffel about her documentary on the Kawegosk Syrian refugee camp in Iraq
Mary Beth O'Connor, an associate professor of communication, said the competition for the awards included major production studios across the world.
"The Telly Award is a highly prestigious television industry award. Our student-produced show won in a professional category, where other winners included HBO, CBS and The New York Times," she said.
A second episode won two awards in the film and video-talk show-interview category of the Communicator Awards presented by the Academy of Interactive and Visual Arts. The winning show featured an interview with James Osborne, an assistant professor of Near Eastern architecture at the University of Chicago's Oriental Institute. Osborne discussed artifacts and diaries of archaeologists believed to have influenced the characters in the Indiana Jones film franchise.
"Winning these awards demonstrates to our students that they are well prepared for media-related careers and that their hard work in the classroom paid off," O'Connor said.
The students oversee booking the guests and operating the equipment while enrolled in a practicum course in the Department of Communication and Creative Arts.
Studio manager Jake Giles said the practical experience gained in the course makes students more marketable.
"PNW's students are the people who will be working in the industry in the near future and we're giving them an outlet to create high quality content while they're still in school," he said.
The winning episodes can be viewed on The Roundtable Perspective's page on YouTube.
View The Award-Winning Episodes