Title IX Service Award Recipients
December 7, 2022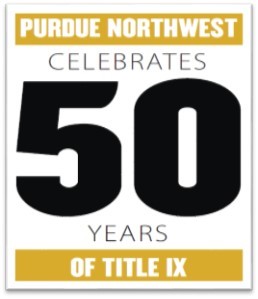 Dear PNW Community,
I am proud to share news that four individuals affiliated with Purdue University Northwest are winners of the 2022 Title IX Distinguished Service Award from Purdue University. As reported in Purdue Today, our colleagues and alumna are among 15 recipients of this prestigious award.
With much enthusiasm and appreciation for their significant accomplishments, I am pleased to announce the 2022 award recipients. Please join me in congratulating Lisa Goodnight, Stacie Reardon, Oriana White and Julie Wiejak on their well-deserved recognition. As an institution serving an increasingly diverse student population, we are deeply appreciative of their significant contributions to the advancement of gender equality in higher education and at Purdue Northwest.
Read on for highlights of these individuals' substantial accomplishments.
---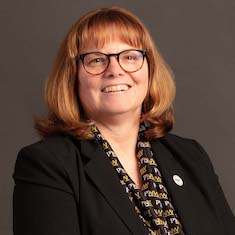 Lisa Goodnight, Ph.D., vice chancellor of Institutional Advancement, Chief of Staff, professor of Communication, and chair of PNW's Intercollegiate Athletic Advisory Committee, has an outstanding and sustained record of supporting women students, staff and fellow faculty members at PNW. Dr. Goodnight's nominators cited, "As a faculty member, Lisa is known for support of female students and faculty, successfully mentoring students into doctoral work and successful careers."
She co-authored the textbook, Communication: Embracing Difference, which is designed to resonate with diverse student populations. She developed faculty training to support pregnant women students and led PNW's implementation of events during Women's History Month including the annual Women's Leadership Luncheon that connects women student leaders with faculty and administrators.
Furthermore, as PNW's former Dean of Students, Dr. Goodnight was instrumental in instituting the Step Up program, a bystander intervention initiative, and Safe Zone training, an ally development program that is intended to create a network of support for LGBTQ individuals and their allies.
---
Stacie Reardon, Student Affairs Specialist in the Office of the Dean of Students, has led programming and outreach geared toward bystander intervention and sexual violence awareness.  Stacie's nominator noted she is "someone who has consistently shown strong leadership qualities, exceptional administrative skills, mentoring characteristics, and a passion for advancing gender equity and access to resources in the Office of the Dean of Students."
Stacie is known for effectively using institutional and community resources to broaden access and opportunity to women in higher education. For example, the nominator noted, Stacie "meets with ciswomen and women identifying students regularly to provide as many resources as possible to assist with their access to getting an equitable college education. …Because of her leadership and genuineness, Stacie has helped create an environment at PNW that allows students to have the support they need to get through to graduation."
---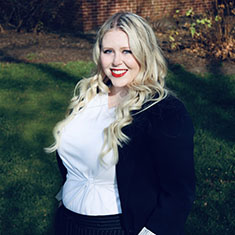 Oriana White, MBA '22, BA Communication '21, held several student leadership roles during her time at PNW. She was president of the Student Government Association, an Undergraduate Admissions Student Ambassador, and served as a graduate aide for the Office of New Student Orientation and for the Office of Institutional Advancement.
Recognizing Oriana's contributions toward advancing gender equity her nominator cited, "Oriana organized and led an initiative to purchase and stock free menstrual products in all gender neutral and high traffic women's rooms throughout the Hammond and Westville campuses. As a component of this work, Oriana was a vocal spokeswoman and educator regarding the issues associated with period poverty."
Additionally, Oriana worked with the vice chancellor of Information Services to add preferred names to class rosters and student IDs. Oriana also promoted PNW's resources for Safe Zone training for faculty, staff and students.
---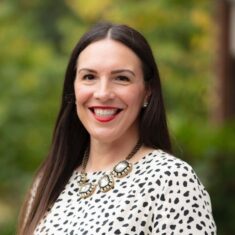 Julie Wiejak is the executive director of Undergraduate Admissions and a former Head Volleyball Coach and Senior Women's Administrator at PNW. She has served as a member of the Positive Coaching Alliance, and collaborated with Girls on the Run, Girls on the Go, and the Susan G. Komen Foundation to promote the mission of all women's organizations.
Julie is a longtime strong advocate for gender and women's equity in sports. Her nominator noted, "She assisted the Director of Athletics with gender equity and Title IX guidelines and monitored gender/diversity issues and student-athlete well-being. Julie also represented the Intercollegiate Athletic Program as Senior Women's Administrator on university, conference and NCAA committees, including the Compliance Committee and Gender Equity/Title IX Committee."
Furthermore, in her current role as executive director of Undergraduate Admissions, Julie encourages an environment of inclusion and promotes the same among her staff. "Julie provides and encourages a safe space for women to grow as students, employees and future leaders," her nominator stated.
---
Congratulations again for this recognition of your commitment to helping our students Power Onward!
Sincerely,
Thomas L. Keon, Chancellor