Two College of Nursing faculty members earn recognitions
May 27, 2022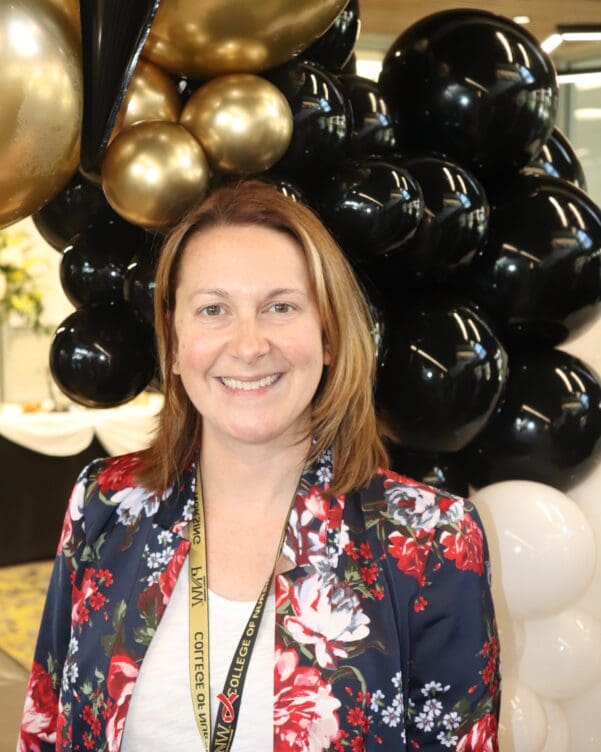 Two PNW College of Nursing faculty members were recently recognized for their leadership and knowledge in academics and health care.
Jodi Allen, family nurse practitioner coordinator and assistant professor of Nursing, was recognized in The Times Media Company's "Nurses: The Heart of Health Care" special section. The annual publication, timed during National Nurses Week in early May, recognizes nominated local nursing professionals for their impact in their occupations. Allen was one of just 10 nursing professionals selected for special recognition among 237 nominations for the 2022 section.
"It has been unbelievably humbling to be honored as a part of The Heart of Health Care," said Allen. "The entire publication shows how invaluable nurses are to the health and safety of the community. I am proud to represent nurses and PNW with this honor."
"I want to congratulate Dr. Jodi Allen for her recognition in the NWI Times Heart of Healthcare," said Lisa Hopp, dean of the College of Nursing at PNW. "She was voted by the public because of her tireless work with the PNW COVID vaccination clinics, her work leading the PNW family nurse practitioner program, and her passionate work with the Sojourner Truth House, bringing care to the most vulnerable and underserved. We feel so fortunate to have her at the PNW College of Nursing."
Julia Rogers, assistant professor of Nursing, was recently designated as a Fellow of the American Association of Nursing Practitioners (FAANP), the highest professional designation for any nurse practitioner (NP). She is PNW's first faculty member to receive this honor, was the only nurse practitioner from Indiana inducted this year, and was one of 40 total new members inducted.
There are more than 355,000 nurse practitioners licensed in the United States. Since 2000 the association has recognized the achievements and exemplary service of 933 members by designating them as fellows.
"Being asked to become a member of the most prestigious program for nurse practitioners is very humbling and exciting," said Rogers. "My commitment to leadership as an NP embodies providing expert clinical care to individuals within my community and globally, as well as creating, expanding, and disseminating a vision to current and future NPs to help transform health care, starting right here at PNW.
"As a FAANP, I will be able to impact the broader health care community by leading new initiatives and engaging with other NPs to incorporate scholarship and innovation in clinical practice and within NP curriculum."
"Dr. Julia Rogers is making history for the College of Nursing. She is in rarified air," Hopp said. "These fellows demonstrate their contribution to advancing nurse practitioner education, practice, research, policy, and leadership. Her students are not surprised as they consistently rave about how she makes difficult pathophysiologic concepts easier to understand, always bringing her clinical practice experiences and expertise to the classroom. Her patients will not be surprised as they know that she brings not just her endless compassion but her deep knowledge of their advanced nursing care needs."