US Steel in Gary, IN Hosts Researchers from CIVS and Purdue West Lafayette
January 20, 2022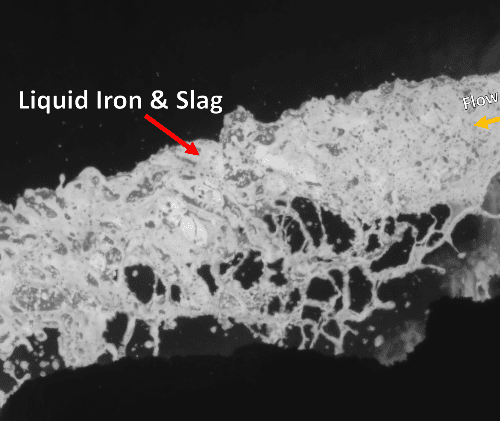 CIVS and PUWL researchers came together on Thursday, January 13th, 2022 to visit U.S. Steel Gary Works in Gary, IN. Research Associate Professor Tyamo Okosun, Senior Research Engineer Kyle Toth, Research Engineer Yanan Song, Postdoctoral Associate Orlando Ugarte, and Dr. Yongfu Zhao, Blast Furnace expert from CIVS, and Professor Jun Chen and Ph.D. student Weixiao Shang from Purdue West Lafayette were welcomed at U.S. Steel Gary Works by Senior Process Innovation Consultant Joe Morey and the Gary Works Ironmaking Division team to test new imaging techniques for measuring blast furnace casting rates. This visit to U.S. Gary Works, specifically to blast furnace #14, the largest of four, was related to the $7 million Integrated Virtual Blast Furnace (IVBF) project, supported by the US Department of Energy, to develop a next-generation Integrated Virtual Blast Furnace.
During the visit, Prof. Jun Chen and Ph.D. Student Weixiao Shang recorded footage of liquid iron and slag being cast through the taphole of the #14 blast furnace, using specialized equipment and near-infrared filters to adjust the image quality. These images will be used to measure the instantaneous velocity from the taphole and eventually to develop a live sensor that will report on casting rate back to furnace operators. Additionally, Postdoctoral Associate Orlando Ugarte and Research Engineer Yanan Song toured the blast furnace control room and cast floor to observe the operation and better understand the process.
The casting recordings were extremely successful, providing the team with excellent images for analysis and reporting to DOE. Further development based on the visit's findings will be used to plan the design of the sensor and future visits for testing, analysis, and implementation.