NSF RET Teachers Influenced Students with the Research Experience at CIVS
March 17, 2022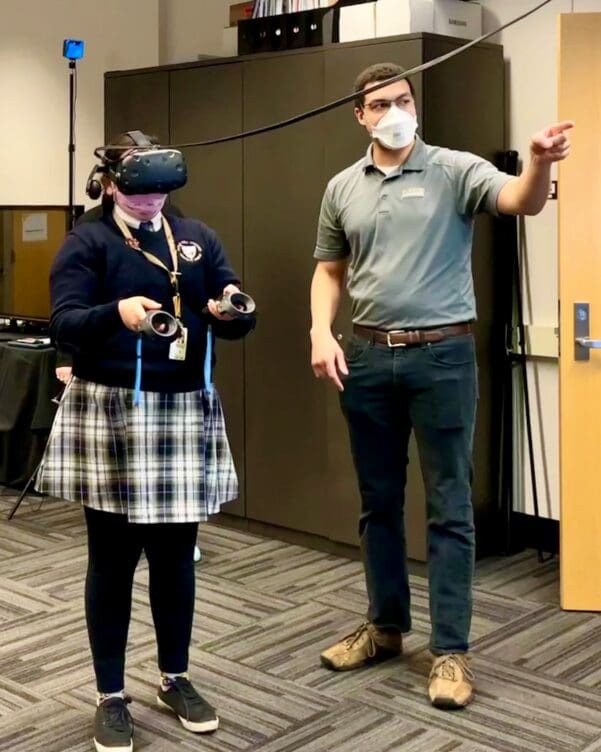 Five physics students from Bishop Noll High School came to see CIVS on Thursday, March 10, with their teacher Mrs. Mary Koster, who participated in the 2021 National Science Foundation (NSF) Faculty Summer Research Experience for Teachers (RET). CIVS simulation and visualization technologies as well as various project examples were showcased by Research Associate Professor, Tyamo Okosun and Senior Research Scientist, Jack Moreland.
During the visit, students watched videos and 3D representations of graduate students' projects for various companies, including steel mills and NIPSCO. Students were also taken to the lab to experience a simulation of a fire extinguisher and show how the steel plant makes all employees qualified to fight fires in the plant. They got the opportunity to experience what it's like to be inside a blast furnace, which they don't actually get to experience in middle school.
Mrs. Koster said that when they went back to school, the students expressed to her that they were unaware of the extent to which they were involved in these projects, or how many projects were for graduate students, who then identified these projects as research goals for expansion and obtained a master's degree.
This NSF RET program at Purdue University Northwest consists of a six-week summer research program and full-academic year activities focused on using simulation and visualization technologies in "smart" manufacturing to increase energy efficiency, optimize production, predict mechanical failures, and improve safety and product quality. The goal of the program is to enhance STEM education and stimulate high school and community college students' STEM interest through a partnership with participant teachers, university mentors, and industry engineers using simulation and visualization technologies for innovative industrial solutions and model-based manufacturing.