Prototype Sensor for Casting Rate Tested at #7 Blast Furnace at Cleveland-Cliffs
March 13, 2023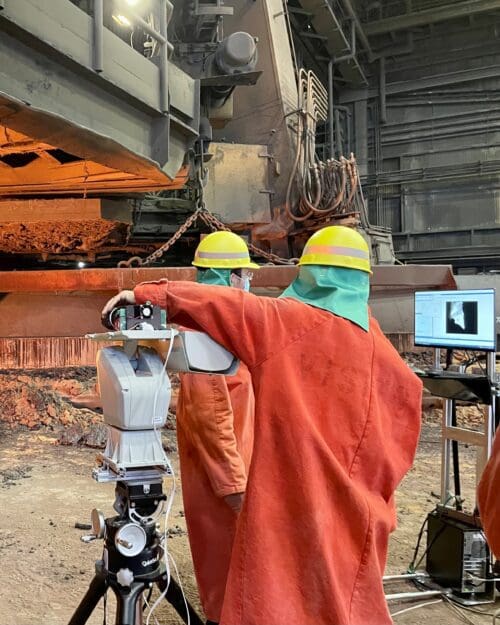 On March 1st, 2023, Purdue Northwest and Purdue University-West Lafayette research team members visited the Cleveland-Cliffs plant in Indiana Harbor to discuss the results of simulation efforts and test an upgraded prototype for the Integrated Virtual Blast Furnace casting-rate imaging sensor. This visit supported efforts on the Integrated Virtual Blast Furnace project as well as a parallel research project for investigating high-rate natural gas injection at Cleveland-Cliffs facilities.
Tyamo Okosun, PNW Research Associate Professor; Samuel Nielson, PNW Ph.D. Student; Jun Chen, PUWL Professor; Weixiao Shang, PUWL Post-Doctoral Researcher; and Saiya Li, PUWL MS Student were hosted by Tom White, Iron Producing Operations Engineer, Prakash Hedge, Division Manager of Process Research, and Sergey Trenkinshu, IH7 Blast Furnace Division Manager at Cleveland-Cliffs.
During the visit, casting footage was recorded with the casting-rate imaging sensor prototype, and the upgraded prototype cooling system was validated in a challenging environment. Results of the CFD modeling were discussed and additional scenarios were laid out for future modeling work, with the goal of improving understanding of the potential impacts of specific operating conditions on furnace performance and greenhouse gas emissions.