How to Join Honors College
The Honors College at PNW enhances the learning experiences of highly motivated, academically exceptional students.
Learn more about our admission standards and holistic admission process.
Experience the Benefits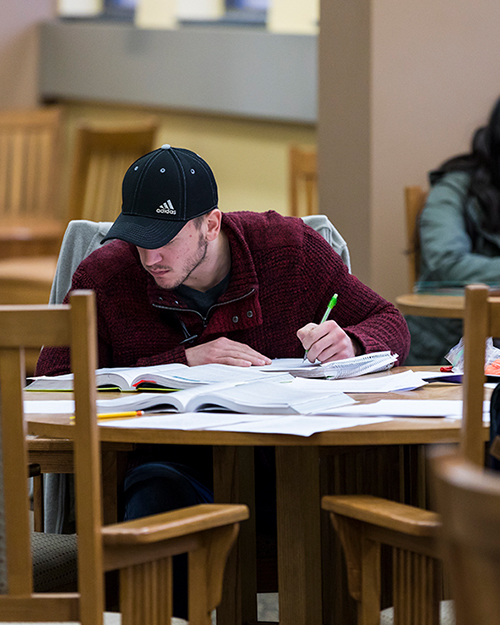 Honors students benefit in many ways. You'll have the opportunity to:
Develop leadership skills inside and outside the classroom
Make an impact by volunteering
Take specialized, honors-only, interdisciplinary classes with an emphasis on critical thinking and discussion-based learning
Apply for financial support to study abroad or present research at a conference
Conduct research with outstanding faculty
Become a member of a caring community of high-achieving students, faculty, and staff
Admissions Criteria
Admission to the Honors College is based on the following minimum criteria:
Incoming Freshmen: High School GPA of 3.2 or above.
Incoming Transfer Students: GPA of 3.2 or above from most recent college or university.
Current PNW Students: GPA of 3.2 or above at PNW and freshman/sophomore standing (less than 60 credit hours).
Students not meeting these criteria may still be eligible to join the Honors College.   Contact honors@pnw.edu for more information.
The Gold Standard
Successful completion of the Honors College curriculum awards you a gold seal on your diploma and a notation on your official transcript.
Signs of Success
Over 82% of Honors graduates were employed within six months of graduating;
Our graduates are continuing their education in graduate programs including University of Illinois at Chicago, Notre Dame University, and Purdue University.
Honors students have held for-credit internships at Disney World, Arcelor Mittal, John Deere, Porter Regional Hospital, and Indiana Department of Transportation.
The Honors College Curriculum
We work within your existing plan of study to allow you to graduate in four years–without taking additional courses.
---
Learn More