Industrious scholar: Meet PNW 2022 graduate Sruthi Nutakki
December 12, 2022
Sruthi Nutakki, '22, is graduating with a Master of Science in Industrial Engineering Technology from Purdue Northwest's (PNW) College of Technology.
Nutakki is from the state of Andhra Pradesh in India, completed a bachelor's degree in Electronics and Communication from Jawaharlal Nehru Technological University, and spent three years as a working professional before coming to PNW.
Nutakki completed her PNW master's degree program in three semesters. She received graduate research awards from both the PNW Graduate School and the College of Technology, presented a thesis at Days of Discovery, with a methodology being used by a local company, and earned both PMI and Lean Six Sigma certifications. She is choosing between three job offers.
How did you become interested in your subject?
"I finished my bachelor's degree in 2017 and then received an offer from IBM in India. I was a consultant in supply chain management. After working for three years I wanted to know more about the supply chain's back end, how processes work with manufacturing units, raw materials, and distribution. I had good exposure to it with my job and thought of doing a master's degree in Technology.
I preferred technology over engineering, because while you study theories and concepts in engineering, you don't always see how it's implemented in real-time."
What did you like most about your program?
"It's been my home. I like all the professors a lot and sometimes I feel like they are my family. Beyond class, we have nice conversations and sometimes we talk about India. Being an international student, I've learned a lot of things from them because they've shown me how things work here in the U.S. Even when I've been applying for jobs they have mentored and given so much support to me."
Were you involved in student organizations or activities during your time at PNW? How did these experiences help define your success?
"I worked as a campus ambassador. In that role, I felt very happy and like I wasn't alone on campus. You get the chance to meet a lot of different people. You also get to help them and learn to be patient when answering their questions."
Did you have a pivotal experience while attending PNW?
"When we do Six Sigma projects, the faculty gives us good practice. In Dr. Lash Mapa's project management class, every two weeks he would have an in-class case study for us and give us time to go through a scenario and what steps we would take to resolve it.
In most of my job interviews, they'll ask behavioral questions about what steps you'll take in scenarios. I feel those case studies, which involve implementing from end to end, are the main part that helped me."
What words of advice would you share with prospective students?
"If you get an offer from another university, ignore them and join PNW because they have a lot of opportunities, learning space, and support from professors.
If you're willing to do something, you'll get opportunities. I got a research assistantship here, I've worked as a teaching assistant, I've worked as a campus ambassador — I did a lot of activities. It's your willingness to do it and how motivated you are."
What are your plans after graduation?
"My first target is just consulting with supply chain management. After a few years, I should be in a position to become a principal consultant, which would involve doing more enterprise-wide work and customer relations with more knowledge. Right now I would be a consultant for a single module, but later I want to be a solution architect for a whole business."
Was there anyone at PNW who inspired or encouraged you along the way?
Akram Jawdhari, Assistant Professor of Civil Engineering
"They are really motivating, supporting, and understanding. They give us a big learning space. They really make us think in our classes. They want us to go beyond the books and our undergrad and really get into our thoughts. It gave me that space to learn new things and explore more subjects."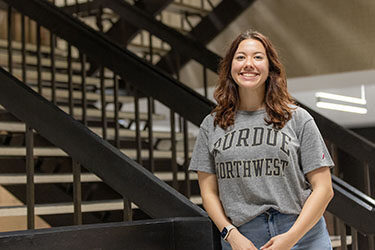 Meet Our Fall 2022 Graduates
Discover what inspires our remarkable Fall 2022 graduates—and how they are Powering Onward to their futures.