Lighting the way: Meet 2023 PNW graduate Noemi Herrera
May 5, 2023
Noemi Herrera's passion for renewable energy was inspired by a trip to her grandparents' solar-powered home in Mexico. That visit led her to earn a bachelor of science degree in Electrical Engineering with a concentration in Power and Energy Systems from the College of Engineering and Sciences at Purdue University Northwest (PNW).
During her time at PNW, Herrera was the president of the Society of Hispanic Professional Engineers. She credits the organization with opening her eyes to the contributions of Latinx engineers and in helping her make connections in the engineering field. It also inspired her to try harder in her studies and finish her degree. She was also a member of the Unidos Club where she was able to connect with students who had similar backgrounds and were also first-generation college students.
The East Chicago native completed an internship with Cleveland-Cliffs which she says boosted her confidence and made her feel more secure in the knowledge she gained from her classes.
In June, Herrera will begin work as a field engineer for Northern Indiana Public Service Company (NIPSCO). After gaining experience in that role, she hopes to move into the renewable energy area of the company, specifically working with solar panels. Eventually, she would like to work with Engineers Without Borders, a program that serves the needs of disadvantaged communities by finding appropriate solutions for their infrastructure needs.
How did you become interested in electrical engineering, power and energy?
"I thought I could save the world so I originally wanted to study environmental science. Then the summer before my senior year in high school I went to Mexico to visit my grandparents. Their whole house was powered by solar energy – the electricity was provided by the sun and the water was warmed by the sun. I thought that was pretty cool and it got me interested in renewable energy. Here in America pretty much everything is powered by the electrical lines but that is not the case in many parts of the world.
Renewable energy is really the way to go especially with climate change, fossil fuels quickly depleting our planet and the depletion of the ozone layer. I really became interested in electrical engineering for renewable energy."
What did you like most about PNW?
"I really like the smaller class sizes. You're able to connect with your professors, they know you by name. The professors are great! They go out of their way to make sure you're understanding and learning the material. They're also available to help you when you need it."
Did you have any challenges or setbacks while attending PNW?
"My biggest challenge (was that) I felt too scared to reach out for help. I was too embarrassed because I was one of the few women in my engineering classes and I didn't want to be looked at as the girl who needed help with basic lessons. After struggling on a couple of class quizzes, I realized by not asking for help I was only making it harder on myself. So I pushed myself to ask for help only to find that my professors were happy to help and appreciated that I was trying to learn and wanted to do better."
What words of advice would you share with prospective students looking to attend PNW?
"Time management is key to succeeding in college – managing your time properly, setting time aside to study and developing good study habits. Also, don't be afraid to ask for help, don't be shy to make friends and join student organizations. Take advantage of all the services PNW offers – the tutoring program is really helpful."
Was there anyone at PNW who inspired or encouraged you along the way?
Director of TRIO Student Support Services
"When he was working in the Career Center he helped me out a lot. Having someone that I could relate to, that was in a professional setting and worked for the university made me feel comfortable and confident.
He encouraged me to keep going for my dream job at NIPSCO and helped me with my resume and to negotiate a higher salary. He told me to be patient and not worry so much that things will work out after graduation."
---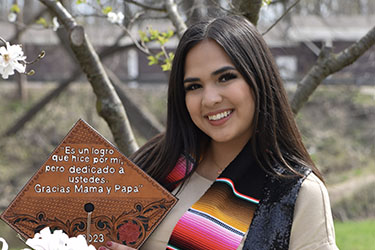 Meet the Spring 2023 Graduates
Discover what inspires our remarkable Spring 2023 graduates—and how they are Powering Onward to their futures.