PNW's 'STEM on the Road' engages young audiences with college science, research possibilities
December 19, 2022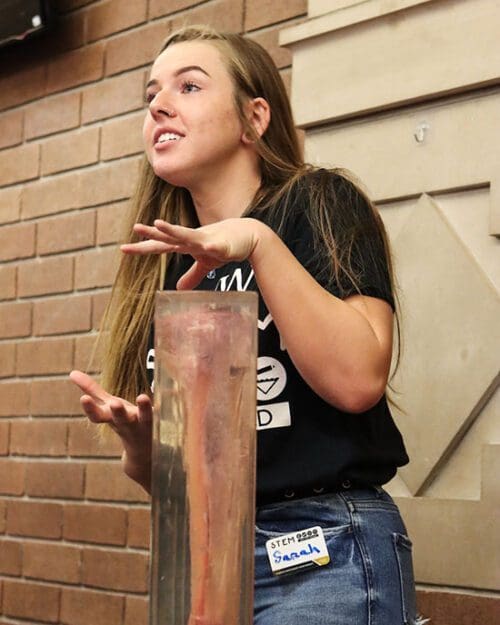 A high school student interested in science might typically experience several foundational and theoretical lessons, from an overview of an organism's anatomy to the balance of subatomic particles.
When a Purdue University Northwest (PNW) "STEM on the Road" program comes to visit, high schoolers can preview the driver's seat, quite literally, of where their science, engineering and technology applications can go in a college learning environment.
An assortment of sights and sounds can feature the powerful rev of a Society of Automotive Engineers (SAE) Baja or Formula 1 vehicle, a "hair-raising" experience with the touch of a Van de Graaff generator or bravely holding a large Madagascar hissing cockroach.
"This is a peer-to-peer outreach event," said Daniel Suson, professor of Physics at PNW. "Our PNW students show the high school students what they're doing and the opportunities for what the high school students can do. Our students can talk about their research, but can also connect it to what high school students have been learning.
"This is student-driven. As faculty supervisors we 'fly the flag,' but high schoolers probably don't want to hear an adult lecture. They (high school students) like to hear from PNW students so they have a chance to see themselves here. It is a way of not only raising interest in STEM but also letting people know what PNW provides and what our students get to do."
PNW's "STEM on the Road" sets up in the commons or cafeterias of Northwest Indiana middle and high schools for four-hour periods with hands-on activities reflecting mathematical, scientific, engineering and technology disciplines. PNW students representing the university's College of Engineering and Sciences and College of Technology demonstrate lessons or research in action with several apparatuses, projects, or organisms. STEM on the Road reaches up to 5,000 young students each semester.
"When I was in high school, I never had any of this — nobody went to my high school and showed us this," said Jaime Sahagun, third-year Mechatronics Engineering Technology major. Sahagun has participated with "STEM on the Road" since 2021. He is also vice president of the Fluid Power Club, which annually assembles a hydraulic-powered bicycle for competition.
"I like showing high school students that it's not all just about studying, you can also have fun," he said. "It lets me be more masterful of my art. Once you know how to explain what you're doing, it helps you understand more of your own work."
Students and school staff members can also receive information from PNW Admissions representatives on site about applying and paying for college.
"STEM on the Road" can be requested and scheduled to visit a local school by emailing STEMconnections@pnw.edu or calling coordinator Maged Mikhail at (219) 989-2471. The program has made visits to local schools in Northwest Indiana and suburban Chicago areas.