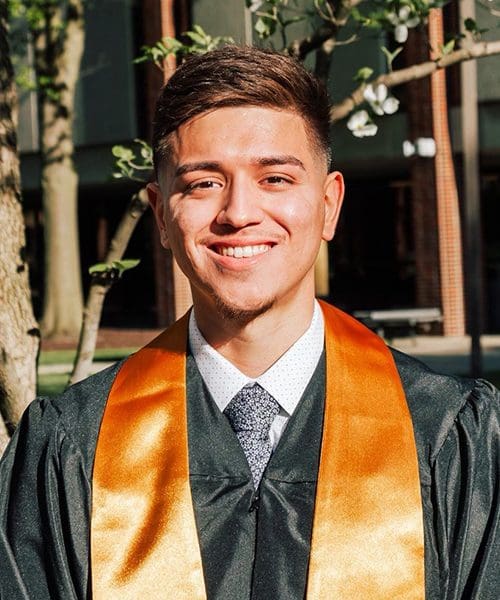 Ready to Ride: Spring 2021 Grad Adrian Nevarez
From rebooting an electric vehicle to 3-D printing face shields for local hospitals, Mechanical Engineering Technology graduate Adrian Nevarez, '21, enjoys putting his skills into practice.
May 11, 2021
Adrian Nevarez has an impressive knack for learning by doing. Whether it's using 12 pounds of paraffin wax to cool an electric vehicle's battery bank or 3-D printing face shields for hospitals in need around the region, the May 2021 Mechanical Engineering Technology candidate enjoys building solutions for high-tech problems.
"I like being able to have an idea, visualize it, design it and create it," says Nevarez, who also earned a minor in robotics. "That's why mechanical engineering technology caught my eye."
Local Excellence
A Hammond native, Nevarez was always familiar with Purdue University Northwest. "I've always driven by, and when I got older, I fell in love with the location and the people that I met," he says. The combination of excellent programs and a convenient location made PNW the right fit when Nevarez was planning for college. "I'm very family oriented. I love that I can go to campus, be home in 15 minutes, then go back to campus and study for a few hours if I'd like. That's been one of the great things about my experience."
While still in high school, Nevarez was introduced to engineering through a "Project Lead the Way" STEM program at Hammond Academy of Science and Technology overseen by a dedicated teacher, Mrs. Hutton. The four-year curriculum offered a solid introduction to the principles of engineering—AutoCad, terminology, programming, structural—while letting him build hands-on experience in project-based engineering through challenges like developing an automated marble sorter and using AutoCad to make a train assembly.
Powering Onward
This foundation served Nevarez well when he arrived at PNW and saw his skills and knowledge blossom with new tools including 3-D printers, RV rovers, and the aforementioned electric vehicle, which doubled as Nevarez's senior design project.
As Nevarez shares it, Purdue University Northwest was holding onto a past-its-prime electric vehicle (EV). Once used for trips around campus, the aged EV had seen its batteries die and seemed destined for the scrap heap. One of his favorite professors, PNW Assistant Professor of Mechanical Engineering Technology Ildar (Dale) Akhmadullin, caught wind of its plight and charged his students with getting the cart running again with modern lithium-ion batteries.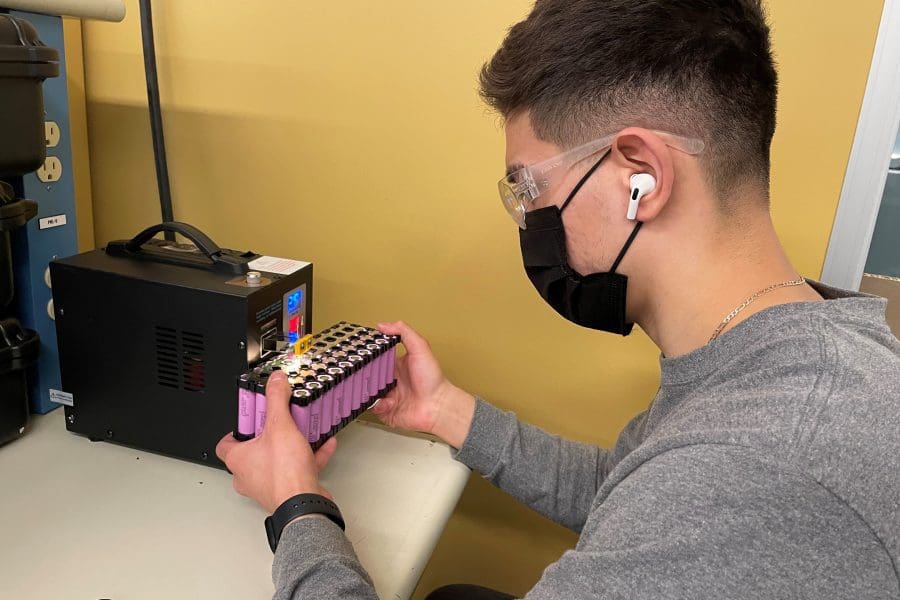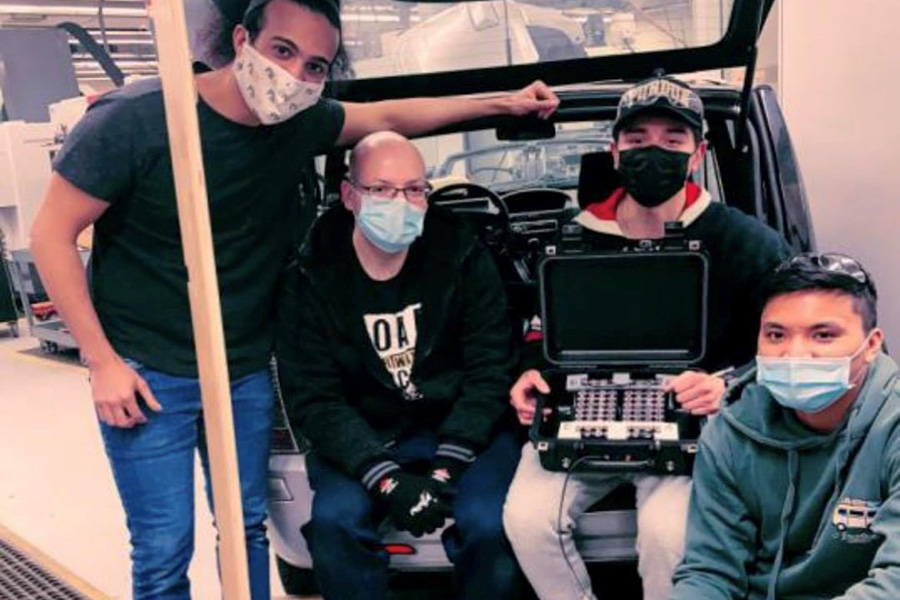 Nevarez helped gather a team to tackle the challenge. Using the cart's original specs, they connected 480 lithium-ion batteries using series and parallel circuits to provide the juice needed to cruise campus once more. But while this circuit provided the necessary power, there was still the matter of avoiding overheating.
Many electric vehicles deploy a fan or pump to keep their batteries cool, but Nevarez and his team wanted to use a non-powered cooling method. So they placed the battery bank in a waterproof enclosure and melted 12 pounds of paraffin wax to enclose it. "When the batteries are discharging, they release thermal energy, which is absorbed by the wax," says Nevarez. "When the batteries cool to room temperature, the wax releases the thermal energy and just solidifies around them again."
It's a no-fuss solution for a high-tech issue, embodying the creative thinking honed in his time at Purdue University Northwest. In telling the story, the upcoming graduate is grateful for the support of mentors like professor Akhmadullin. "He was really motivating," says Nevarez. "He would always take the extra time to explain things to me and my colleagues. That's one of the things I liked about PNW. The classrooms weren't ridiculously large, and I had a personal connection with a lot of my professors. They knew who I was, and I know who they are."
Planning Ahead
As Nevarez finishes his time at Purdue University Northwest, he's busy manufacturing his next step. He's in the process of applying and interviewing for mechanical design engineer positions, pursuing an opportunity that's the right fit for his skills.
In looking back at his time at PNW, he is happy to encourage anyone considering a similar journey. "You're going to grow a lot at college," he says. "It's not just a place to study a subject. It's a place where you'll learn life skills: working together, solving problems, adaptability and time management."
And maybe just bringing new life to an electric vehicle on the brink of the scrap heap.
Related Stories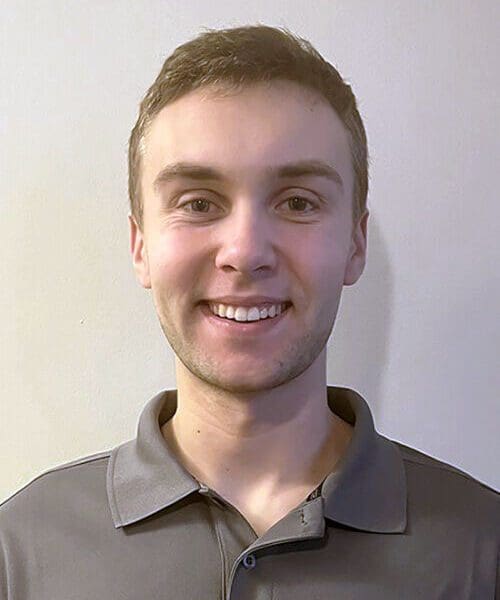 The School of Engineering is #PNWEngineeringProud of Thomas Stobbe. He will graduate in December 2023 with his bachelor's in mechanical engineering.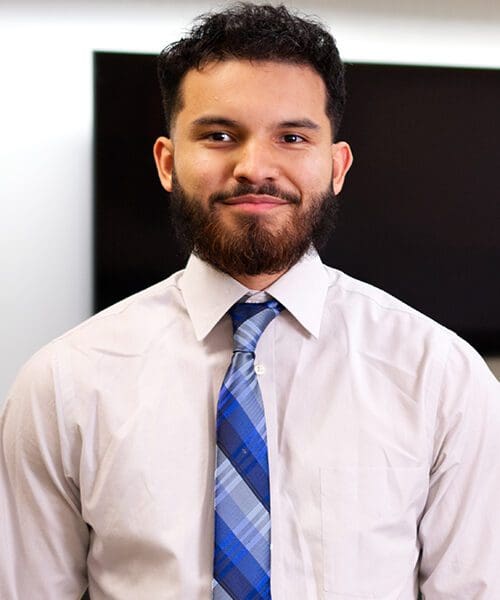 The School of Engineering is #PNWEngineeringProud of Mateo Garcia. He received his BSCmpE in May 2022 and will graduate in December 2023 with his master's in electrical and computer engineering.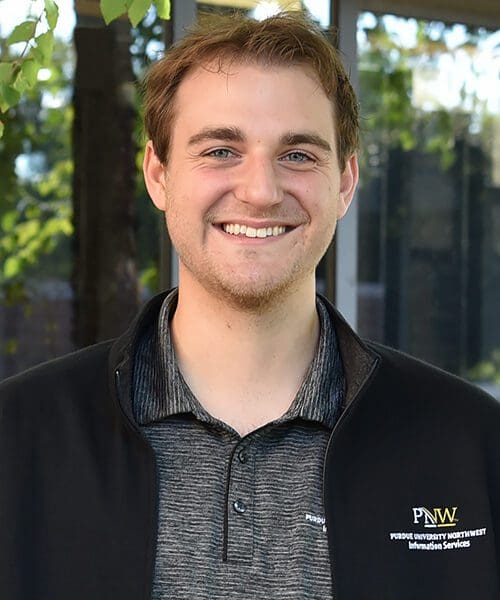 The School of Engineering is #PNWEngineeringProud of Chad Jamrock. He is a Computer Science student who will graduate in May 2023 with his bachelor's degree.