The frontline of health care: Meet 2023 PNW graduate Kimberly Lozano
May 10, 2023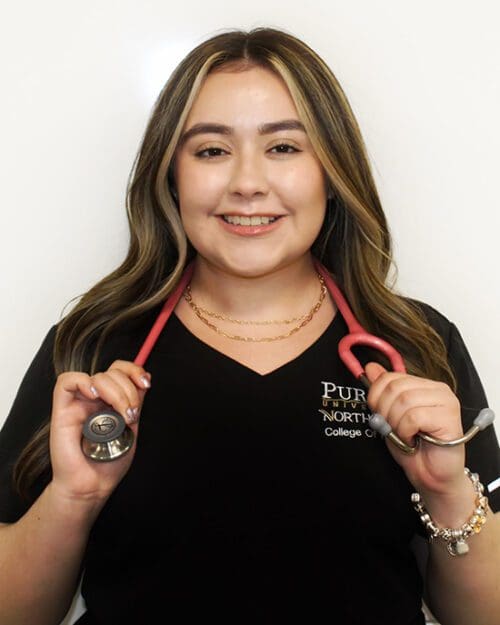 Kimberly Lozano, '23, became interested in the health care field in high school when she completed a class to become a certified nursing assistant (CNA). After high school, she started work at a hospital and realized health care was the field for her. That led to her pursuing a bachelor of science degree in Nursing with minors in Spanish and Human Resources at Purdue University Northwest (PNW).
Lozano began her educational career at PNW on the pre-med track and quickly decided to focus her studies on nursing. She began taking classes in human resources before being accepted into the nursing program, and decided to pursue a minor in the business field.
While at PNW, Lozano had the opportunity to visit local high schools with Karen O'Brien, clinical associate professor of Nursing, as part of the STEM on the Road initiative. "I enjoyed sharing my experiences at Purdue Northwest and in the nursing program," said Lozano. "I liked being able to interact and make connections with interested students."
Lozano is a member of the PNW chapter of Sigma Lambda Gamma National Sorority, Inc. which offers its members access to a variety of resources and opportunities geared toward personal development. She is also a member of TRIO.
The East Chicago native spent time working as a CNA at Franciscan Health Hammond and is currently at Franciscan Health Munster, where she's spent the last year and a half working in the emergency room. These opportunities solidified her decision to become an emergency room nurse.
After graduation, Lozano will start work as an emergency room nurse at Community Hospital in Munster. She plans on taking the National Council Licensure Examination (NCLEX), a nationwide examination for the licensing of nurses, in June. In the future, she would like to continue her education earning a master's degree in either nursing or the nurse practitioner program.
What did you like most about PNW?
"The small class sizes – I really got that one-on-one experience with my professors. I liked being able to contact them and having them respond quickly. They were always there and willing to help.
Also, once I started the nursing program I realized there are a lot of hospitals close by which is a very good thing for nursing students. I was able to do my pediatrics clinical at the University of Chicago Medicine Comer Children's Hospital."
What did you like most about the nursing program?
"The professors. They're all very wise and have a lot of knowledge. They were able to give us small tips and tricks that aren't taught in a classroom but they teach in a clinical setting. You know it's a little scary and intimidating being around doctors and nurses, especially in your first year, and the professors were always there to support you. They also pushed you to get out of your comfort zone."
Did you face any challenges while attending PNW?
"When I first started at PNW, I was taking classes that weren't leading to the pre-nursing track. I just wasn't very knowledgeable on that topic. Once I became a member of TRIO, they helped guide me. They helped me keep track of the classes I needed, who to contact and next steps to take to be where I needed to be. Then when my 21st Century Scholarship ended, they helped me find another scholarship. They are even helping me with a preparation class for my NCLEXs."
What words of advice would you share with prospective students looking to attend PNW?
"If you really want to do something you should keep going. No matter how hard or long the road, just keep going."
Was there anyone at PNW who inspired or encouraged you along the way?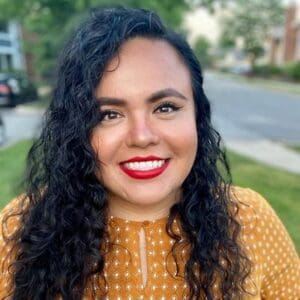 Catalina Rodriguez
Former assistant vice chancellor for Educational Opportunity Programs and director for TRIO Student Support Services
"She always kept me on the right track. She really pushed me to get out of my comfort zone. She also helped me with scholarships and told me how TRIO could help me prepare for my NCLEXs."
---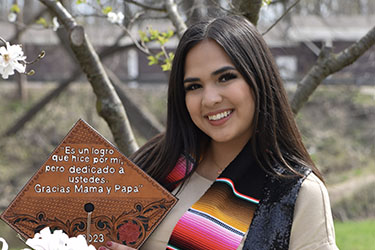 Meet the Spring 2023 Graduates
Discover what inspires our remarkable Spring 2023 graduates—and how they are Powering Onward to their futures.