All about business: Meet 2023 PNW graduate Vanessa Del Real
May 1, 2023
Vanessa Del Real, '23, has always had a passion for numbers. That passion led her to earn bachelor of science degrees in both Accounting and Management from the College of Business at Purdue University Northwest (PNW).
Del Real spent her first semester at PNW as a nursing major in the College of Nursing. During that time, she was working part-time as a certified nursing assistant at a hospital and realized nursing wasn't for her. She spoke with a couple of mentors at the university and then turned to PNW's Career Center for help. She took a few tests and brainstormed ideas for majors before deciding on management. After her first few business classes, the Valparaiso native fell in love with accounting and decided to double major in accounting and management.
As a first-generation college student, Del Real took advantage of the many opportunities PNW's TRIO and Educational Opportunity Programs offered. One of those opportunities was attending the Hispanic Association of Colleges and Universities conference where she was able to connect with professionals in a variety of industries. During her time at PNW, Del Real was a member of the Finance and Accounting Club, served as vice president of the Unidos Club and was an academic tutor.
Del Real gained valuable experience as a tax intern with the CPA accounting firm Friedman + Huey, where she will be interviewing in May for a permanent position. After graduation, she plans on taking a month to travel and visit her grandparents in Mexico. Down the road, Del Real would like to work in the finance field.
What did you like most about PNW?
"My experience at PNW has been wonderful! There are so many events and so many clubs to join – it's a very active campus with so much going on and numerous opportunities to get involved.
As a minority and first-generation student there were so many support services to take advantage of and so many people I could connect with and relate to. There was the Career Center and so many great professors that were willing to stay after class and answer questions. It's a very supportive college where I never felt lost or overwhelmed.
I am so glad I attended PNW!"
How do you think your involvement in campus organizations and activities helped define your success at PNW?
"I've been able to meet and connect with a lot of people. That has helped me create and build a network of professionals in all different types of companies and fields. I'm very thankful for that."
Did you face any challenges while attending PNW?
"As a first-generation student it was tough trying to seek out help with college. My parents supported me 100 percent but they couldn't help me or answer my questions because they just didn't know.
I found TRIO at the new student orientation and I'm so glad I joined freshman year. They gave me all the support I needed with things like FAFSA and school in general. There were also numerous opportunities like traveling to Puerto Rico, where I was able to develop myself both personally and professionally.
Also, being able to attend a conference in San Diego and meet professionals in every type of industry – that was very eye-opening. I was also able to connect with my peers in TRIO and learn about them and build strong relationships. I'm so glad I looked into TRIO – it was the best decision I've ever made."
What words of advice would you share with prospective students looking to attend PNW?
"Something I live by is be comfortable with being uncomfortable. Step out of your comfort zone, don't be afraid to talk to people and join as many clubs as you can. By joining clubs you're going to create strong relationships with peers, staff members and faculty. Also, seek out an internship. It will give you a good idea if that's really what you want to do for the rest of your life. It will also give you good experience in your field."
Was there anyone at PNW who inspired or encouraged you along the way?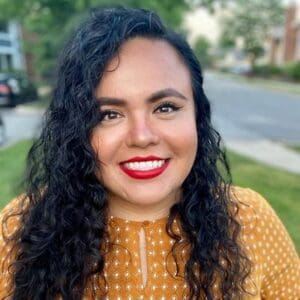 Catalina Rodriguez
former assistant vice chancellor for Educational Opportunity Programs and director for TRIO Student Support Services
"Catalina is someone I admire. She's just so bright, willing to help and always very happy. She was that person behind me always pushing me toward the finish line. She's very inspirational, just seeing how far she has made it really encourages me to be just like her."
---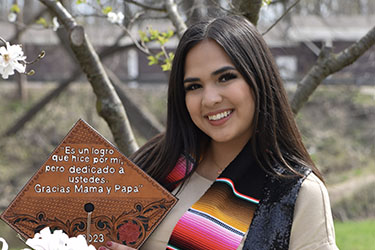 Meet the Spring 2023 Graduates
Discover what inspires our remarkable Spring 2023 graduates—and how they are Powering Onward to their futures.