An opportunity to serve: Meet 2023 PNW graduate Toi Malone
May 16, 2023
Whether serving as a staff sergeant in the U.S. Army, working in the culinary industry or managing the desk at a major hotel, Toi Malone, '23, relishes the opportunity to serve. She is scheduled to graduate in May with a bachelor of science degree in Hospitality and Tourism Management from the White Lodging School of Hospitality and Tourism Management in the College of Business at Purdue University Northwest (PNW).
After serving in the U.S. Army for 14 years, Malone went to culinary school. She worked in nearly every facet of the culinary industry while trying to find a good fit until her new career went from something she loved to just a job. At that point she decided a change was in order. Her desire for a career where she could make special moments and memories for people, as well as her love of the hospitality field led her to hospitality and tourism management.
The Jacksonville, North Carolina native was instrumental in reactivating the Hospitality and Tourism Management Club (HTM Club), a student group that had been dormant for four years. She went on to serve as president of the organization. Malone was also a member of the Black Student Union and PNW's Veteran Services. As part of an event planning class, she was able to work on the Roaring Loud concert featuring DJ Diesel, AKA SHAQ, in 2022 – an experience she loved.
Having been accepted into Marriott International's Voyage Global Leadership Development Program, Malone will be training at the Sheraton Grand Chicago Riverwalk after graduation. The year long, post-graduation leadership program offers resources and support for future leaders of the company. Her ultimate goal is to one day manage a five-star hotel.
What did you like most about your program in Hospitality and Tourism Management?
"The program gave me versatility and knowledge on different areas in the industry, for example with casino management we learned about the slot machines, table games and security. It also gave me an appreciation and understanding for those areas that are often taken for granted, like accounting. Overall, I've had some pretty cool classes in the HTM program."
Did you have a pivotal experience while attending PNW?
"Starting the HTM Club back up was my aha moment. It had been inactive for several years, so we pretty much had to start from ground zero – researching on how to start and run a student organization. The club is open to everyone and anyone can join. It also gives the hospitality students somewhere to go to fit in, somewhere that we can say is ours.
This is my mark that I get to leave on PNW."
What words of advice would you share with prospective students looking to attend PNW?
"Don't give up. When it gets hard that is the time that you have to dig deeper. It's not easy, it's not pretty, but it's worth it in the end."
Was there anyone at PNW who inspired or encouraged you along the way?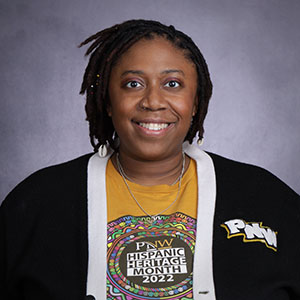 Assistant Dean of Students
"Dean Hudson was a listening ear. She offered understanding and words of encouragement which was very, very helpful."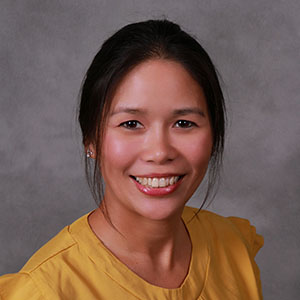 Clinical Professor of HTM
"Professor Stompor was always the person telling you that you can do it, even when you were telling her why you couldn't do it. She wouldn't let you make excuses but would offer to help you figure out why something didn't work.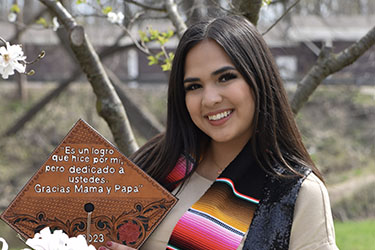 Meet the Spring 2023 Graduates
Discover what inspires our remarkable Spring 2023 graduates—and how they are Powering Onward to their futures.