Black History Month
Thank you for joining us for PNW's celebrations of Black History Month!
From paint and sip parties and meditations to mental health discussions, we had fun while recognizing the essential impact of Black history, accomplishments and culture.
About Black History Month
Black History Month, also known as African American History Month, honors the achievements, rich culture and history of African Americans and recognizes the important contributions and of Black individuals in society.
The current month-long observance began in 1926 as a week-long event sponsored by the Association for the Study of African American Life and History (ASALH). During the 1960s, the week-long observance grew into a month-long celebration on many college campuses. Since 1976, the month of February has been officially designated as Black History Month.
Highlights from Black History Month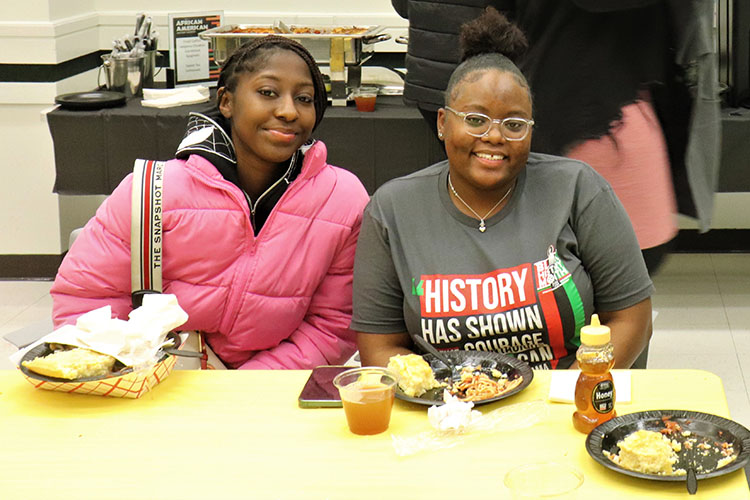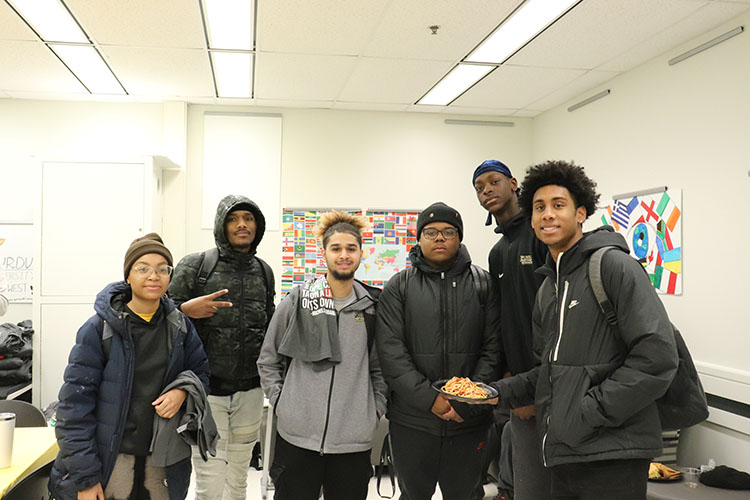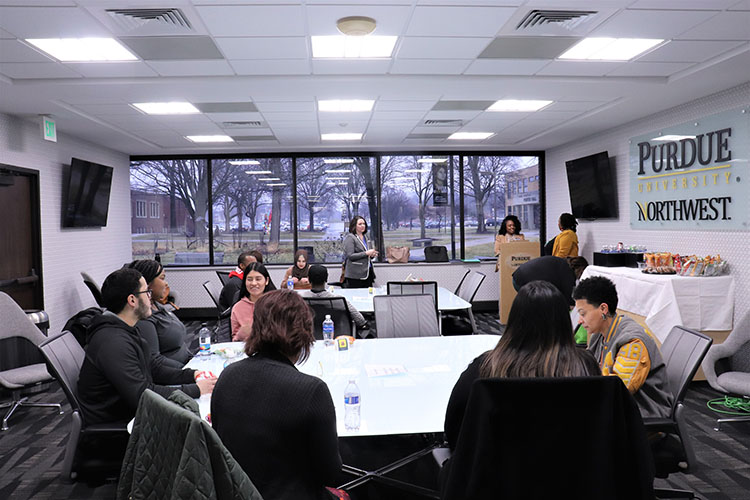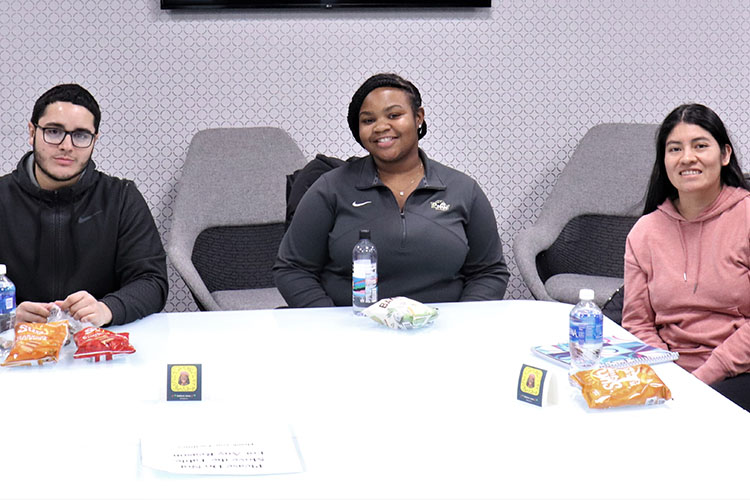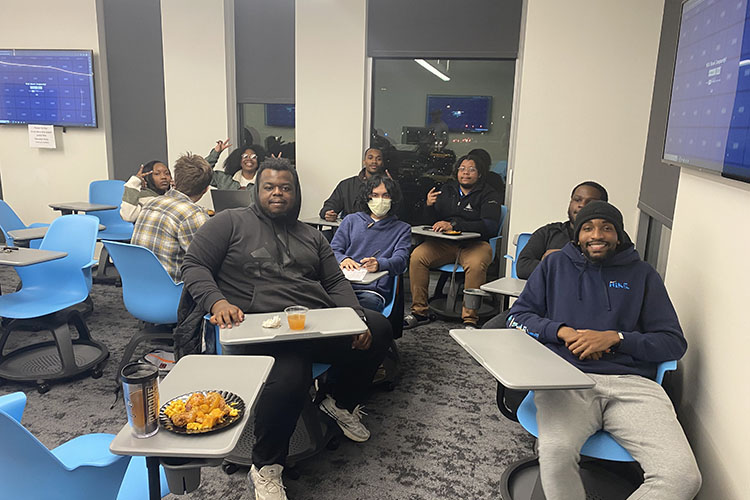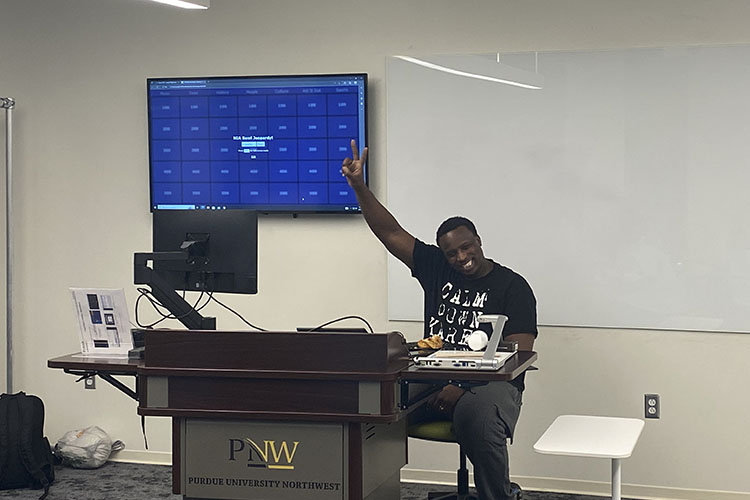 Knowledge is the highlight of Black History Month and I feel like hearing people's story and their knowledge will just be so enlightening.
Black History Month T-shirt Giveaway
January 30
12:30 p.m. to 1:45 p.m.
Westville – LSF Gallery Cafe
Take the midday break to get this year's Black History Month commemorative shirt. While supplies last!
---
Black History Month Kick-Off
February 1
Noon to 2 p.m.
Multicultural Lounge (CLO 180)
Celebrate the start of the Black History Month celebrations at PNW with music, fellowship and food!
---
Know Your Rights Panel
February 6
Noon to 2 p.m.
SULB 321
Informative discussion for students to learn their rights in federal and state laws along with rights at PNW.
---
February 7
Noon to 12:45 p.m.
Virtual
Reflection is important for progress.
Sankofa is a word in the Twi language of Ghana which literally translates to "it is not taboo to fetch what is at risk of being left behind". The principle of Sankofa invites us to take from the past what is good and bring it into the present to make progress in the future.
This month's Lunch and Lead features a panel of esteemed guests who will discuss what can happen when we create the space for curious reflection, emergent collaboration, and continuous progress.
---
Networking Event with the Career Center
February 8
5 to 7 p.m.
Alumni Hall
Join us for a collaboration with the PNW Career Center as we explore guiding professionals along thriving pathways that expand their network, professional development, and earning potential. Bring your A+ Game as the Career Center brings Employers to give keys to success after college!
---
Meditation Session with NSBE
February 9
5 p.m. to 6 p.m.
Dance Studio in the Fitness and Recreation Center
Take a break and focus on mindfulness. Students can come to the Fitness and Recreation Center to meditate with the National Society of Black Engineers (NSBE).
---
Paint and Sip with UVAB
February 13
4 to 7 p.m.
Griffin Hall 334
Come join us for a fun night of painting, food and mocktails with the University Village Activities Board, featuring Boxx the Artist. Follow along with step-by-step instructions that will be sure to get your creative juices flowing.
Registration is required for a count of canvases!
---
Wealth is Health – Financial Literacy
February 16
4 p.m. to 5:30 p.m.
SULB 150
Learn about different ways to manage your money and plan for your future. The presentation is brought to us by PNW alumna Dakita L. Jones, Assistant Vice President and Community Relations Manager for Centier Bank.
Co-Sponsored by the PNW College of Business.
---
February 22
3:45 p.m. to 6:30 p.m.
CLO 251
This week, we will be watching Hidden Figures (2016). The movie and discussion will take place in CLO 251 from 3:45 p.m. to 6:30 p.m. Drinks and small snacks will be provided!
---
Nia Bowl
FEBRUARY 23
5:30 p.m. to 7:30 p.m.
NILS 206
Come and feed your mind (and your stomach) with Black Culture Trivia.
---
Toast to Black Excellence
February 24
7 p.m. to 10 p.m.
Alumni Hall
Join us for a Toast to Black Excellence and a celebration of Black Joy. This annual event is returning to PNW this year to commemorate a successful Black History Month and honor the contributions made by the Black community at PNW.
This is a dress-to-impress event, and registration is required!
---
Black Boy Joy: Mental Health Discussion
February 27
4 p.m. to 5:30 p.m.
SULB 321
Safe space discussion about the importance and value of using therapy, trusting the healing process, responding to triggers, and how to safely engage others on your mental health journey.
To request a disability-related accommodation for this event, please contact the Office of Institutional Equity at timothyg@pnw.edu or (219) 989-2163 five days prior to the event.
Black History Month Online Resources
The Story Behind Black History Month (NPR)
"Crash Course in Black American History"
The Youtube series by journalist Clint Smith, author of "How the Word Is Passed: A Reckoning With the History of Slavery Across America."
Roundtable Perspective Episode 419: Understanding Art Therapy
Leah R. Gipson, LCPC, ATR-BC, Assistant Professor of Art Therapy and Counseling at the School of the Art Institute of Chicago joins host Thomas J. Roach, Ph.D., to discuss the practice of using art as a means of therapy and how art therapy can be used as a way to advocate for social justice and can empower a multitude of people. Leah Gipson is currently working with art therapy to help many young black women find their voices.
Roundtable Perspective Episode 428: Black Horror Noire
From Oct 8, 2021: Robin R. Means Coleman, Ph.D., Professor of Communication at Northwestern University joins host Thomas J. Roach, Ph.D., to discuss the black horror renaissance in film and the untold history of Black Americans through their connection to the horror film genre and how that has changed over time.