Chancellor Keon Video Update: Keep the Future in Mind
June 26, 2020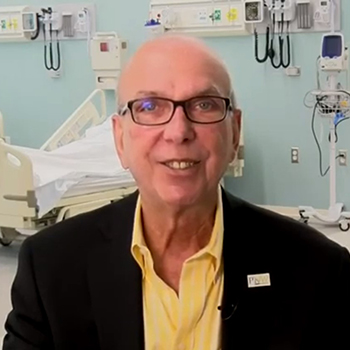 PNW members and friends,
I'm coming to you from our Nils Nelson Building. It's clearly our newest building on campus, and I want to come here today because this building in so many ways is the future for PNW.
The Nelson Building is named after Nils Nelson who was a chemistry faculty member for many, many years here at PNW. To benefit the university and the time that he spent with us, he left his estate to the university, which was a bit over 8 million dollars, and thus we decided it would be appropriate for this Bioscience Innovation Building to carry his name.
This building is so unique in that it's primarily labs. You may be able to see behind me that I'm in one of the nurse practitioner labs. It looks very much like being in a hospital. Upstairs, we have many, many biology labs as well as physiology labs, because our new building is going to house biology and the College of Nursing.
Going forward, our fall academic calendar will be just like any other fall academic calendar, running from August 24 through December, but we're going to have different delivery modes. There's going to be four different ways that we're going to be delivering classes in the fall.
First is the regular face-to-face mode. We expect that there will be face-to-face classes.
Another segment of classes will be hybrid. These would be classes where you may meet once a week with your faculty member, and maybe the other second meeting may be virtual, or you may have a virtual lecture and you'll be coming into one of our buildings that has labs, and work in a lab setting.
The other two are virtual. One is the virtual online class in which the individuals really do everything remotely, and it's more like what historically people think about when they think about an online class.
The other form of online class will be that of a class that is a lecture, so we will probably use two different platforms, Brightspace and Zoom. Faculty members will schedule their regular times and give live lectures that students will be able to observe live on their computers where ever they might be. Those same lectures are going to be captured and saved digitally so that others may be able to come back and see it a second time, a third time.
By approximately July 15, we expect to have all of those modes identified with each class that's being offered in the fall, so I encourage you to take a look at that, and I encourage you to register for the fall.
You'll also see that we'll be modifying some of the student activities on campus, whether they are at the Westville campus or the Hammond campus. So for example, those that are working with New Student Orientation are right now planning on how they might be able to do that in a mode that is more drive through as opposed to having large groups on campus in lecture halls.
The future is ahead of us. The Nils Building is our future, and your future should include completing your degree, or if you're coming to us for the first time from high school, starting your degree. So please, keep the future in mind, and join PNW this fall.
Thomas L. Keon
Chancellor, Purdue University Northwest
PNW COVID-19 Resources