Student Success Story: Chukwunedum Uzor
November 11, 2022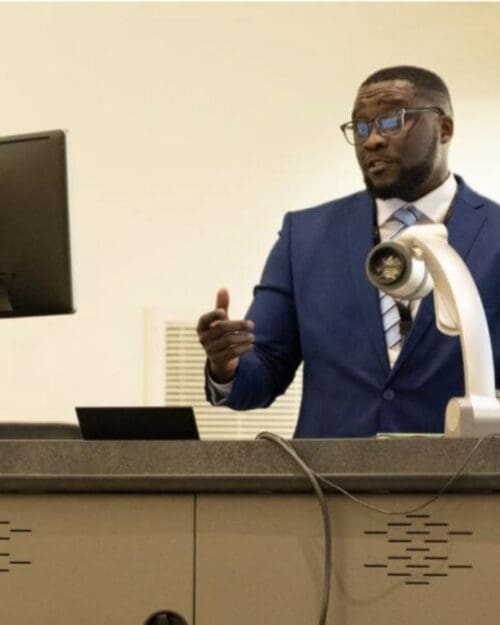 Congratulations to CIVS Research Assistant, Chukwunedum Uzor for receiving multiple job offers in specialty engineering positions. He graduates with his Master's in Mechanical Engineering in December 2022 with his thesis research entitled Characteristics of Hydrogen Fuel in a Reheating Furnace.
"I encourage all future mechanical engineering graduate students to strongly consider sharpening their skills and greatly improving their knowledge in advanced engineering principles and CFD techniques by joining CIVS as a graduate research assistant. This is a decision that they will be grateful about. Also to my fellow graduate research assistants in CIVS, you have a wealth of unmatched resources in the staff and project technical committee members and of course a renowned CFD professor and expert. If you take advantage of the resources, you will surely weather the storm and make an unimaginable impact on the global stage," said Chukwunedum Uzor.
Chukwunedum won multiple awards for his research at CIVS and his thesis, including:
Winner of the Three-Minutes Thesis (3MT) competition in the area of graduate studies at Purdue University Northwest, 2022.
Award of recognition for substantial contribution to the ArcelorMittal Thermo-Mechanical Day 2022.
Graduate student grant award at Purdue University Northwest 2022.
Uzor started his academic journey in his home country of Nigeria, where he received his Bachelor's degree and his first Master's degree in Mechanical Engineering (with a concentration in Industrial Production). While working in the gas industry, he worked with fluid-related equipment daily and found interest in studying fluid movement. This led to finding ways to advance his knowledge in that field. While searching, he found CIVS. He seized the rare opportunity to join CIVS as a graduate research assistant.
"This was one of the best life decisions I have made. CIVS provided me with a platform (SMSVC) to globally impact the steel industry in the areas of environmental sustainability, exergy efficiency, product quality control, and optimizing productivity," said Chukwunedum Uzor.