Student Resources
Specialty scholarships, student organizations, collegiate competitions and internship opportunities—see how we can help you succeed.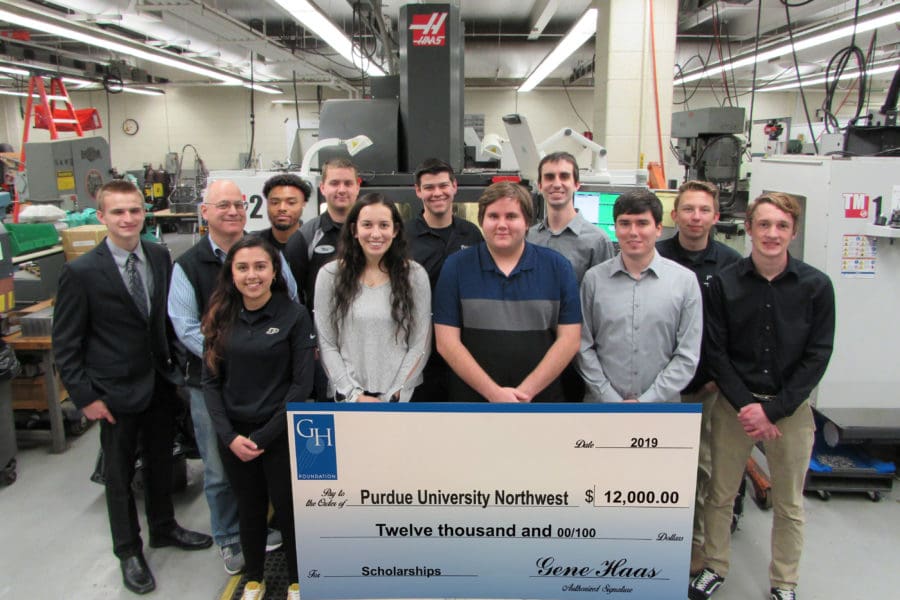 Explore Technology Scholarships
Visit PNW's scholarship database to search for scholarships dedicated to students in the College of Technology. Scholarships are available for incoming freshmen and transfer students who are admitted into a Technology program.
Academic Advisors
Academic advising is a collaborative process where you and your advisors are partners in ensuring your academic success. If you have questions, please reach out. If you need to schedule an appointment with the advisor assigned to you in your myPNW Plan, you may use this link.
Also be on the lookout for drop-in advising times held during open registration. Emails are sent periodically when drop-in virtual advising will be taking place.
Primary Advising Focus:

Computer Graphics Technology (CGT)
Electrical Engineering Technology (EET)
Mechanical Engineering Technology (MET)
Mechatronics Engineering Technology (MTB)
Primary Advising Focus:

Computer Information Technology (CIT)
Organizational Leadership and Supervision (OLS)
Construction Engineering and Management Technology (CEMT)
Department Scholarships
Department level scholarships require that students complete an application specific to that scholarship in order to be considered. These scholarships also have program specific eligibility requirements. The following scholarships and contacts for their applications are listed below.
Computer Information Technology majors must be a US citizen or lawful permanent resident. Students must be enrolled full time and be within three years of graduation with a GPA of at least 3.3 on a 4.0 scale.
Contact: CITG Office, ANDR-145
Computer Information Technology majors must be 18 years of age or older, must be a citizen of the United States at the time of application, and must have completed at a minimum the first two years of an undergraduate degree program and be eligible to (a) begin either the third or fourth year of an undergraduate degree program; (b) begin the first or second year of a Master's degree program; or (c) pursue doctoral studies.
Contact: CITG Office, ANDR-145
Computer Information Technology majors enrolled full time Sophomores, Juniors & Seniors.
Contact: CITG Office, ANDR-145
Deadline: March 10th
Internships and Industry Partners
Juniors and seniors in the College of Technology are encouraged to participate in experiential learning opportunities to build on practical, hands-on experience. Looking for an internship, project or other career-based learning activity? Our director of industrial relations and experiential learning is here to help!
Debbie Blades
Director, Industrial Relations and Experiential Learning
bladesd@pnw.edu
(219) 989-2611
Debbie can assist with resumes, cover letters, interviewing, salary negotiation, understanding your offer letter and connecting students to industry. We recommend contacting Debbie prior to beginning your internship or job search.
Employers
Employers seeking to promote internships, projects or entry-level engineering opportunities are encouraged to contact Debbie Blades as well in addition to posting their positions on Handshake.
Please Note
The College of Technology makes no representations or guarantees about positions listed on its website, campus job board, in the Career Center and share with students and alumnus via electronic media; and is not responsible for safety, wages, working conditions or other aspects of employment.
It is the student/alumnus responsibility for all necessary precautions when interviewing for or accepting positions and he/she is solely responsible for obtaining necessary information concerning the employer. The Career Center abides by the principles set forth by the National Association of Colleges and Employers (NACE).
Student Organizations
Involvement in student organizations is an excellent complement to the academic experience found at a university. Joining an organization helps students develop networking and leadership skills that will be invaluable to their education and their future.
College of Technology
Tau Alpha Pi is the national honor society for Engineering Technology, just as Phi Beta Kappa is for liberal arts and Tau Beta Pi is for engineering. Founded in 1953 and managed for more than 30 years by Engineering Technology educator Frederick J. Berger, Tau Alpha Pi is open to both associate-degree and baccalaureate candidates. Membership into Tau Alpha Pi is by invitation only to Engineering Technology students in ABET accredited programs. Students are reviewed for invitation criteria (based on GPA and length in program) each Spring semester with invitations for initiation being mailed out each March. So make sure to look for your invitation next Spring!
Visit the Department of Engineering Technology in the Anderson Building, room 143 for details.
Computer Graphics Technology
Our mission is to promote the generation and dissemination of information on computer graphics and interactive techniques. Our purpose is to foster a membership community whose core values help them to catalyze the innovation and application of computer graphics and interactive techniques.
Visit the Department of Computer Information Technology and Graphics in the Anderson Building, room 145 for details
Computer Information Technology
The CITIA student organization consists of two student clubs, the Information Security Club and the Cyber Incident Response Club. Our mission is to promote the information assurance (IA) programs here at Purdue University Northwest and cyber security technologies in the IA field. The purpose is to foster an information assurance community whose core values will help to improve the IA awareness across the campus and encourage the members to master information assurance practical skills.
Visit the Department of Computer Information Technology and Graphics in the Anderson Building, room 145 for details