PNW students bring history to life at Barker Mansion
September 1, 2022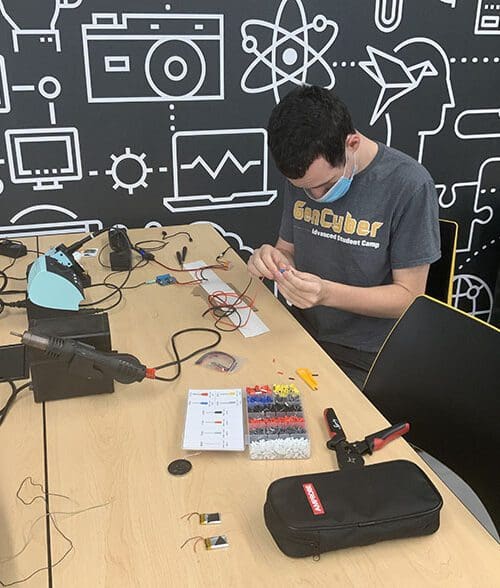 Students in the College of Technology at Purdue University Northwest (PNW) are bringing history to life at the Barker Mansion in Michigan City. The students created an interactive diorama of the former Haskell & Barker Car Company as a key part of an exhibit showcasing the factory's history. Clayton Whiting and Michael Nickolaou, third-year Construction Engineering and Management Technology majors, and David Higley, a third-year Computer Information Technology major with a Cybersecurity concentration, worked together to produce the three-dimensional display.
A shared history
The relationship between PNW and the Barker Mansion goes back to late 1940s when the Barker Welfare Foundation allowed the university to use the Barker Mansion as an extension campus. The mansion housed university classrooms and offices until the Westville campus was completed and opened for the Fall 1967 semester.
"We appreciate the opportunity to partner with the Barker Mansion on this project," says Chandramouli V. Chandramouli, department chair of Construction Science and Organizational Leadership and professor of Construction Engineering and Management Technology at PNW. "It was an opportunity for our students to apply their knowledge and skills to a real-world application while gaining hands-on experience and preserving a piece of Indiana history for future generations."
Challenge met
Initially, the project was to create a diorama using the only surviving blueprints for seven of the 38 buildings that made up the Haskell-Barker factory site.
"Once representatives from the Barker Mansion saw how the initial seven buildings turned out they wanted to showcase the entire facility," says David McLees, technology administrator, in the College of Technology. "The students were interested in the challenge and jumped at the opportunity."
The challenge for Whiting and Nickolaou was the absence of any blueprints for the remaining 31 buildings. After a search on the Library of Congress website, they discovered Sanborn maps of Michigan City that included the Haskell-Barker property. The maps, created for insurance companies to assess property risk, contained detailed information on the size, shape and placement of buildings and along with a painting and historic photographs, they were able to recreate the factory complex.
"The Sanborn maps really gave us a clearer understanding of what the building footprints looked like," explains Whiting, who is president of the Construction Club at PNW. "They included every building, with names, that we needed to complete the project. We were able to measure the building footprints to determine the actual width for each laser-printed building piece."
Once their research was complete, Whiting and Nickolaou then used their backgrounds in construction, computer-aided design systems and materials to design, print and assemble the remainder of the buildings. After placing the buildings in the diorama, Higley will be responsible for the electrical wiring, setup and making sure the display's interactive sections are operational.
Learning on the job
The project offered Whiting and Nickolaou a look into a future career in the construction industry and provided them valuable lessons to use throughout their careers.
"Anytime a student works on a real-world project they're able to get a sense of how important it is to work as a team," says McLees. "They learn about personalities, time management and the importance of making a plan and sticking to it."
A vital part of this project was the ability to read and interpret blueprints. "As a construction professional, you talk to others through drawings," says Chandramouli. "These students were able to learn how to make building drawings and how to read and interpret those drawings, even from a hundred years ago."
Using PNW's David Roberts Center for Innovation and Design as an office and workspace, Whiting and Nickolaou both agree that time management, proper scheduling and communication are lessons they'll take away from this project. "We had regular meetings with representatives from the Barker Mansion," says Whiting, a Highland native. "It gave us experience speaking and working with clients in a professional setting." Nickolaou, a native of St. John, agrees. "Communication is so important in this field," he says. "It can ultimately make or break a project."
An added advantage of working on a project like this is it gives students confidence in themselves, says McLees. "Having real-world, hands-on experience also gives them an advantage in an interview, whether for a job or an internship," he adds.
Anytime a student works on a real-world project they're able to get a sense of how important it is to work as a team.




"It's really satisfying being able to watch a project go from lines on a piece of paper to an actual three-dimensional model," says Whiting. "When you finish a big project like this," adds Nickolaou, "it actually gives you that sense of completion and accomplishment."
The diorama is built in Z scale, a small size for model railroads, and encompasses a 9-by-7-foot area which will be part of a permanent exhibit on the lower level of the Barker Mansion. The exhibit is scheduled to open later this year.