Reaching new heights: Meet PNW 2022 graduate Megan Granados
November 28, 2022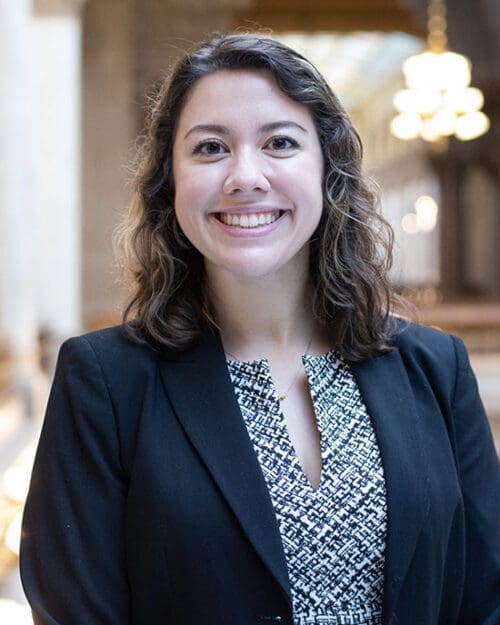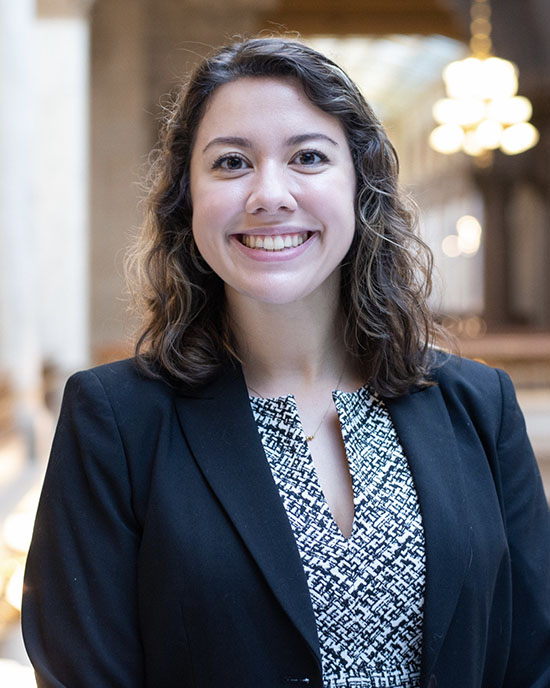 Megan Granados, '22, is graduating with a bachelor of science in Business Management from Purdue Northwest's (PNW) College of Business.
Granados, a Highland native, finished her fall semester remotely while she worked in a dual role as Deputy Secretary of the Senate for Operations and Deputy Controller at the Indiana Statehouse. She interned with the Secretary of Senate in 2021, a role she discovered through a College of Business career fair, and was offered a full-time position in April 2022.
While at PNW, Granados was an Honors College student and served as a peer mentor. Throughout her career, she also served as Hammond Honors College Senator, President Pro Tempore and Vice President in Student Government Association. Granados additionally worked as a campus ambassador for The Point.
Granados enjoys her role in the statehouse and would like to eventually continue her education by earning a Master of Business Administration (MBA) or law degree.
Why did you choose to attend PNW?
"My entire family is from Northwest Indiana, and I'm very close with my family so I wanted to be near them. It was a natural fit for me to go here.
My mom and older sister attended Purdue Northwest, so I was very familiar with the university. Before I graduated high school, I did half-days my senior year and took courses on campus twice a week and I got comfortable."
What do you like most about PNW?
"What I like the most is the people I met. I met my boyfriend, whom I've been with for three years. I met one of my closest friends, Oriana White, through PNW. There are faculty and staff members I still keep in touch with. If it wasn't for PNW I wouldn't have met them."
How did you become interested in your subject?
"I've always been a people person. At PNW I started in Public Relations because I knew that was growing and social media was huge. After my first semester, I realized I love learning about business and that side of public relations.
I switched to Management and once I got into those Business classes, especially managerial classes, I learned about people operations, how important leadership is, and how to manage a team effectively and ethically. I knew I wanted to work with people and that it would be my best route.
You may look at supply chain and business analytics, but you also develop soft skills for management and leadership. You can do the technical things but none of those are effective if you can't teach or lead your team properly."
What words of advice would you share with prospective students?
"Make the most out of your experience. At PNW you get a unique opportunity to be on a smaller campus that has a lot of open doors for you. All you need to do is take the opportunity. By taking advantage you're going to meet so many amazing people.
If you go to a larger campus you cannot get as hyper-involved and it's harder to build that connection with your college's faculty and staff members, such as a professor or your dean."
Was there anyone at PNW who inspired or encouraged you along the way?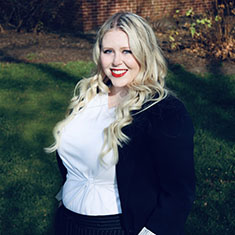 Oriana White, B.A. '20, M.B.A. '22, former Student Government Association President
"They have been my biggest cheerleaders and have always encouraged me to just go for it and do what makes me happy, and I love them for it. They both knew when I got my job offer that I was indecisive but also really excited. They told me "just do it" and that it was the opportunity of a lifetime."