Keynote Speaker
Thursday, April 7, 2022   2:30 pm- 4:00 pm , Gyte 103 – Hammond
Dr. Mona Hanna-Attisha, MD, MPH, FAAP
Mona Hanna-Attisha, MD, MPH, FAAP, is founder and director of the Michigan State University and Hurley Children's Hospital Pediatric Public Health Initiative, an innovative and model public health program in Flint, Michigan.
For additional information and complete bio of the speaker, please visit https://www.prhspeakers.com/speaker/dr-mona-hanna-attisha.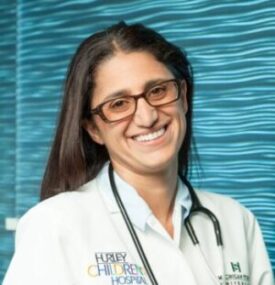 What the Eyes Don't See: A Story of Crisis, Resistance, and Hope in an American City
What the Eyes Don't See is an inspiring story of how Mona Hanna-Attisha alongside a team of researchers, parents, friends and community leaders, first discovered that the children of Flint, Michigan, were being exposed to lead in their tap water—and then battled her own government and a brutal backlash to expose that truth to the world.
Paced like a scientific thriller, What the Eyes Don't See reveals how misguided austerity policies, broken democracy and callous bureaucratic indifference placed an entire city at risk. And at the center of the story is Dr. Mona herself—an immigrant, doctor, scientist and mother whose family's activist roots inspired her pursuit of justice.