Information for Presenters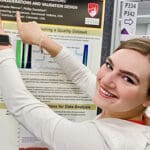 Thank you for registering to present during the 2022 Days of Discovery.  Below you will find important information about participating in the event.  If you have any questions, please contact Dr. Michael Zimmer or Maja Marjanovic.
All presenters are expected to check-in prior to their presentation and pick up a packet with their name-tag, certificate of attendance (students only), lunch ticket, and other conference materials.  All participants, including each co-presenter, are expected to check-in individually.  Team members may not pick up their co-presenters' packets.
Students and faculty may check-in and pick up their packet on the day of the event, or during the days and times listed below, prior to the event.
Friday, April 1, 2022; 10:00 a.m. – 4:00 p.m.; Lawhse 246 (Hammond)
Monday, April 4, 2022; 10:00 a.m. – 4:00 p.m.; Lawhse 246 (Hammond)
Tuesday, April 5, 2022; 10:00 a.m. – 4:00 p.m.; Lawhse 246 (Hammond)
Wednesday, April 6, 2022; 8:00 a.m. – 11:00 p.m.; DSAC Great Hall Concourse (Westville)
Thursday, April 7, 2022; 8:00 a.m. – 12:30 p.m.; SULB 3rd Floor Concourse (Hammond)
Photo depicts registration packet from 2021. Packet for 2022 will not include the same items.
Those selected for oral presentations were notified on Friday, March 11th of the selection.  Oral presentations will be 10-minutes long, with a 3-minute Q&A and 2-minute set-up times.  Presenters will not be allowed to exceed their presentation time.  Presenters are expected to bring a Power Point presentation on a removable (USB) drive on the day of the presentation.
To view your assigned session time and location, please visit the Program Details page and search for your presentation or name via the search box. Please be aware that this year, on the Hammond campus, poster and oral presentations will be held in different buildings.
Out of respect for other presenters, we ask all oral presentation participants to remain in the room for the entire 1.5-hour session.
In addition to this presentation format, you are encouraged to present a poster.
Posters will be displayed on easels as illustrated below. Hard-mounted, flat presentation boards not exceeding 48in (W) x 36 in (H) are recommended. If you have a paper poster, hard boards will be available at the event for temporary mounting.
Please arrive at least 15 minutes prior to the poster presentation time to set-up the poster.
Poster spaces are not assigned. Faculty and students will be able to select the space that best meets their need, based on the first come, first serve basis.
For those who indicated during the registration process that they have additional items to display, such as books and other artifacts, there will be a limited number of tables available. We recommend that you arrive at least 15 minutes prior to the presentation session to set up.
Several resources for developing scientific posters are listed below:
Posters may be printed at various businesses offering customer poster printing services.  You may use the following vendor to receive a special PNW student and faculty discount.
MakeSigns – Cost of printing a matte 48×36 poster is $43.56. 
Students and faculty who received internal grants for their projects may receive reimbursements for poster printing from their internal grant, or charge printing directly to their grant, if:
Research presented is related to the grant received, AND
Funds are remining in the grant account, AND
The grant is still active
If you have any questions about printing, please contact us.