Plenary Speaker
Amanda D. Zelechoski, J.D., Ph.D., ABPP
Amanda Zelechoski is a licensed clinical and forensic psychologist and attorney, specializing in trauma. In addition to serving as professor of psychology and Director of Clinical Training at PNW, she is also co-founder of the nonprofit organization, Pandemic Parenting.
Zelechoski's research examines the intersection between psychology, law, and trauma, particularly for underserved populations. This includes evaluating psychological and forensic assessment methods, as well as working across systems to implement evidence-based, trauma-informed practices. Most recently, she conducted research on the impact of the COVID-19 pandemic on children and parents, which led to the creation of Pandemic Parenting, a free digital resource platform and non-profit organization.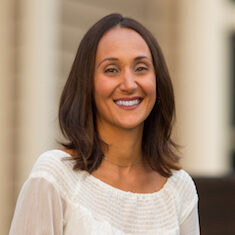 Giving Psychology Away: Why Your Research Isn't For You
As the COVID-19 pandemic forged on, there were daily headlines about rapid and global declines in mental health and well-being. Most of us found ourselves stretched to capacity and recognized that there were nowhere near enough of us in the mental health field to address the increasing demand. Accordingly, finding ways to be proactive and creative in making psychology more accessible to all seems needed now more than ever. In this presentation, Dr. Amanda Zelechoski will discuss her current research related to child trauma and juvenile justice, share some twists and turns in her relationship with research, and reflect on how the pandemic transformed the way she understands her role as a scholar. She will also discuss ways that you, regardless of your discipline, can share your knowledge and research with others.