Employee Assistance Program
Life's challenges—and how we deal with them—can greatly affect our overall health.  That's why Purdue Northwest offers an Employee Assistance Program (EAP) to our employees and their families.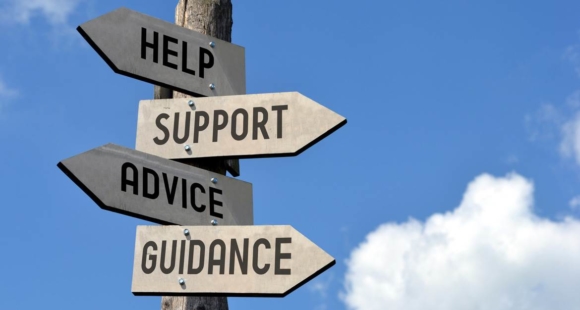 Increased EAP Visits Extended
PNW is here for you and your family!  All PNW eligible staff and family members get 10 free EAP visits* — plus one free session with GreenPath Financial Wellness.
If you're struggling with a work or family issue, free confidential help is just a call away.
PNW's Employee Assistance Program (EAP) through New Avenues offers free short-term, confidential counseling through a network of licensed clinicians located close to your home or workplace. These trained professionals are ready to help you deal with family or work-life issues that may be causing your life to feel out of balance.
Eligibility
All benefits-eligible employees, their spouse and/or dependents, and immediate family members living in the home.
Dependents up to age 26, not living in the home of the employee, are eligible if on the employee's health insurance.
Non-benefits eligible employees, retirees and students are not eligible.
Starts first day of active employment.
Eligibility runs through the last day of employment.
Scheduling Face-to-Face Sessions
Call New Avenues at 1-800-731-6501 or (574) 232-2131. Select option #2. Services are strictly confidential and there is no out-of-pocket cost to you or to your family members.
For emergencies, a New Avenues care manager is on call 24 hours a day/7 days a week by calling 1-800-731-6501.
Structured Telephonic and eSessionConnect Counseling
In addition to face-to-face counseling, New Avenues offers telephonic and online counseling as well as an array of online support services available 24/7. To access telephonic counseling call toll free 855-492-3625. For online counseling and other work-life resources log-on to the New Avenues website and click on Work-Life Resources.
Resources Available for Individuals
Online Resources at NewAvenuesOnLine.com are:
How healthy are you? Find out by creating your own personal health profile; assess your risk factors; understand the significance of symptoms and conditions. Learn to manage stress and stay fit and fabulous as you mature. These are just a few of the topics covered in articles, self-assessments, online seminars and resource links found in this robust database.
Password: CompleteEAP
Use the provider directory tool to search our database of  over 2,500 providers and see who is in our network.
Current Edition: July
Featured In This Issue:
Plants to Avoid While Hiking and Camping
Exercise Intensity: It's Personal….
Perils of Perfection
How to Select Produce
Produce: Raspberries
Frequently Asked Questions
When you have tried various solutions, and none seem to work.
The situation is affecting your work and your relationships with others.
You are preoccupied with the problem.
You know something is wrong, but you can't seem to identify the nature of the problem.
You are having physical signs of stress including headaches, upset stomach, insomnia, etc.
You need an objective point of view about a problem.
The New Avenues EAP is completely confidential. When you contact New Avenues, your name and details of your request will not be reported to your employer or anyone else in your family. No one will know unless you choose to tell them, or unless you give New Avenues written permission to disclose certain information. Your employer offers this confidential service because they care about you and your concerns, but they don't want to intrude into your personal issues.
Please note: New Avenues and the clinical providers are required by law to report any cases of suspected child abuse, elder abuse, or threats of physical harm to one's person or other individuals.
It's important that you are comfortable with your EAP professional. We want this relationship to work for you. If you want to change to a new EAP professional, call us with your request. You will not be charged for that visit.
There are 10 EAP sessions per employee and 10 per eligible family member per contract year—plus one free session with GreenPath Financial Wellness
The contract year runs from August 1 through July 31.
Once you have used your EAP sessions, you may choose to continue services under the terms of your health-plan benefit. You are responsible for fees incurred for additional sessions. New Avenues makes every attempt to arrange your EAP sessions with a counselor who is in your health plan network so you may continue with the same person.
New Avenues has a network of professionals often referred to as counselors or providers. These professionals include experienced licensed psychologists, social workers, counselors and therapists. When you call New Avenues, we will match you with the provider who will best meet your needs. Appointments are scheduled at times convenient for you and at a location close to your home or workplace.
Appointments typically are arranged within three to five days of your first call to New Avenues. For urgent concerns, we will arrange an appointment within 48 hours.
If you have a life-threatening concern, call New Avenues today and a Care Manager will help arrange assistance right away.
To start using your EAP, simply contact New Avenues at 800-731-6501. A member services representative will take your call and arrange for a referral to an EAP provider. During non-business hours, our care managers are on-call to handle emergencies.
(Please allow 10-15 minutes on the call to provide us with the information needed to make an appropriate referral.)
There is no cost to you or to your family members. No co-pays, fees, claims, or deductibles. The cost of this service is covered by your employer. If you need professional services that extend beyond the EAP, those services may be covered by your medical plan. If not, you will be responsible for costs of services outside of the EAP. It is important to note that you do not need to be a participant in your employer's medical plan to use the EAP.
All of us at some time in our lives face difficult changes, transitions, or problems that create significant pressure and stress. It can be very helpful to get an objective viewpoint from a professional. EAP professionals assist with these kinds of concerns and more:
Life event changes
Unhappy marriage
Divorce or separation adjustment
Grief
Stress
Financial worries
Alcohol or drug problems
Child and Adolescent issues
Communication problems
Eldercare concerns