In Defense of Cyberspace: Meet 2022 PNW graduate Ryan Frederick
December 5, 2022
Ryan Frederick, '22, is set to graduate with bachelor's degrees in Computer Information Technology and Cybersecurity from Purdue University Northwest's (PNW) College of Technology.
Having been interested in technology since high school, Frederick began his college career at PNW as a computer science major. Within the first year, he realized he wanted to take a more hands-on approach in the technology field and switched his major to computer information technology and cybersecurity.
The Lowell native's senior project involved researching and developing a program that converts malware into an image and then trains artificial intelligence on how to detect the malware through those images. Frederick worked on the project with fellow student, Joseph Shapiro, and Ricardo Calix, associate professor, Computer Information Technology and Graphics at PNW.
Their final research paper, entitled "A Corpus of Encoded Malware Byte Information as Images for Efficient Classification," was presented at the 16th International Conference on Signal Image Technology & Internet Based Systems in Dijon, France. The article will be published by IEEE, the professional home for the engineering and technology community worldwide.
Frederick has been working as an IT intern for Morrison Container Handling Solutions in Glenwood, Illinois, where he hopes to obtain a full-time position after graduation. In the future, he would like to work for Thorn, a company focused on developing new technologies to combat online child sexual abuse. "I'd like a job I actually get something out of," says Frederick. "One that makes me feel good at the end of the day."
What did you like most about PNW?
"Definitely the professors. They were phenomenal. They were approachable and available to answer questions or help when needed. Class sizes were small enough that it was easy to collaborate with other students.
I also liked that is was close to home and I didn't have to travel too far from family, friends or work."
What did you like most about the Computer Information Technology and Cybersecurity programs at PNW?
"I liked that we focused on so many different things and were able to get a little taste of everything in the field. One day we would be programming, the next day working on networking. I like that I have a degree that gives me so many different job options.
I also liked that PNW offered a class that allowed me to become a certified ethical hacker. Being able to take the class, get credit and also earn a certification while still in still in school was really cool."
What words of advice would you share with prospective students looking to attend PNW?
"Do all your homework on time and pay attention during classes. Once I stopped procrastinating and waiting until the last minute to do my homework, my grades improved significantly."
Was there anyone at PNW who inspired or encouraged you along the way?

Ricardo Calix, Associate Professor, Computer Information Technology and Graphics
"Dr. Calix helped me so much. He had the perfect teaching style for me and helped me get published."
Chuck DeCastro, Lecturer, Computer Information Technology
"Chuck has always been very helpful. He doesn't just teach; he makes sure you understand. He also makes sure you're doing okay outside of class."
George Stefanek, Assistant Professor, Computer Information Technology and Graphics
"Dr. Stefanik was an awesome professor. He was able to take something super complex and slowly break it down in a way that anyone could understand."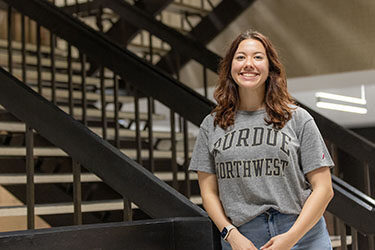 Meet Our Fall 2022 Graduates
Discover what inspires our remarkable Fall 2022 graduates—and how they are Powering Onward to their futures.