Chancellor-Elect and Provost and Vice Chancellor for Academic Affairs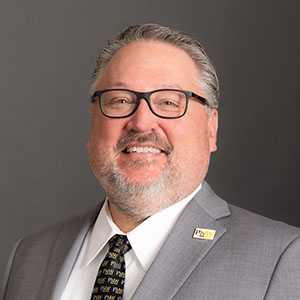 Kenneth (Chris) Holford
Office & Phone
Hammond: Lawshe Hall (LAWS) 346
Westville: Schwarz Hall (SWRZ) 150
Phone: 219-989-2446
Email: cholford@pnw.edu
About Kenneth (Chris) Holford
Kenneth (Chris) Holford was named chancellor-elect of Purdue University Northwest by the Purdue University Board of Trustees on Dec. 8, 2023. His appointment as chancellor becomes effective Jan. 8, 2024.
Holford has served as provost and vice chancellor of Academic Affairs at Purdue Northwest since May 2020 where he has provided leadership for the six academic colleges, as well as oversight of the Office of Commercialization and Research, Office of Institutional Research, Center for Faculty Excellence, and the Office of Academic and Student Success. As provost, he has prioritized the quality of the student experience, the importance of developing a highly trained workforce, and the enrichment of the regional community. He has emphasized the importance of academic and research quality at PNW, leading to tripling sponsored research activity at the institution over the past three years.
A professor of Biology, Holford has served the PNW campuses for more than 20 years, previously as the founding dean of the College of Engineering and Sciences since the formation of PNW in 2016. He also was dean of the College of Sciences and chair of the department of Biology and Chemistry at the former Purdue North Central, which is now the Westville, Ind., branch campus of PNW.
Holford earned a Ph.D. in Biological Sciences from Illinois State University, with a primary research specialization in crustacean endocrinology. He holds a master's degree in Zoology (Cooperative Wildlife Research Laboratory) from Southern Illinois University at Carbondale with specialization in avian reproductive physiology and eggshell production. Prior to these, Holford earned his baccalaureate degree from Augustana College in Rock Island, Illinois with a major in Biology.
He is actively engaged in the Northwest Indiana community, currently serving on the boards of the Shirley Heinz Land Trust and the La Porte County Symphony Orchestra.
Holford and his wife Christy are residents of Valparaiso, Indiana.  He is an avid fisherman and outdoor enthusiast with a lifelong passion for wildlife biology and conservation.