Lionhearted Leaders: Ezra Mutai
October 21, 2022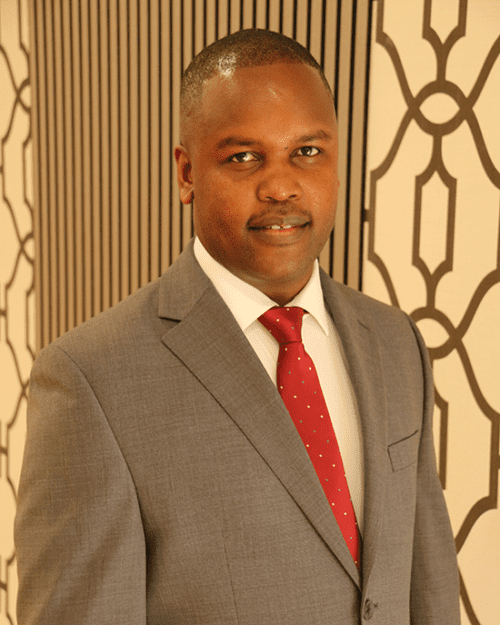 PNW's Lionhearted Leaders are faculty recognized for their exceptional work inside and outside the classroom.
Meet Ezra Mutai, assistant professor of Food and Nutrition and a Lionhearted Leader in the School of Hospitality and Tourism Management.
---
How does your research benefit your college and the university?
My research focus is unique within the College of Business as it mostly relates to the life sciences discipline. As such, my research not only helps to create a diversified portfolio of faculty research programs within the college, but most importantly, it perfectly fits with one of Purdue University Northwest's (PNW) strategic goals of increasing metropolitan impact and community engagement through research and strategic partnerships. My research interests include understanding the role bioactive components in foods and the gut microbes play in the prevention and/or treatment of chronic diseases such as obesity and cardiovascular diseases.
Recently, under the leadership of my colleague, John Durocher, we established a new Integrative Physiology and Health Sciences (IPHS) Center at Purdue University Northwest. The aim of this center is to lead research, teaching and outreach with a proactive and holistic approach to human health.
IPHS will deliver free seminars to the general public on how to manage blood pressure, control cholesterol, eat better, stop smoking, manage weight, be more physically active, and how to reduce blood sugar. This outreach project not only benefits my college but most importantly, it enables PNW to gain trust and exposure among our local communities so that Purdue University Northwest will be perceived as a leader in community health initiatives.
Please tell me about your teaching methods, philosophy and goals.
As an educator, I view myself as an explorer leading an expedition through a jungle. In this jungle, there are well-trodden paths, but the landscape is constantly changing, as new foliage keeps growing. To me, the well-trodden paths represent well-established concepts and principles in the sciences. On the other hand, the growing foliage refers to the new challenges that constantly arise. Therefore, on this expedition, I want my students to not only gain an appreciation for the constant flux in the sciences but most importantly, to be able to apply the concepts that they learn to real-world situations. In every course I teach, I emphasize the relevance and usefulness of the course material for understanding real-world situations.
Most of my teaching at Purdue University Northwest (PNW) involves instructing undergraduate students in the Essentials of Nutrition, Food Safety, Sanitation and Health courses. To be an effective teacher, I have found that the class size greatly influences the type of teaching methods I adopt to implement. I structure my PowerPoint presentations to include short video clips at regular intervals, to highlight how the material presented in class is applicable in a variety of real-world situations.
In addition, I use case studies and problem sets in most of my teachings. Having students engage in the problem-solving process either as an individual or in a group is so important as it allows them to apply the concepts they have learned in solving real-life situations. This is particularly important as one of the major goals of my courses is to enable students to obtain knowledge and skillsets which they can use to plan nutrient-dense and healthy diets.
What interests do you have outside of work?
When I am not teaching or doing research, I enjoy spending time with my family. I like to hike the different trails in the region and watch sports and documentaries.
I also volunteer with the Chicago Section of the Institute of Food Technologists (CSIFT) where I serve as a member of the Audit/Finance Committee. We serve as advisors to the Executive Committee and the Section on all Section financial matters.