Society of Innovators 2022 Summer Camp Guide
April 14, 2022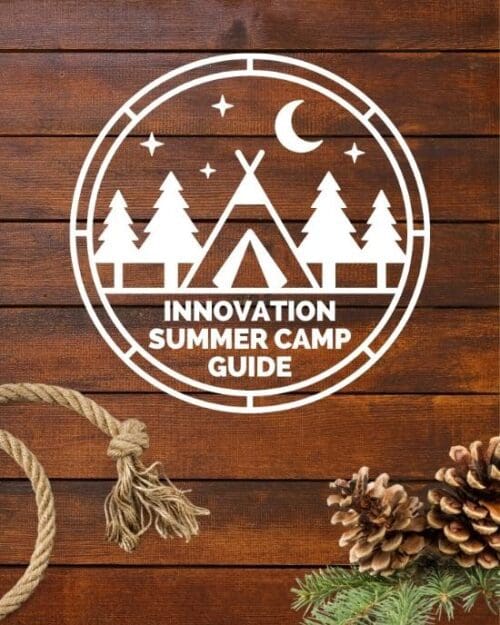 Growing up, most of our summer camp options were limited to swimming, relay races and campfire sing-alongs. Sure, we got to occasionally flex our creativity in the camp's craft barn, but for the most part, innovation-building skills were nonexistent during those summer sessions.
Today's parents have a wide variety of summer camps to send their little ones (and not so little ones) off to so they can experience the joy of creative play. There are camps for robotics, engineering, art, entrepreneurship, and even innovation! Our team has selected a few intriguing camps taking place in and around Northwest Indiana that will help prepare your young innovators for the future.
Youth Summer Innovation Experience
The Society of Innovators and Leadership Institute at Purdue Northwest (PNW) will host the Young Leaders Academy 2022 Summer Innovation Experience at the PNW Westville campus June 22-24.
The Summer Innovation Experience will provide an engaging introduction to leadership and innovation for high school students. Throughout three days of fun, hands-on activities and learning, students will practice 30 key skillsets which will help them become more confident, curious, creative and collaborative leaders.
Participation in the Summer Innovation Experience is free and open to rising high school freshmen and sophomores. More information and free registration can be found at www.pnw.edu/summer-innovation.
PNW Camps
Ready for summer? So are we! Purdue University Northwest is hosting a range of PNW Camps designed to offer hands-on learning experiences to high school students, middle schoolers and more. Visit www.pnw.edu/camps for more details and to register.
Earth, Space, & Beyond Science Summer Camp
The Challenger Learning Center offers one-of-a-kind summer camp experiences led by qualified educators to provide a safe, fun and thought-provoking experience. Participants will have the opportunity to explore exciting new topics and the world of science that is all around them through outdoor investigations, classic experiments, and brand new experiences! Activities are supported by NASA, the National Informal STEM Education Network, & Challenger Center Headquarters.
Brickz 4 Kids
Brickz 4 Kids believes it's important to tap into a child's potential by encouraging their curiosity and creativity. Their fun-filled summer camp programs are designed by engineers and architects, providing an engaging platform that teaches children to learn with LEGO® Bricks. Learn more at www.brickz4kids.com.
Camp Galileo
Camp Galileo combines traditional summer camp excitement with lasting, innovation-igniting learning. Their imagination-sparking programs for rising K – 10th graders throughout Chicagoland draw from the innovation process developed by the Stanford d.school. Learn more at www.galileo-camps.com.
Dunes Camp
Dunes Learning Center is the education partner of Indiana Dunes National Park, ranked 4th among all National Park sites for biodiversity. During the school year, DLC partners with teachers to deliver STEM-strong outdoor education programs. Once school is out, Dunes Learning Center offers a range of classic summer camp options so kids can explore their very own National Park. At Dunes Camp, participants are immersed in an incredible natural environment as they explore a variety of locations, campers connect with nature and history while forging friendships, developing skills, and building confidence.
Lubeznik Center for the Arts
Summer camp programs at the Lubeznik Center for the Arts empowers students of all ages to encourage a lifelong love of art and creativity. Learn more and register at www.lubeznikcenter.org/learning.
Mindfulness for Success in Academics and Athletics
Students in grades 6 – 8 will learn foundational skills for mindfulness practices to elevate performance, while participating in a variety of sports. The camp will be presented by Shea Gardner, former college athlete and mindfulness and yoga teacher, and Rich Gardner, retired NFL athlete and athletic performance coach, through Maroon Village, a Gary organization dedicated to promoting resiliency through performance training, yoga, mindfulness, meditation, and breath work. Learn more at www.ccsj.edu.
Safe Harbor Summer STEAM Camp
Safe Harbor offers two summer camps for elementary and middle school students in Michigan City. Activities include STEAM activities, robotics, 3-D printing, wood carving and field trips. Learn more here.
TEKTON Summer Media Camp
Hosted by Calumet College of St. Joseph, TEKTON is a a week long intensive training in Digital & Media Literacy, Adobe Photoshop, Storytelling, and Social Justice for High School Students. For more information, please email program director and professor Tyler Bush at tbush@ccsj.edu.
Did we miss one? If there is a summer camp or program you think should be included, please let us know at societyofinnovators@pnw.edu. Thanks in advance!
The Society of Innovators at Purdue Northwest (PNW) aims to contribute to economic and community development throughout the region as the champion of innovation in Northwest Indiana. For more information about the Society of Innovators, visit www.pnw.edu/soi.