The art of communication: Meet PNW 2023 graduate Daniel Appiah Gyekye
May 12, 2023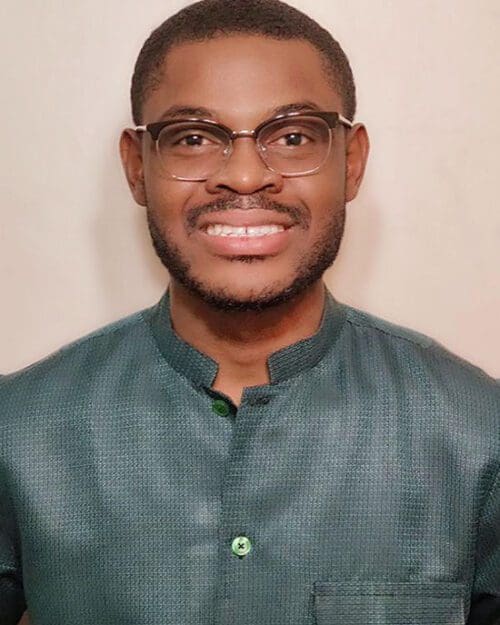 Daniel Appiah Gyekye, '23, is graduating with a Master of Arts in Communication.
Daniel is an international student from Ghana. His passion for learning political and critical communication led him to study for his master's degree at Purdue Northwest. He has served as a teaching assistant for the department of Communication and Creative Arts and has presented his research at several conferences, including PNW's Days of Discovery. Daniel was also involved with PNW Student Government and external organizations Young Hearts Ghana Foundation and All Love Foundation in Cape Coast, Ghana.
Daniel is going on to work toward his PhD in the University of Oregon's Communication and Media Studies department.
What did you like most about PNW?
"What I liked the most were my colleagues. They are wonderful and supportive. You can call them anytime you need something. They understand the frustrations international students might have. When you ask something, they are good about helping.
When I came to Purdue Northwest, I was able to interact with people from different cultures and backgrounds. I learned a lot about leadership and the procedures of administration, and I realized it's quite different from Africa. But I've learned a lot and I've been exposed to a lot of different people on campus."
What did you like most about your program?
"For me it was being a teaching assistant. It gave me the opportunity to develop my confidence, speaking skills, analytical skills, and persuasive skills. And I'm always grateful to the professors for letting me come to teach here. I came during the COVID-19 pandemic, so it was a little difficult for me, but my experience as a teaching assistant helped me so much."
What are your plans after graduation? What are your long-term career goals?
"With my PhD program, I'm going to do game studies and game theory. This is a newer area in the field of communication and I want to take the opportunity to learn more. With my research I'm going to focus more on Africa. In some places in Africa there is a negative perception of games — that it's for people who are bad or it doesn't make students learn.
You can use games to train people, sharpening analytical and mathematical skills. Depending on the game you create for a person, you can focus on math, science, and communication. You could even add cultural elements to games so players can understand cultures, values, and beliefs.
I also have an ambition of becoming an international politician, like Ban Ki-moon. He's someone I look up to. Growing up, many of my friends would call me "Ban Ki" because I wanted to be a politician. I want to be able to communicate effectively and learn some aspect of persuasion when it comes to politics. Contributing to social change is the most important thing."
What words of advice would you share with prospective students looking to attend PNW?
"I urge them to take a communication course. Communication is important anywhere you find yourself in life — business, health, and more. It's a field in the humanities, but it cuts across any other field you might find yourself in."
Was there anyone at PNW who inspired or encouraged you along the way?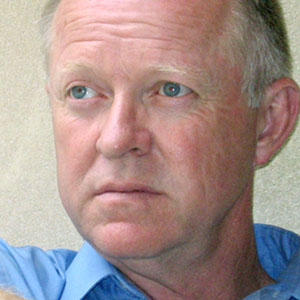 Professor of Communication
"He inspires me so much. He's one of my mentors I can go to anytime. Fortunately for me, anything I say he supports because he believes in me and my potential."
Continuing Lecturer
"Erin has been very supportive. Coming to America, sometimes you don't know your left and right, how you'll teach, or how you'll interact with people. She provided me opportunities and boosted my confidence and self-esteem. I knew no matter what I did she was going to support me."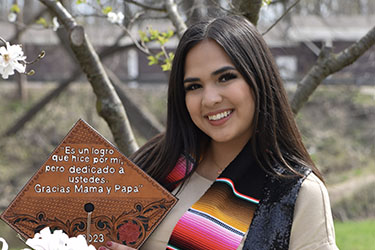 Meet the Spring 2023 Graduates
Discover what inspires our remarkable Spring 2023 graduates—and how they are Powering Onward to their futures.