Purdue, PNW, CES and SOE Announcements on Dr. Zhou being the NIPSCO Distinguished Professor
April 3, 2020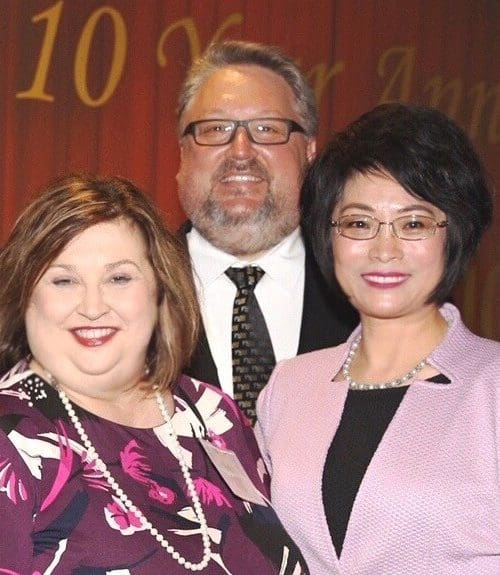 Purdue News Release:
https://www.purdue.edu/newsroom/releases/2020/Q2/purdue-trustees-approve-faculty-and-staff-positions,-new-degree-programs,-posthumous-degree.html
PNW News Release:
https://www.pnw.edu/nipsco-endows-professorship-at-purdue-university-northwest/
Purdue University Northwest and Northern Indiana Public Service Company (NIPSCO) announced that NIPSCO has created an endowment to establish a professorship in Engineering Simulation.
Chenn Zhou will be the first to serve in the newly endowed position. In recognition of her scholarship and extraordinary contributions to the university, the Purdue University Board of Trustees has named Zhou the NIPSCO Distinguished Professor of Engineering Simulation in the College of Engineering and Sciences. She is the first faculty member at Purdue Northwest to achieve the distinguished professor title. Zhou, who has been with the university since 1994, currently is a professor of Mechanical Engineering.
Both the NIPSCO endowed professorship and the conferring of Zhou's distinguished professor designation were approved by the Purdue Board of Trustees today (April 2).
Purdue Northwest Chancellor Thomas L. Keon expressed his deep appreciation for NIPSCO's generous gift to the university.
"NIPSCO's partnership will help support continued research, innovation and educational excellence, particularly through the Center for Innovation through Visualization and Simulation (CIVS)," Keon said. "As a premier metropolitan university, PNW provides solutions that create positive impact in the Northwest Indiana region, the state and beyond."
"As the energy industry continues to evolve and with rapid advancements in technology, it is essential that we establish a pipeline of talent and a future workforce prepared to solve the challenges of tomorrow," added NIPSCO president, Violet Sistovaris. "This new partnership builds that important bridge and it is an extension of the successful relationship we already have established with Purdue University Northwest and Professor Zhou."
Zhou is the founder of and serves as director of CIVS, an interdisciplinary research center. She also serves as director of the nationwide Steel Manufacturing Simulation and Visualization Consortium, and oversees PNW's mechanical and civil engineering graduate programs.
"I am deeply appreciative of this recognition of my work that is made possible through collaboration with my fellow faculty members, CIVS staff, industrial partners, and of course our wonderful PNW students. I want to thank all of the people who have supported me. Solving real-world problems using cutting-edge computer simulation and visualization tools has been a source of great satisfaction," Zhou said. "This role is especially meaningful to me because NIPSCO, a longtime collaborator with CIVS, has chosen to expand our partnership in this way."
Zhou has 38 years of research experience, with funded research projects totaling more than $25 million and more than 140 organizations since 1995. Her teaching and research experience includes the areas of air pollution control, computational fluid dynamics, combustion, energy, heat transfer, multiphase reacting flows, virtual reality (VR) and augmented reality (AR) visualization, and smart manufacturing.
She holds two patents, is a fellow of the Society of Innovators at Purdue Northwest and is a fellow of the American Society of Mechanical Engineers. She has been recognized multiple times by her peers with outstanding faculty awards at PNW and by professional societies.
Zhou earned bachelor's and master's degrees in Power Engineering, both from Nanjing University of Aeronautics and Astronautics in China, and a Ph.D. in Mechanical Engineering from Carnegie Mellon University in Pittsburgh.
PNW College of Engineering and Sciences LinkedIn Announcement on April 2, 2020
https://www.linkedin.com/in/pnwces
CONGRATULATIONS! Our very own Dr. Chenn Zhou has been named the NIPSCO Distinguished Professor of Engineering Simulation in the College of Engineering and Sciences! She is the FIRST faculty member at Purdue Northwest to achieve the distinguished professor title. Dean Chris Holford: "This is a great day for the College of Engineering and Sciences and School of Engineering at Purdue Northwest. We are proud to have Dr. Zhou recognized as the NIPSCO Distinguished Professor of Engineering Simulation. I would like to extend a special thanks to NIPSCO for the generous gift that make this possible, and the Purdue Board of Trustees for ratifying the appointment. I believe this is a great example of the strength of public partnerships really making a difference in NW Indiana."
PNW School of Engineering LinkedIn Announcement on April 2, 2020
https://www.linkedin.com/company/pnw-school-of-engineering/
History was made at the School of Engineering today! Dr. Chenn Zhou became the first faculty member at Purdue University Northwest to achieve a distinguished professor title, being named the NIPSCO Distinguished Professor of Engineering Simulation in the College of Engineering and Sciences! Director Dietmar Rempfer: "These titles are bestowed upon one of our faculty for the first time in the history of the university. Beyond being a prized teacher, Dr. Zhou is the founder and director of the nationally and internationally renowned Center for Innovation through Visualization and Simulation (CIVS), and she has been the driving force and contributor to a truly impressive number of research projects with awards totaling tens of millions of dollars. All of us at the School of Engineering are tremendously proud of Dr. Zhou for being recognized through this well-deserved and prestigious honor."