Veterans Enrollment Certification
To use and maintain your Veterans Administration (VA) educational benefits at PNW, you must initially provide proof of eligibility from the VA and then complete an Enrollment Certification Request every time you register for classes.
How to Start Your Benefits
You'll need to submit the following documents when you register for your first semester at the university:
COE – Certificate of Eligibility (Submit the proof of eligibility that you received from the VA)
DD214 – Certificate of Release or Discharge from Active Duty
If you have not yet applied for education benefits with the VA or requested a Certificate of Eligibility (COE), click here to get started with the VA.
How to Maintain Your Benefits
Beginning with your first semester at PNW, you and your academic advisor must submit the following documents every time you register for classes:
Veteran's Certification Request 

If you prefer to complete the Certification Request in person, paper forms are available in the Office of the Registrar, or the form can be mailed to you.
Advisor Approval Form
Contact your academic advisor and ask them to submit their approval every semester after you register for classes.
After a certifying official in the Office of the Registrar receives these approvals, the appropriate certification forms will be submitted to the VA. The certifying official can only certify courses that meet the degree requirements for your program of study as currently listed in the PNW Academic Catalog. They can't certify courses a second time unless you withdrew from or did not successfully pass the initial course. Repeated courses that were successfully completed, whether at Purdue Northwest or another institution, cannot be certified.
Questions?
Contact the VA Certifying Official on your home campus. To ensure proper assistance please provide your email address when submitting an email or leaving a voicemail message.
Hammond Campus
Maria Gonzalez
Office of the Registrar
Lawshe Hall, Room 130
Phone: (219) 989-1109
Email: megonzal@pnw.edu
Fax: (219) 989-2771
Westville Campus
Barbara Phillips
Office of the Registrar
Schwarz Hall, Room 40
Phone: (219) 785-5342
Email: bphillips@pnw.edu
Fax: (219) 785-5538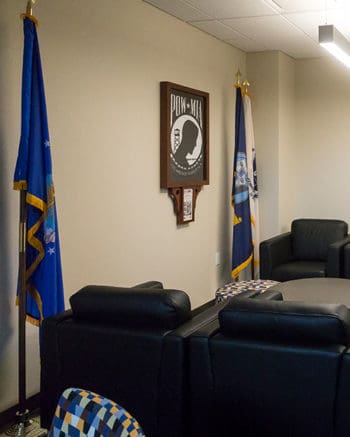 Veterans Services at PNW
PNW Veteran Services should be the first destination for any active-duty service member, veteran or veteran dependent.
---
Meet Veterans Services
Ready to register for classes?
Work with your academic advisor on course selection and degree planning to stay on track for graduation.
---
How to register online