Student Organization Event Planning
Interested in planning an event? We're happy to help! See key steps to a successful event.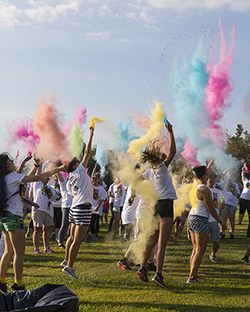 Before you begin, be sure you give yourself enough lead time and communicate your plans to the a staff member from the Office of Student Life. We can help to smooth your planning process smooth, make sure you follow university regulations and offer advice to make your event a success.
Submit Your Request
One of our student organization request forms must be submitted at least two weeks prior to the meeting, event, or other activity your organization would like to do. Below you will find several request forms, please use the form which best matches what your organization would like to do.
Event, Meeting, Tabling and Fundraising Event Requests
Please use your group page to create an event on the myPNWlife platform.
Travel Request
Meant for student organization requests to travel away from the immediate Hammond/Michigan City area.
Student Organization Funds
Use this to access Student Organization funds. Organization information must be up to date to have access.
SUBMIT YOUR COOL ACCOUNT REQUEST
SSF Request
Meant for organizations with awarded SSF funding to request to use their funds.
Food Policies
Contracts
Are you scheduling on-campus services from any outside vendors (for example, a DJ)? Please contact the Office of Student Life at studentlife@pnw.edu or 219-989-2369
Waivers
A waiver of liability should be completed for any recreational programs that are voluntary in nature, or other programs that are different than the typical educational nature of the university. Completed waivers need to be submitted to the Office of Student Life.