Chancellor Medallion Recipient: Meet 2023 PNW graduate Sharyl Riley
May 26, 2023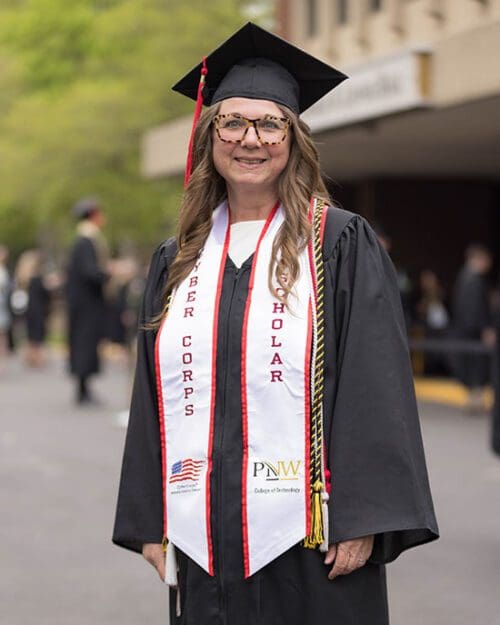 Sharyl Riley, '23, earned a bachelor of science degree in Computer Information Technology with a concentration in Cybersecurity from the College of Technology and a minor in Criminal Justice from the College of Humanities, Education and Social Sciences at Purdue University Northwest (PNW).
The Granger native was overwhelmed when she learned she was a Chancellor Medallion recipient and noted it was an honor she will treasure for years to come. The Chancellor Medallion is presented to baccalaureate candidates who receive the highest grade point average in each academic college.
Riley started her professional career in software development. After taking time to raise a family, she realized she needed to return to school to bridge the learning gap from her years away from the field. She took advantage of the dual-admissions partnership between PNW and Ivy Tech Community College. The program allows students to complete their associate's degree at Ivy Tech with a seamless and guaranteed transition to a PNW bachelor's degree.
Riley was also a CyberCorps® Scholarship for Service recipient, which requires her to work for the government after graduation for a period proportional to her scholarship. She also served as secretary of the Women in IT club, a club she helped form.
After graduation, Riley will fulfill her scholarship obligation by working as an information security specialist in the security operations division for the U.S. Environmental Protection Agency. She eventually would like to put her skills to use combating human trafficking on both a national and international level.
What does being named a Chancellor Medallion recipient mean to you?
"It means that I didn't give up or give in when there were so many days that I just wanted to throw in the towel. I put in the time and the effort, and to receive the most prestigious award I could receive, I'm just overwhelmed with gratitude for the honor.
I am so glad my sons get to see their mom be a success in a really big way. It's an overwhelmingly wonderful accomplishment that I will treasure for years to come."
How do you think your involvement in the Women in IT Club will help define your success in the future?
"It was a tremendous growth opportunity to learn from fellow women in IT – to share experiences and to mentor one another. I can take that experience into the work environment and build alliances with other women, both ahead of me and coming up behind me. Having a group of people that can build off of one another, knowing you have an alliance, that your struggle is a shared experience and you're not alone, is important for success. The Women of IT Club really brought the importance of that concept to the forefront."
What words of advice would you share with prospective students?
"You're going to be great and do great things. It's going to be hard sometimes but don't get discouraged or give up, put one foot in front of the other and just take baby steps. Do the best you can because you've got this – you can do it!"
Was there anyone at PNW who inspired or encouraged you along the way?
Associate Professor, Computer Information Technology
"Not only does he care about you as a student but he cares about you as a person. He goes out of his way to help students succeed. He wants students to know the material and to understand it. He connects his real world experiences with what we're learning. He can be challenging but he helps you through those challenges.
He was integral in helping me not only with my education but also on career decisions. Professors like Dr. Stefanek definitely make you want to keep coming back and keep learning. He is a really great professor."
---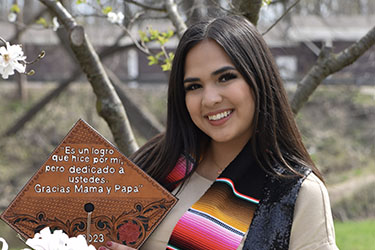 Meet the Spring 2023 Graduates
Discover what inspires our remarkable Spring 2023 graduates—and how they are Powering Onward to their futures.