CHESS names two new associate deans
November 5, 2019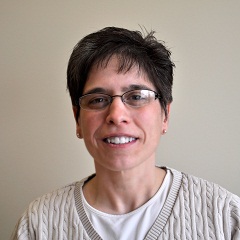 Two associate professors of communication have been named as associate deans in the College of Humanities, Education and Social Sciences beginning in January 2020.
Dean Elaine Carey appointed Catherine Gillotti as associate dean for undergraduate studies and Neil Nemeth as associate dean for planning, resources and effectiveness. She cited their years of experience, insight and good humor as significant assets for the college.
"The appointment of Dr. Gillotti elevates the college's commitment to student success by improving retention, providing academic support, enhancing student engagement an outreach on campus and in the community in collaboration with faculty and department," she said. "Dr. Nemeth has been essential in collaborating with department chairs and faculty to prepare for reaccreditation with the Higher Learning Commission and to promote a culture of assessment and effectiveness in the college."
Gillotti, a PNW faculty member since 1996, has served as graduate program director, basic course director, and dual credit liaison in communication. She received a teaching incentive program award in 2019 for her outstanding teaching. She chaired the CHESS Faculty Council and is currently serving on the university Strategic Planning Task Force.  Her scholarship focuses on issues of interpersonal health communication, and she has published scholarly articles on "bad news delivery."  She earned bachelor's and master's degrees at the University of Dayton, and her doctorate at the University of Kentucky.
Nemeth, who joined the PNW faculty in 1997, has served as interim dean for planning, resources and effectiveness for the past two and a half years. A former journalist, he has served as secretary of the faculty, twice as Faculty Fellow in the provost's office and as adviser to the campus newspaper The Chronicle/The Pioneer, for which he received the outstanding campus adviser award in 2017.  He earned his bachelor's degree at The Ohio University, master's degree at The Ohio State University, and doctorate at Indiana University.
Carey also expressed appreciation for the work of Renee Conroy, who has served as interim dean of undergraduate studies since 2017. Conroy is returning to full-time teaching and research.