PNW student's research featured in undergraduate research journal
March 28, 2023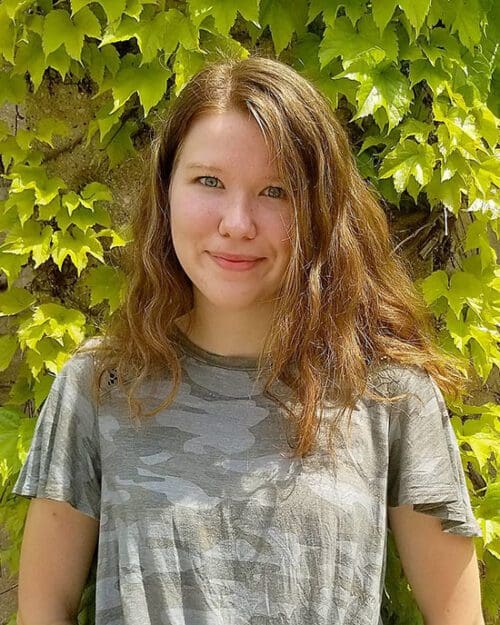 A Purdue University Northwest (PNW) alumna's undergraduate research is featured in the latest Journal of Purdue Undergraduate Research (JPUR). The current volume, Volume 12 (2022), includes Saige Addison's article "Navigating Political Disagreement in Social Work: An Analysis of Past Literature, Ethical Guidance, and Case Examples."
The Valparaiso native and 2022 PNW graduate discusses the undeniable connection between social work and political action in her article. Using two relevant case examples from a licensed clinical social worker, she assessed and applied guidance from the National Association of Social Workers (NASW) Code of Ethics, existing approaches and prior literature to evaluate and inform the decisions of other U.S.-based social workers confronting political disagreement with clients in direct practice work.
"This study provides guidance and the opportunity for thoughtful consideration of the intersection of social work practice and political differences social workers may encounter with their clients," said Robin Miller, clinical assistant professor and field education director for the Social Work program at PNW as well as Addison's faculty mentor for this project. "It's an opportunity to begin the process of scholarly exploration of issues relevant to practice."
Addison, who earned a bachelor of arts degree in Social Work with a minor in Sociology, also had a research snapshot, entitled "Microaggression Among Registered Nurses: An Exploratory Study," published in the same journal. The study explores one of the factors that may contribute to health disparities experienced by people of color and seeks to understand the factors behind microaggressions and new ways of studying them which may provide a way to reduce their likelihood.
"It is an exceptional opportunity to be published as an undergraduate student," said Janet Davis, associate professor in the College of Nursing at PNW and Addison's faculty mentor for her study of microaggression. "As a faculty mentor it is very rewarding to see a student's hard work shared with a broader audience."
"JPUR is a quality publication that promotes new ideas while providing students with considerable support to further develop their skills as researchers and writers. It is an honor to work with students like Saige on projects like this," said Miller.
While at PNW, Addison was a McNair Scholar, an Indiana AHEC Scholar and a member of Honors College. She served on the CHESS Student Advisory Board, was a member of the Student Government Association and president of the Social Work Club.